Jason Belmonte Now Has Led 13 of the Past 15 Rounds on the PBA Tour
February 21, 2019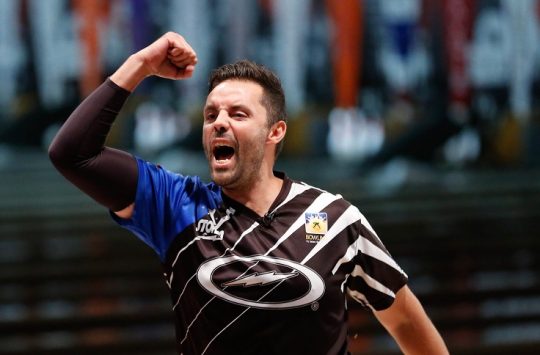 The pool of adjectives available to describe the performance of Jason Belmonte on the PBA Tour over the past several weeks rapidly is becoming exhausted; his performance in the PBA Indianapolis Open this week at Woodland Bowl is proving to be no exception.
When he made the PBA Players Championship show as the No. 1 seed, his second consecutive week bowling a show from that position, he had led the last 11 straight rounds of PBA Tour competition going back to the Tournament of Champions. Today, the 19-time PBA Tour titlist entered match play in the PBA Indianapolis Open at the top of the leaderboard, held that lead through eight games, and now has led the field in 13 of the last 15 rounds on tour.
Belmonte (+946) posted a 5-3 match record on scores of 269, 178, 232, 235, 267, 191, 182 and 201 to hold on to a 52-pin lead over lefthander Jakob Butturff (+894). The southpaw essentially is bowling the PBA Indianapolis Open this week as "defending champion," having won his third PBA Tour title at Woodland Bowl last year when this event was called the 60th Anniversary Classic.
Butturff also went 5-3 tonight on games of 233, 231, 247, 179, 217, 227, 235 and 212. BJ Moore, who led the field after the second round of qualifying this week in just his second tour stop of the season, currently sits in third at +765 in pursuit of his first career PBA Tour title. Rounding out the top five are 10-time PBA Tour titlist Wes Malott (+686) and two-time champion Tom Daugherty (+674).
Three hall of famers are making runs this week, as 47-time champion Walter Ray Williams Jr. entered match play tonight in 10th place and essentially held his ground with a 4-3-1 record that landed him in a 9th-place tie with fellow hall of famer Chris Barnes, who also went 4-3-1. Incidentally, it was Barnes whom Williams tied when the two ended match 5 with 204 apiece.
The third hall of famer bowling match play tonight is 38-time PBA Tour champion Norm Duke, who sits in 14th after posting a 3-5 record.
Full standings can be found here: https://www.pba.com/PBALiveScoring?TournamentID=2763
Action resumes at 11 a.m. ET when the second round of match play gets underway.