Jason Belmonte Wins Best Bowler ESPY for Third Consecutive Year
July 14, 2017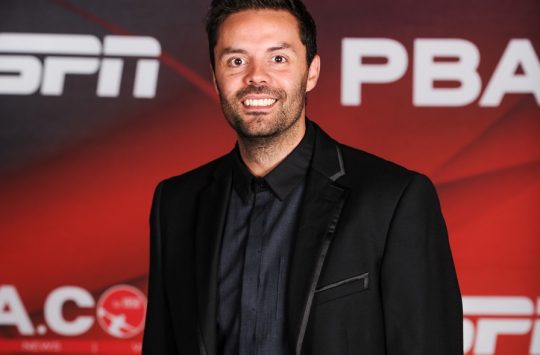 LOS ANGELES (July 12, 2017) – Australia's Jason Belmonte received his third consecutive Best Bowler ESPY Award Wednesday evening during the 2017 ESPY Awards ceremony at the Microsoft Theater.
Belmonte, who now owns four ESPY awards, became the second player to earn three consecutive ESPYs joining PBA Hall of Famer Norm Duke who won three consecutively in 2007, '08 and '09.
Belmonte, a three-time PBA Player of the Year, was among winners in a variety of sports and special moment categories that were determined by fan voting on espn.com with the winners announced during ABC-TV's live ESPY Awards telecast.
In 2017, Belmonte won the USBC Masters for a record fourth time and brought his PBA major win total to eight by winning the Barbasol PBA Players Championship.
Since last summer he also has compiled eight other top-10 finishes including seventh in the 2017 FireLake PBA Tournament of Champions and fourth in the 2016 PBA World Championship. Most recently, he finished second in the inaugural Main Event PBA Tour Finals and third in the Grand Casino Hotel & Resort PBA Oklahoma Open.
"I'm absolutely stoked about winning this year's ESPY award," said Belmonte, who won his first ESPY in 2011. "I can't thank the fans enough for voting for me. The support and passion I receive from people all around the world is a huge motivation to keep pushing myself to raise the bar.
"To show my fans the appreciation I have for them, I will continue to work hard on and off the lanes and be as interactive as possible with them through social media and appearances. In addition to the fans I'd also like to thank ESPN for establishing an award that honors outstanding achievement in our sport."
Also nominated in the Best Bowler category were 2016 PBA Player of the Year EJ Tackett of Huntington, Ind. and 2016 PBA Rookie of the Year Francois Lavoie of Canada.
Among Tackett's wins in 2017 were the Tournament of Champions, DHC Japan Invitational and the Main Event PBA Tour Finals. In the last half of 2016, he won the PBA World Championship, Bear Open and was a member of the winning 'Merica Rooster Illusion PBA Team Challenge team.
Lavoie became only the second foreign-born winner of the U.S. Open when he beat Marshall Kent 228-194 in the title match last November. During the stepladder finals he also bowled the 26th televised 300 game when he beat Shawn Maldonado 300-211 in the semi-final match. In June, Lavoie won the Xtra Frame Jonesboro Open for his third career PBA Tour title.
Belmonte is tied with Duke and PBA Hall of Famer Pete Weber for second with four Best Bowler ESPY awards trailing PBA Hall of Famer Walter Ray Williams Jr. who tops the list with seven.
HISTORY OF BEST BOWLER ESPY AWARD WINNERS
2017 – Jason Belmonte
2016 – Jason Belmonte
2015 – Jason Belmonte
2014 - Pete Weber
2013 – Pete Weber
2012 – Sean Rash
2011 – Jason Belmonte
2010 – Walter Ray Williams Jr.
2009 – Norm Duke
2008 – Norm Duke
2007 – Norm Duke
2006 – Walter Ray Williams Jr.
2005 – Walter Ray Williams Jr.
2004 – Pete Weber
2003 – Walter Ray Williams Jr.
2002 – Pete Weber
2001 – Walter Ray Williams Jr.
2000 – Parker Bohn III
1999 – Walter Ray Williams Jr.
1998 – Walter Ray Williams Jr.
1997 – Bob Learn Jr.
1996 – Mike Aulby
1995 – Norm Duke