Junior Team USA caps off dominant performance in Peru
August 05, 2023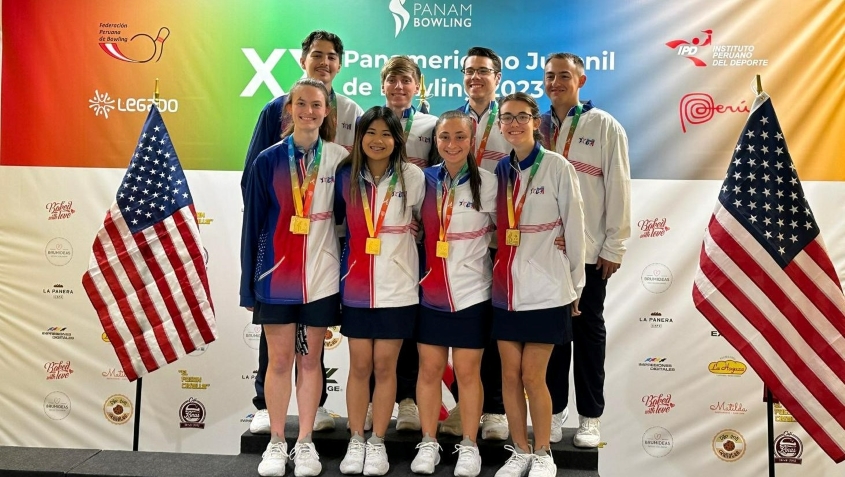 LIMA, Peru
– Junior Team USA capped off a dominant week of bowling by winning all eight medals up for grabs during Friday's final day of competition at the PANAM Bowling Youth Championship 2023, which was contested at VIDENA Bowling Center of La Villa Deportiva Nacional (VIDENA).
The day started with both American squads bringing home gold in the team event.
The men's team – Ryan Barnes of Denton, Texas; Brandon Bonta of Wichita, Kansas; Spencer Robarge of Springfield, Missouri; and Julian Salinas of Richmond, Texas – reached the top of the standings by putting up a six-game total of 5,343 (an average of 222.63 per player per game).
Canada finished second with 5,065, while Puerto Rico secured third with 4,939.
Bonta led the way for the American men on Friday, putting up a 735 series on games of 226, 230 and 279.
Barnes was close behind with 715 (223, 236 and 256), while Robarge and Salinas added 665 and 581, respectively.
The Junior Team USA women – Katelyn Abigania of San Diego; Gianna Brandolino of Channahon, Illinois; Lara Kurt of Ocean Isle Beach, North Carolina; and Annalise OBryant of Ball Ground, Georgia – grabbed the top spot on the podium with a final score of 4,950 (an average of 206.25 per player per game), which was more than enough to keep both Colombia (4,643) and Puerto Rico (4,630) at arm's length.
Kurt collected the highest series among American women on Friday, using games of 209, 279 and 179 to post a score of 667.
Brandolino was next in line with 648, which was helped by a final-game 245. OBryant added 639, and Abigania contributed 594.
Once team competition ended, it was time to hand out the all-events medals, all of which went to bowlers donning the red, white and blue.
Abigania won women's all-events gold with a 24-game total of 5,003 (a 208.46 average). Kurt took silver with a score of 4,983, and OBryant walked away with bronze at 4,958.
Brandolino wasn't far behind, finishing fourth at 4,923.
Jade Cote of Canada (4,899) and Catalina Gomez of Colombia (4,724) were the highest non-Team USA finishers; they claimed fifth and sixth place, respectively.
On the men's side, Bonta took first place with a 24-game tally of 5,557 (a 231.54 average). Barnes used a 5,407 total to secure silver, which meant that bronze went to Robarge with 5,373.
Salinas was one spot back, taking fourth with 5,369.
Canadian bowlers Alexandre Gareau (5,110) and Mathis Blanchette (5,028) secured the fifth and sixth spots in the men's all-events standings.
As a group, Team USA medaled 17 times in 20 opportunities during its week in Peru with Day 1's singles competition marking the only time the Americans failed to collect every available medal.
Individually, the American medal count was as follows:
Men
Barnes – one gold, two silver
Bonta – three gold, two silver
Robarge – four gold, one bronze
Salinas – three gold
Women
Abigania – four gold
Brandolino – one gold, one bronze
Kurt – three gold, two silver
OBryant – two gold, two bronze
Those performances were more than acceptable to Junior Team USA Head Coach Kelly Kulick and assistant coach Katie Thornton, who were tasked with leading the American team throughout the week in Peru.
"The ability and skill level in these athletes is higher than I've ever seen in a junior program," Kulick said. "Because of that, I expect a lot from them. Getting to mold them throughout the process and getting to experience this through their eyes was very enjoyable for me."
Thornton enjoyed her time working with the group as well, especially since it was her first opportunity coaching Junior Team USA bowlers at an international event.
"I'll be honest; I was a little bit nervous the first day, but as time went on, I got more and more comfortable," Thornton said. "It was just so much fun. The group that we had here was enjoyable to be around on and off the lanes, and that made my first experience a great one."
For more information on Team USA, visit
BOWL.com/TeamUSA
.