Junior Team USA doubles teams win four medals at PANAM Bowling Youth Championship 2023
August 02, 2023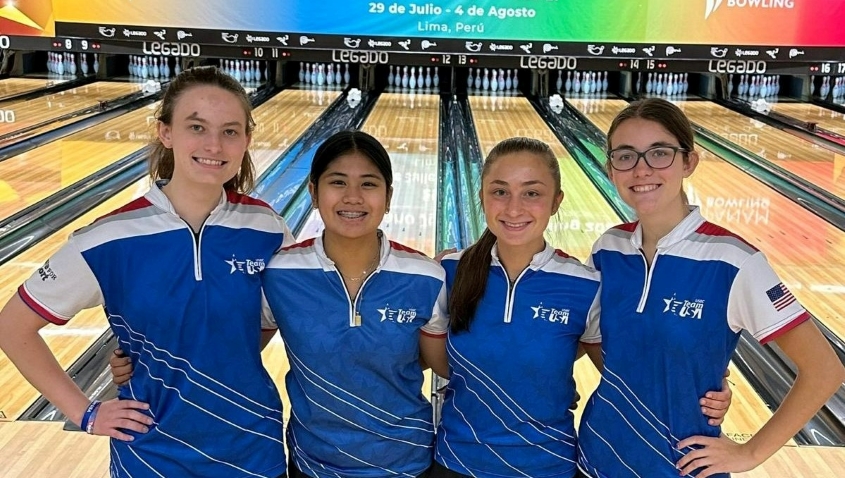 LIMA, Peru
– One day after capturing three of the six available medals in singles, Junior Team USA bowlers took things up a notch on Tuesday as all four American duos medaled during doubles competition at the PANAM Bowling Youth Championship 2023, which is being contested at VIDENA Bowling Center of La Villa Deportiva Nacional (VIDENA).
Lara Kurt of Ocean Isle Beach, North Carolina, and Katelyn Abigania of San Diego, combined for a six-game total of 2,492 to secure the women's gold medal, while Spencer Robarge of Springfield, Missouri, and Julian Salinas of Richmond, Texas, came in with a score of 2,700 to take top honors for the men.
Brandon Bonta of Wichita, Kansas, and Ryan Barnes of Denton, Texas, used a 2,661 total to secure the men's silver medal, which left the Canadian duo of Nicholas Blagojevic and Mathis Blanchette to claim bronze with 2,532.
The women's bronze medal went to the Junior Team USA duo of Annalise OBryant of Ball Ground, Georgia, and Gianna Brandolino of Channahon, Illinois, who secured the final spot on the podium with a six-game total of 2,394.
That put the Americans one spot behind the Colombian duo of Catalina Gomez and Sara Duque, which claimed the women's silver medal with a score of 2,489.
Salinas authored Junior Team USA's best individual performance of the day, coming in with a six-game total of 1,407 (a 234.5 average) thanks to games of 237, 258, 224, 273, 225 and 190.
According to Salinas, there was no special secret to Tuesday's success; it was just a matter of sticking to his game plan.
"I had the same approach going into today as I had yesterday, but I was able to stay doing the same thing on the lanes a lot longer today, which was a big help," Salinas said. "I felt great about how I bowled, and winning my first gold medal is just awesome."
Robarge got to experience that feeling by dominating the men's singles competition on Monday.
The lefty two-hander didn't feel his Tuesday performance was quite as sharp; nevertheless, he was solid, contributing a 1,293 block total (a 215.5 average) on scores of 225, 195, 216, 210, 233 and 214, which, when combined with Salinas' mammoth total, was more than enough to bring home the gold.
"I feel fortunate to have two gold medals in two days now," Robarge said. "My shot-making wasn't quite as crisp today, but I felt like I was able to string strikes at times when I needed them, and I had one heck of a doubles partner."
Barnes and Bonta could each say the same.
The Wichita State teammates proved that they made a good match by putting up nearly identical scores on Tuesday with Bonta coming in with a six-game mark of 1,331 (179, 194, 212, 202, 290 and 254) and Barnes finishing one pin behind at 1,330 (193, 193, 258, 218, 248 and 220).
For Barnes, winning the men's doubles silver medal, his first medal as a member of Junior Team USA, was made even sweeter because of who he bowled with to get it.
"Winning this medal today was even more fun because I got to do it with one of my best friends," Barnes said. "Brandon (Bonta) and I have bowled together multiple times. We kind of struggled the first two games, but we stayed patient and worked through it."
Tuesday's effort gave Bonta his second silver medal in two days, and even though there's nothing quite like winning for the first time, Bonta was equally excited about the medals he and Barnes earned together on Day 2.
"This feels great once again," Bonta said. "After winning silver in singles yesterday, I went into today with the same expectation. To have it happen the way that it did was really exciting for me and Ryan (Barnres); I just can't wait for more."
Kurt clearly felt the same way because just one day after winning silver in singles, she worked with Abigania to claim doubles gold.
Like Barnes and Bonta, Kurt and Abigania were a balanced pair on Tuesday, coming in with identical six-game totals of 1,246 to place themselves atop the women's doubles standings.
Kurt reached her total with games of 225, 214, 223, 201, 192 and 191, while Abigania got to hers thanks to games of 214, 194, 235, 181, 253 and 169.
For Kurt, medaling for the second day in a row and winning her first international gold medal was definitely special; however, what she liked most was getting to share the experience with Abigania.
"It was so cool to bowl with Katelyn (Abigania) and have her as my doubles partner today," Kurt said. "Singles is fun, but it's so much sweeter getting to do things like this together. It just makes it that much more rewarding."
For Abigania, who captured her first international medal as a member of Junior Team USA with Tuesday's victory, simply getting to represent her country on the lanes is reward enough.
"It's so surreal being able to bowl for your country and being out here with the best bowlers in the world," Abigania said. "It's really an honor to be able to bring home gold."
Brandolino's and OBryant's doubles medals were a different color, but they worked just as hard to secure them.
OBryant led the way for the duo on Tuesday, using scores of 202, 229, 216, 197, 203 and 203 to come in with a six-game total of 1,250 (a 208.33 average). Brandolino contributed 1,144 on games of 213, 190, 186, 179, 177 and 199.
Although Brandolino wasn't able to light up the scoreboard quite as much on Tuesday as she usually does, what she was able to do was demonstrate the tenacity and selflessness that has made her one of the best young bowlers in the world.
"Annalise (OBryant) bowling better than I was today really kept me going because I wanted to do well for her as much or more than I wanted to bowl well for myself," Brandolino said. "It's hard for me to put into words how it feels to win this medal. Even though it's bronze, it's still a great accomplishment."
OBryant's feelings were largely the same.
"I'm still speechless. It's always been a dream of mine to be a part of Team USA, so to be able to compete for the team and win my first medal is just beyond words," OBryant said. "I'm so happy right now; this is just amazing."
That's also a good word to use to describe Junior Team USA's performance through the first two days of competition as the Americans have claimed seven of a possible 10 medals awarded thus far.
They hope to continue the momentum during Wednesday's action in trios before the team event brings the tournament to a close on Thursday and Friday.
For more information on Team USA, visit
BOWL.com/TeamUSA
.