Junior Team USA sweeps trios gold medals at PANAM Bowling Youth Championship 2023
August 03, 2023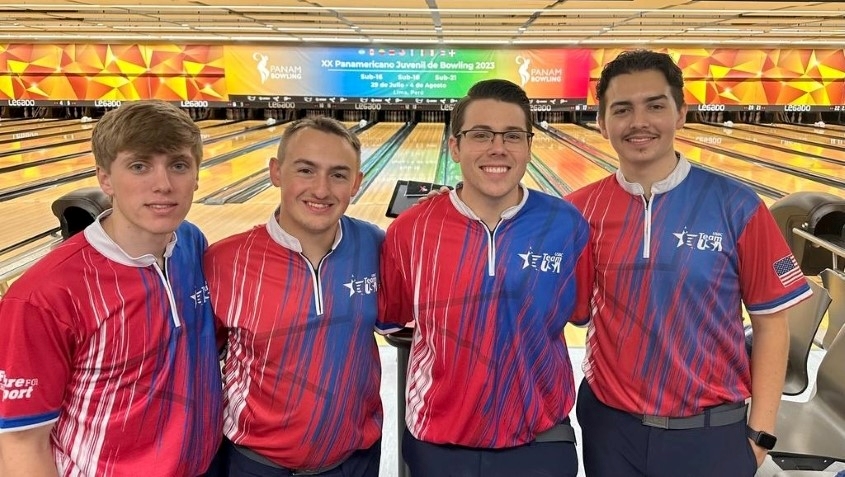 LIMA, Peru
– There were two gold medals up for grabs during Wednesday's trios competition at the PANAM Bowling Youth Championship 2023, and Junior Team USA bowlers won them both.
Brandon Bonta of Wichita, Kansas; Spencer Robarge of Springfield, Missouri; and Julian Salinas of Richmond, Texas, dominated the men's division at VIDENA Bowling Center of La Villa Deportiva Nacional (VIDENA), combining for a six-game score of 4,319 (a 239.94 average per player per game), which put the Americans in first place by more than 600 pins.
The Puerto Rican squad of Edgar G. Burgos, Edgar J. Burgos and Jesus Colon secured the silver medal with a 3,717 total. Canada's Nicholas Blagojevic, Mathis Blanchette and Jacob Imoo took home bronze with 3,627.
Bonta led the way for the Junior Team USA men on Wednesday, authoring a six-game total of 1,510 (a 251.67 average) thanks to scores of 279, 237, 237, 238, 275 and 244.
Salinas was next with 1,405 (203, 243, 246, 221, 246 and 246), while Robarge was one pin back at 1,404 (236, 279, 171, 259, 227 and 232).
Because trios competition only allows three bowlers to participate for each country, Junior Team USA's fourth men's bowler, Ryan Barnes of Denton, Texas, was forced to compete for all-events status only on Wednesday.
The talented two-hander made the most of that opportunity, however, leading all individual men's competitors with a six-game mark of 1,413 (225, 214, 279, 211, 227 and 257).
Barnes will return to the fold for the team event, which starts Thursday and wraps up on Friday.
The American men have been looking forward to bowling as a team ever since the tournament started, and if Wednesday's trios success is any indication of things to come, then rightfully so.
"I think it's going to be a great next couple of days," Salinas said. "There were only three of us bowling together today, but Ryan (Barnes) still went two hundred over. All of us can produce crazy scores, so I'm super excited to see us all come together and put up more of those big scores during team. It's going to be a great time."
The Junior Team USA women will also be looking for a good time during the team event. To make that happen, they simply need to follow the same roadmap they used en route to trios gold on Wednesday.
That medal was brought home by Katelyn Abigania of San Diego; Lara Kurt of Ocean Isle Beach, North Carolina; and Annalise OBryant of Ball Ground, Georgia, who topped the women's field by nearly 500 pins with a six-game score of 4,004 (a 222.44 average per player per game).
Lida Burgos, Isabella Colon and Itzel Salayet propelled Puerto Rico to the silver medal with a score of 3,505, which left Canada's trio of Alex-Anne Aclair, Jade Cote and Mei Yen-Lachapelle in position to claim bronze with 3,477.
Abigania tallied the highest score among the American ladies, shooting games of 226, 208, 227, 202, 288 and 227 for a block total of 1,378 (a 229.67 average).
OBryant wasn't far behind, coming in with a 1,356 total thanks to games of 212, 247, 225, 211, 226 and 235.
Kurt broke 225 three times in six games (232, 265 and 226) to contribute 1,270 to the Americans' gold-medal effort.
Gianna Brandolino of Channahon, Illinois, competed in all-events on Wednesday, and she had a fine showing while doing so, leading all solo women's competitors with a six-game total of 1,265, which included a 258 in Game 5.
Wednesday's double-gold effort in trios only served to further emphasize Junior Team USA's dominance at this years PANAM Bowling Youth Championship. Through three days of competition, the Americans have claimed nine of a possible 12 medals, five gold, three silver and one bronze.
They hope to put a bow on a fine week of bowling by winning another pair of gold medals in the team event, which brings the tournament to a close on Thursday and Friday.
For more information on Team USA, visit
BOWL.com/TeamUSA
.