Junior Team USA in strong position heading into final day of PANAM Bowling Youth Championship 2023
August 04, 2023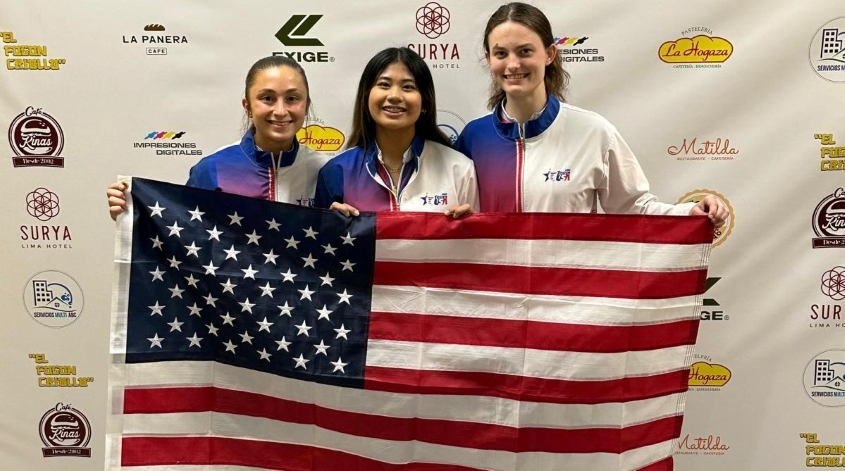 LIMA, Peru
– Junior Team USA finds itself in the best possible position heading into Friday's final day of competition at the PANAM Bowling Youth Championship 2023, which is being contested at VIDENA Bowling Center of La Villa Deportiva Nacional (VIDENA).
That's because the Americans have both their men's and women's squads in first place in their respective divisions with three games remaining in the team event, and the top four spots in each division's all-events standings also are occupied by bowlers donning the red, white and blue.
The Junior Team USA men are represented by the quartet of Ryan Barnes of Denton, Texas; Brandon Bonta of Wichita, Kansas; Spencer Robarge of Springfield, Missouri; and Julian Salinas of Richmond, Texas.
The group has bowled well all week long, and Thursday was no different as the Americans put up a three-game total of 2,647 (a 220.58 average per player per game) to establish a 100-pin lead heading into Friday's final three games of competition.
Puerto Rico sits second at 2,547, and Canada holds third with 2,458.
Barnes led the way for the Junior Team USA men on Thursday, rolling a three-game set of 738 thanks to games of 235, 257 and 246.
Salinas also went over the 700 mark on the day, using scores of 227, 248 and 226 to come in at 701.
Bonta and Robarge contributed 615 and 593, respectively.
Those efforts allowed the American men to maintain control of the top four spots in the men's al-events standings as well.
Bonta leads all competitors with a 21-game total of 4,822 (a 229.62 average), while Salinas (4,788), Robarge (4,708) and Barnes (4,692) remain firmly entrenched in the medal hunt as well.
Canada's Mathis Blanchette and Alexandre Gareau are their closest pursuers, but they sit well back, coming in with 21-game scores of 4,405 and 4,400, respectively.
Not to be outdone, the Junior Team USA women have put themselves in the same enviable position as the men's team heading into Friday's final three games.
On the team front, the American squad of Katelyn Abigania of San Diego; Gianna Brandolino of Channahon, Illinois; Lara Kurt of Ocean Isle Beach, North Carolina; and Annalise OBryant of Ball Ground, Georgia, used a three-game score of 2,402 (a 200.17 average per player per game) to reach the top of the standings on Thursday.
There are two teams close behind, however, as Canada finished Thursday's block at 2,376, and Colombia came in with 2,360.
Brandolino authored the highest set of the day among Junior Team USA women, coming in a three-game score of 670 (210, 257, and 203).
Abigania added 601 (224, 195 and 182) and was closely followed by Kurt (591) and OBryant (540).
Those names can all be found in the top four of the women's all-events standings heading into the final round as well.
Abigania leads with a 21-game score of 4,409 (a 209.95 average), but OBryant (4,319), Kurt (4,316) and Brandolino (4,275) are all within striking distance.
The same can be said for Canada's Jade Cote and Colombia's Catalina Gomez, who will enter Friday at 4,221 and 4,170, respectively.
Both the team and all-events standings will be determined by Friday's final three games of competition, after which the closing ceremonies will bring this year's tournament to a close.
For more information on Team USA, visit
BOWL.com/TeamUSA
.