Kansas' Alex George rolls 848 for singles lead at 2022 USBC Open Championships
July 05, 2022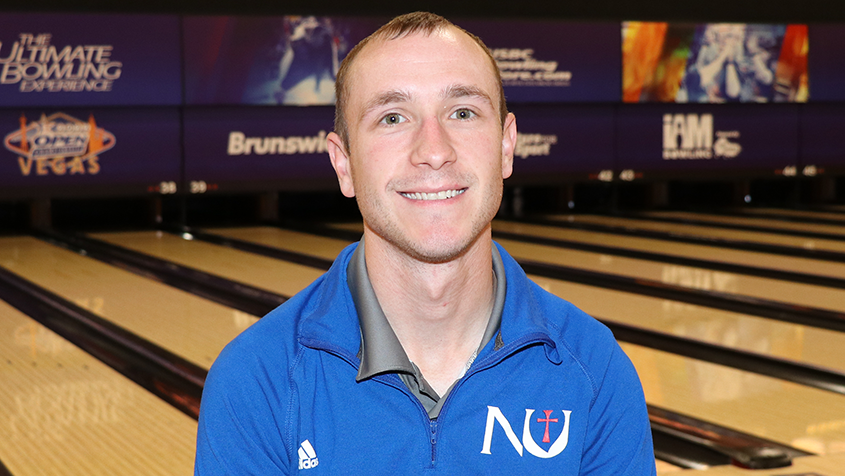 LAS VEGAS
- While the Las Vegas skyline may have been lit up with fireworks Monday night for the Fourth of July, the South Point Bowling Plaza was the stage for an explosion of strikes Tuesday morning at the 2022
United States Bowling Congress Open Championships
.
Alex George of Wichita, Kansas, rolled games of 290, 279 and 279 for an 848 series to take the lead in Regular Singles at the 118th edition of the event Tuesday at the Bowling Plaza, recording strikes on 32 of his 35 deliveries during the set.
The score is the sixth highest in tournament history and fourth overall on the list in singles competition.
USBC Hall of Famer Bo Goergen of Sanford, Michigan, holds the all-time record at the Open Championships with an 862 set to win Regular Singles in 2009, and George's set is the highest since TJ Schmidt of Granger, Indiana, connected for 855 in doubles at the 2011 event.
The 27-year-old right-hander had the chance to surpass Goergen's number heading into his final frame Tuesday after tossing nine consecutive strikes to start Game 3. He needed the first two hits for the chance to best the mark but left a 4 pin on his first shot.
Although the nine count meant the record was out of reach for George, it did secure him the top spot in Regular Singles. Scott Patke of Lansing, Michigan, had led since May 20 with an 835 series.
He covered the spare and rolled one final strike on his fill ball, leaving just two 10 pins to go along with the 4 pin in a set that featured strings of 19 and 12 consecutive strikes.
"With less than two weeks left, doing it this late in the event is hard to comprehend," said George, who made his sixth tournament appearance. "You only get a couple chances at an Eagle each year. I never thought coming in I could get to that kind of number. My big goal is to try and shoot 300 at some point in my career out here, and I got close a couple times today, but I'll trade those for 848 and an Eagle."
The former collegiate athlete at Newman University knew something special was coming together after his first two games in singles, but he did not know the score at the top of the standings.
Instead, he focused on being in the rare position to make a run at the all-time record.
"After I struck out in Game 2, I walked back to my guys and asked them to please not tell me what was leading," George said. "I really didn't want to know. The number in my head was to get to 862. To have the chance at it, before I missed in the 10th, was pretty cool.
"After I got the ninth one, I kind of thought I had the lead, so I'm thankful I threw the first one good enough to get nine. I was pretty nervous, but I at least got it on line and it had the chance to strike."
George had kicked off his 2022 campaign with a 622 set in team and started Tuesday with games of 227, 226 and 235 in doubles for a 688 series. He finished with a 2,158 all-events total, which places him in the top 30. Brian Waliczek of Frankenmuth, Michigan, leads Regular All-Events with 2,241.
The comfort with the pattern and the pair was well in play by the time the scoreboard transitioned to singles, but George credited his teammates in helping during the block.
"The guys I bowled with - Clint (Johnson), Rick (Miller) and Brett (Sterley) - they're great guys and help keep things kind of loose," George said. "I trust myself out here, but I trust my guys to help me when I'm confused and not seeing it the right way. We keep it pretty loose and encouraging, so that helps a lot.
"It's not too hard to go out there and string them together when you have good ball reaction. I like to think I can put shots together, and I could miss either way. It wasn't like I had to bowl in a phone booth, which helped keep the swing pretty relaxed, too. All I had to do was focus on getting back into breathing, slowing down and making sure I was taking it one shot at a time."
George now has a short wait to see if his score remains at the top of the standings. The 2022 Open Championships, which kicked off March 12, concludes July 18.
The Regular Division features bowlers with entering averages of 176 and above.
Visit us on Facebook at the
official USBC Open Championships page
.