Kansas bowler reaches 50-year milestone at 2021 USBC Open Championships
July 08, 2021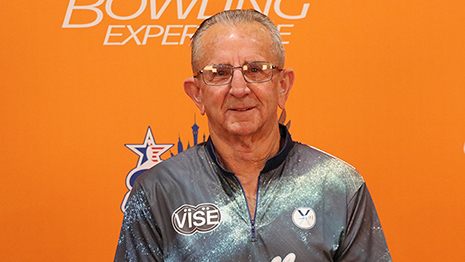 By Hope Parsons
USBC Communications

LAS VEGAS -
Bowling is more than just a sport for some, and it has created families and relationships that will last a lifetime.
It is at the
United States Bowling Congress Open Championships
, where those relationships and memories often are honored.
The world's largest participatory sporting event had another emotional introduction into the 50-Year Club this week at the South Point Bowling Plaza, as Ray Hall of Valley Center, Kansas, reached the milestone, escorted to the lanes by his wife, Eleanor.
The moment was bittersweet, however, because Hall had lost two close friends and teammates who were on the USBC Open Championships journey with him and chasing their own milestones.
Dean Kimple and Gary Morris, both from Wichita, Kansas, last competed with Hall at the 2019 event, also at South Point.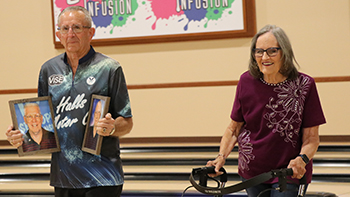 He carried photos of the two as he marched to the lanes Tuesday, and when he received his plaque, chevron and diamond lapel pin prior to his team event, Hall stood in honor of those who could not make it with him.
His emotional speech was heartfelt and made everyone on the lanes hug their friends a little bit closer.
Kimple participated in the Open Championships 25 times from 1975-2019, and Morris, Hall's best friend and bowling partner for more than four decades, logged 46 consecutive appearances from 1974-2019.
In addition to being a compassionate teammate, Hall has a strong passion for bowling and always is striving to get better. The 78-year-old-right-hander made his Open Championships debut at the 1968 event in Cincinnati and has participated every year since 1983.
"I'm a very competitive person, and I don't like to bowl badly," Hall said. "Over the 50 years, I wish I bowled better. Every time I bowl, I wish I had done better."
Despite his harsh self-criticism, Hall was inducted into the Great Plains USBC Hall of Fame in 2013. Kimple joined him in 2019.
Hall added to the excitement of the day by making a run at perfection in the final game of his team event Tuesday. He opened the final game with five consecutive strikes, before a single pin ended the run. He immediately piled on another five strikes for a 264 game.
The big game helped Hall to a 557 team series, and he added sets of 433 in doubles and 449 in singles Wednesday at the South Point Bowling Center for a 1,449 all-events total.
In 50 years on tournament lanes, he has knocked down 83,144 pins for a career average of 184.7.
Hall was teary-eyed as he spoke about the Open Championships, and he expressed his gratefulness to be able to see many different parts of the country.
"If I were to quit now, I would miss the people the most," Hall said. "I do wish to continue to travel and see all sorts of things."
Hall was honored to be able to make it out to Las Vegas and celebrate such a big milestone, while making new memories alongside his teammates. He said he will continue to come out to tournament if his teammates follow.
Hall was the 20th bowler out of 25 scheduled to celebrate 50 years of participation during the 79-day run of the 2021 Open Championships.
Visit us on Facebook at the
official USBC Open Championships Facebook page
.