Kovalova leads qualifying at 2022 USBC Queens
May 21, 2022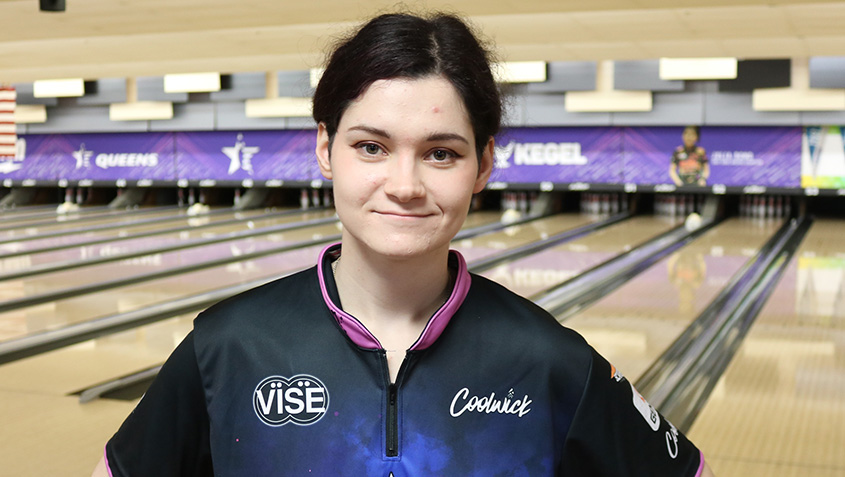 Qualifying - Rd. 3
ADDISON, Ill.
- Ukraine's Dasha Kovalova maintained her lead and averaged more than 223 during qualifying to lead the field into the double-elimination match-play bracket at the 2022
United States Bowling Congress
Queens.
The 2019 USBC Queens champion posted a 1,064 five-game block Saturday at Stardust Bowl to complete qualifying with a 3,350 total for 15 games, a 223.33 average.
Kovalova is followed in the standings by Liz Kuhlkin of Schenectady, New York (3,345), Danielle McEwan of Stony Point, New York (3,318), Jen Higgins of Lewis Center, Ohio (3,259), and Stephanie Schwartz of Racine, Wisconsin (3,249).
The Queens is the second event and first major championship on the 2022
Professional Women's Bowling Association
Tour schedule. The finals will be broadcast live Tuesday at 7 p.m. Eastern on CBS Sports Network. All qualifying and match-play rounds leading up to the televised finals are streaming live at
BowlTV.com
.
With qualifying complete, the top 63 players and Julia Bond of Aurora, Illinois, who was guaranteed a spot in the double-elimination bracket as the defending champion, will return Sunday for match play.
Bond finished qualifying tied for 40th place with a 3,050 total and will face Russia's Maria Bulanova in the opening round.
The final spot in the bracket went to Guatemala's Ana Morales, who finished with a 15-game total of 2,981, a 198.73 average. Kovalova will face Morales in the first round of match play.
The four-time PWBA Tour champion has finished no lower than second during qualifying this week and handled the varying challenges the 42-foot oil pattern has presented. But, each day presents a new challenge, and Saturday was no different.
"I just tried to stay in my bubble and focus on figuring out what the lanes wanted me to do," Kovalova said. "Today was a little tricky because my body did not feel really well, so it took me a little longer than it should've to get into the right ball. But once I got there, you can definitely see when I got into the right ball, because my scores definitely reflect that. Overall, I just tried to stay positive and even if I had my angry, outburst meltdown, I tried to shrink it to the point where I didn't lose a lot of pins."
Last year, Kovalova was the defending champion, qualified 28th and went 2-2 in match play. She's looking to improve on her performance both on the lanes and within her mental space.
"Well, I'm looking forward to just testing my skills," Kovalova said. "I feel I've been doing better mentally, so I just want to see how it is compared to last year's match play. I know last year's match play was kind of stressful for me. I mean, it's obviously always stressful, but I just want to see if I improve."
Kuhlkin continues to impress through the first two events in 2022. After earning the top seed at last week's PWBA Rockford Open, where she finished second, she was the only player in this week's field to have three blocks of 1,100 or better.
Her early success can be attributed to her offseason training, which has her feeling as sharp as she did when she first came out on tour in 2015 following her standout collegiate career at Nebraska.
"One thing I worked a lot on was my leverage and my speed," Kuhlkin said. "I've noticed just being on tour as long as I have that speed is very good on this tour. I'm not talking about rifling it, but just being able to stay right longer. By doing that, I started moving my feet a little bit faster and my swing is a little bit higher. Now, my leverage is so much better at the line than it has been in years. I honestly feel the best I have since I left Nebraska's campus, and that's saying a lot, because I was very good when I left Nebraska."
Sunday's match-play round will begin at 11 a.m. Eastern. All matches prior to the stepladder finals will feature a three-game total-pinfall format.
Bracket play resumes Monday, with the top five athletes advancing to Tuesday's stepladder finals.
The 2022 Queens champion will take home the $60,000 first-place prize and tiara awarded to the winner.