Kulick takes USBC Queens title
April 28, 2010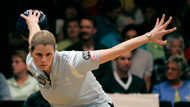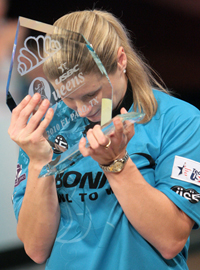 EL PASO, Texas -
Kelly Kulick proved she could beat the men earlier this year and Wednesday she came out on top against a field of the top women bowlers in the world, earning her second United States Bowling Congress Queens title.
The Union, N.J., native climbed the five-player stepladder, winning four consecutive matches, and defeating top seed Tennelle Milligan of Arlington, Texas, 232-188, to win the Queens at the El Paso Convention and Performing Arts Center.
Kulick, the No. 4 seed, made sports history when she became the first woman to win a title on the Professional Bowlers Association Tour in January by defeating Chris Barnes, 265-195, to win the PBA Tournament of Champions. On Wednesday, she added her third career major women's title to her resume.
"I feel like I've been carrying a four-leaf clover in my pocket and have had luck on my side lately," said Kulick, who earned $25,000 for the victory. "This has been the ride of a lifetime. The only way it gets better at this point is if in three months I'm driving a Lexus and have a million dollar endorsement deal."
The 2007 Queens champion and 2003 U.S. Women's Open champion, Kulick got ahead early in the match and never looked back against Milligan. Kulick threw four consecutive strikes from the fourth to the seventh frame, while Milligan failed to double in that stretch.
"It's heartbreaking for Tennelle because I know what a stellar performance she had all week," said Kulick, who was the runner-up to Liz Johnson at the 2009 Queens. "I just had a good performance all week long as well and it was just about getting to the show and seeing what would happen."
Milligan, the 2005 Queens and 2000 U.S. Women's Open champion, said she was pleased with her performance this week despite losing in the title match.
"I was excited, nervous, pumped up and ready to go out there and put on a good show," said Milligan, who earned $15,000 for second. "I just went out there and overthrew the ball. Once I calmed down, everything fell into place, but when you are bowling a game on TV, it's the fastest game of your life."
In reaching the title match, Kulick took out USBC Hall of Famer Anne Marie Duggan of Edmond, Okla., 226-176. With the third place finish and a $10,000 prize, Duggan became the fifth woman to earn $1 million in her career, joining Wendy Macpherson, Tish Johnson, Aleta Sill and Leanne Barrette-Hulsenberg.
Kulick escaped with a victory over Missy Bellinder of Fullerton, Calif., 220-212, in the match before when Bellinder left a pocket 7-10 split in the final frame. Kulick threw the last five strikes to force Bellinder to mark in the 10th frame, which she failed to do.
"I made an adjustment on that lane after I had the messenger take out the 10 pin on the previous shot," Bellinder said. "I moved a little bit right and squared up. Off my hand I thought I threw it perfect, and that's all you can really do."
To open the championship round, Kulick defeated Michelle Feldman of Auburn, N.Y., 186-170. After Kulick left the 4-7-10 split in the ninth frame and spared in the 10th, Feldman had a chance to throw two strikes and a five count to win, but left a 10 pin on her first shot.
The Queens, which will be rebroadcast on ESPN2 on Sunday, May 2 at 3:30 p.m. EDT, featured a field of 201 of the top female bowlers in the world competing for a total prize fund of $166,750. Storm Bowling Products is the official ball company of the 2010 USBC Queens.

2010 USBC QUEENS
(At the El Paso Convention and Performing Arts Center, El Paso, Texas)
Wednesday's Results

CHAMPIONSHIP ROUNDMatch 1
Kelly Kulick, Union, N.J., def. Michelle Feldman, Auburn, N.Y., 186-170. (Feldman finishes fifth, earns $6,000.)
Match 2
Kulick def. Missy Bellinder, Fullerton, Calif., 220-212. (Bellinder finishes fourth, earns $8,000.)
Match 3
Kulick def. Anne Marie Duggan, Edmond, Okla., 226-176. (Duggan finishes third, earns $10,000.)
Match 4
Kulick def. Tennelle Milligan, Arlington, Texas, 232-188. (Milligan finishes second, earns $15,000; Kulick finishes first, earns $25,000.)