Larsen leads 2023 U.S. Open heading into final round of qualifying
February 02, 2023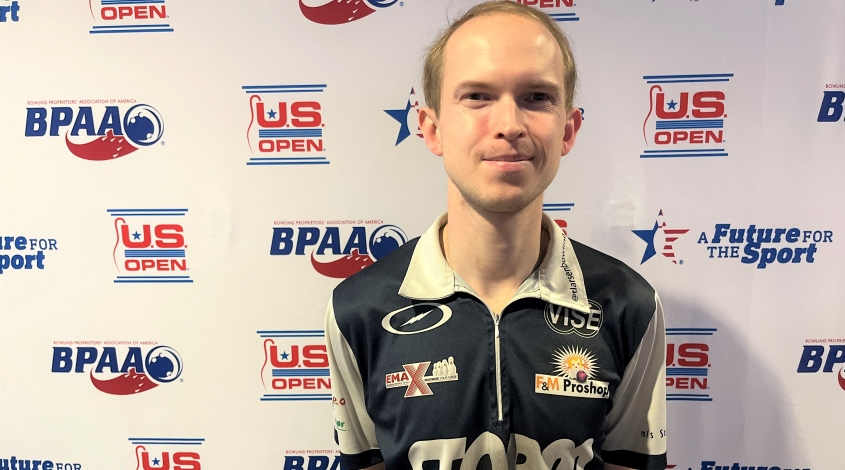 INDIANAPOLIS –
With one qualifying round remaining before the first cuts are made, Thomas Larsen of Denmark leads the 2023 U.S. Open presented by Go Bowling!
Wednesday's second round of qualifying was an interesting one as many competitors made strong moves up the leaderboard while others struggled to hang on.
Larsen, on the other hand, stayed consistent, recording an eight-game total of 1,728 (a 216 average) on Day 2 to go along with the 1,749 he notched on Day 1.
Larsen's two-day, 16-game total of 3,477 allowed him to stay just in front of second-place E.J. Tackett of Bluffton, Indiana (3,473) and third-place Shawn Maldonado of Sugarland, Texas (3,463), both of whom had solid second rounds of their own.
The consistency that Larsen has shown over the course of the first two rounds is a commodity that would serve any bowler well, particularly during the pursuit of a U.S. Open title.
Larsen attributes his steadiness to his early experiences learning the game in Denmark.
"Growing up, we were never really exposed to bowling on house shots like you see over here. We didn't necessarily always bowl on tough patterns, but we saw a lot of variety, dry patterns, bad patterns, you name it. Even the easy conditions we saw weren't as easy as normal house shots," Larsen said. "That forced me to grow up having to be able to hit my target and repeat shots. I think that's something that I've kept building on ever since."
On Wednesday, Larsen built upon his overall score, and he didn't wait long to begin.
Larsen opened Round 2 with games of 227, 220, 232, 227, 204 and 248 before finally beginning to slow down.
Oil pattern transition and a couple of tricky pairs of lanes led to finishing scores of 183 and 187, the latter being a clean game in which Larsen didn't record a strike.
Still, Larsen's ability to control the pocket and convert spares allowed him to minimize the damage and remain the tournament's overall leader with just one qualifying round remaining.
Even though Larsen has won a major championship before – he was the 2021 USBC Masters champion – leading a U.S. Open through two rounds is uncharted ground.
Nevertheless, he isn't wasting time and energy looking too far ahead. He and his squad-mates will, however, have to wait longer than their fellow competitors to get back to action as B Squad will be the last group to bowl its third and final qualifying round on Thursday.
"From the perspective of jetlag, it would probably be better for me to get back out there earlier in the day. However, by bowling later, I'll get to watch two squads, see what the lanes are doing and have a good idea of what I have to go out there and do," Larsen said. "I don't think bowling later is going to end up being a big issue."
Larsen is correct; the big issue will be reaching the top 24 by the end of Thursday's final qualifying round because all bowlers who fail to do so will see their 2023 U.S. Open runs come to an end.
Several players will come into Thursday's round looking to build upon the stellar efforts they put together during Round 2.
Tom Daugherty of Riverview, Florida, bowled the round of the day, coming in with an eight-game total of 1,832, which was good for a 229 average and helped move Daugherty up from 52nd place after Day 1 to seventh place after Wednesday's round.
Matt Ogle of Louisville had a memorable day himself, using a 285 in Game 4 to propel himself to the day's second-best series with 1,804. The effort was enough to move Ogle all the way up to sixth.
Nevertheless, the position everyone is eyeing at this point is 24th, and through two rounds that spot is held by Kristopher Prather of Romeoville, Illinois. Prather shot an A Squad-best 1,789 on Wednesday to reach a two-day, 16-game total of 3,274.
Nevertheless, there are 20 bowlers within 100 pins of the final spot, and with eight games remaining on a flat 39-foot oil pattern that is expected to be the most challenging the players have faced yet, it's likely that there will be lots of movement in the standings as qualifying comes to a close.
Once all competitors complete their final eight games of qualifying on Thursday, the field will be cut from 108 to 24 for three rounds of round-robin match play, which will begin Friday morning at 10 a.m. Eastern and be contested on an oil pattern the players haven't seen yet.

Once match play begins, players' 48-game totals, including 30 bonus pins for each win during match play, will decide the nine bowlers who advance to the two live televised rounds.
The first round will feature seeds No. 5-9 battling it out on FS1 Saturday at 4 p.m. Eastern. The bowler who wins that stepladder will join seeds No. 1-4 for the championship round Sunday at 2 p.m. Eastern on FOX.
The 2023 U.S. Open is a collaborative effort between the USBC and BPAA and again will be considered a major on the PBA Tour. The total prize fund for the event will exceed $275,000.
For more information about the U.S. Open, visit
BOWL.com/USOpen
.