Left-hander fifth bowler from state of New York to notch perfect game at 2022 USBC Open Championship
April 30, 2022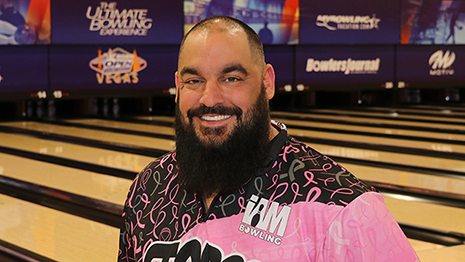 LAS VEGAS -
Stepping onto the approach at the
United States Bowling Congress Open Championships
with a chance at perfection often makes even the most seasoned bowlers feel things they haven't in a long, long time.
With experience, comes the ability to suppress nerves and perform under pressure. Past success fuels confidence. But, being on the biggest stage in bowling changes things.
As Ricky Zinone of Rochester, New York, looked to polish off the 18th perfect game of the 2022 USBC Open Championships, the magnitude of the moment was evident, but he handled it well.
The 35-year-old left-hander finished the job during his second game of singles at the South Point Bowling Plaza, making him just the third southpaw to accomplish the feat at this year's event. He also is the fifth bowler with an address in the state of New York to add his name to the list.
"It probably was the most nervous I've ever been bowling, and I was really shaking on those last two shots," Zinone said. "All of this means a lot. It's a once-in-a-lifetime opportunity that not many people get, and I'm one of them."
The 300 came between games of 205 and 248, and his career-best 753 series is just inside the top 25 of the 2022 Regular Singles standings. David Jecko of Whitesboro, New York, who also owns one of the tournament's perfect games, leads with 788.
Zinone had some company on the left side of the lane during his six games of doubles and singles Saturday, but he and teammate Scott Dingman of West Henrietta, New York, didn't have an overly complicated strategy for how to attack the unknown oil pattern.
Simply enough, they both chose to start the day throwing urethane bowling balls, but it wasn't long before Zinone selected a different path for his run up the leaderboard.
"We talked, and we both started off using urethane, but he stuck with it the whole time, and I couldn't," Zinone said. "I wasn't carrying at all with the urethane. It just wasn't working for me. I moved in and tried to play off where he was playing. It happened to work out for me."
Neither player garnered any attention during doubles, as Zinone and Dingman shot 608 and 584, respectively, but it seems as if a switch was flipped when the scoreboards changed from doubles to singles.
Dingman, 50, finished doubles with four consecutive strikes and started singles with another 10, before missing the headpin to the left. His run at perfection ended with the 1 and 3 pins still standing after his 11th shot.
After two games of singles, Dingman held a 28-pin lead over Zinone in the race up the standings. Dingman had games of 288 and 245 for a 533 total, while Zinone had 205 and 300 for 505.
By the sixth frame of the final game, both were out of contention for a singles title at the 2022 Open Championships. Dingman finished with 208 for a 741 series.
"I was a nervous wreck going into the third game, and I was still shaking for the first three frames," said Zinone, who lists Rochester's Sunset Lanes as his home center. "I knew what the number was and that I needed another huge game to get there. I knew it was going to be tough to do."
This year marked Zinone's seventh Open Championships appearance.
With a 566 series in team Friday, Zinone finished his 2022 tournament campaign with a career-best 1,927 all-events total. His highest score entering this year was a 1,759 performance in Reno, Nevada, in 2013.
Dingman, an 18-time Open Championships participant, had 564 in team and finished with a 1,889 all-events total.
Brett Cunningham of Clay, New York, leads Regular All-Events this year with 2,220.
Regular Singles and Regular All-Events include bowlers with entering tournament averages of 176 and above.
Visit us on Facebook at the
official USBC Open Championships page
.