Legendary past champions Weber and Williams in Winners Bracket at 2023 USBC Senior Masters
June 10, 2023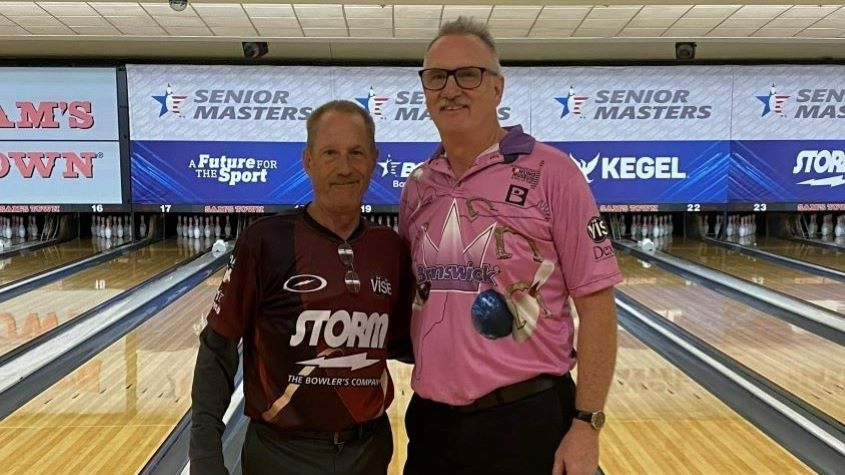 LAS VEGAS –
The Winners Bracket at the 2023 United States Bowling Congress Senior Masters was whittled down to 16 players Friday, and included in that number are a pair of legendary past champions, Pete Weber and Walter Ray Williams Jr.
Weber, of St. Ann, Missouri, and Williams, of Oxford, Florida, are the only past champions left in the field and each is seeking to become the first three-time winner of the event.
While neither player qualified particularly high for the double-elimination match play bracket - Weber was 24th and Williams was 55th - they each won both of their three-game total pinfall matches at Sam's Town Bowling Center Friday to remain in the Winners Bracket.
For Williams, the second of those victories didn't come easily. He trailed Paul Fleming of Fort Worth, Texas, by 25 pins heading into the final game of the match. Williams worked his way back into the match and finished with a three-game total of 625. Fleming got up in the 10th frame needing to strike out to force a tie and a one-shot roll-off. His first two shots struck, but a stubborn 10 pin on his last shot gave Williams the win.
"I'm very fortunate to be in the Winners Bracket right now," said Williams. "I shot 640 and 625 today. I won the last match by one pin and got a little lucky there. My opponent (Fleming) was looking good, then had a couple bad shots and I managed to get just enough."
Both Williams and Weber are USBC and Professional Bowlers Association Hall of Famers. Unlike Williams, Weber didn't have any close calls in his first two matches. He defeated Jon Rakoski, 677-614, and Darryl Bower, 745-617.
"I'm throwing the ball probably as good as I've thrown it in a long time," Weber said. "So, the physical game is good. Mental game, well, I've been very calm these last two weeks. I've made a little lifestyle change and I'm feeling a lot better about myself. I'm just glad we're bowling again because I was getting bored at home with nothing to do."
Other familiar names in the Winners Bracket include USBC and PBA Hall of Famers Lennie Boresch of Kenosha, Wisconsin, and Ron Mohr of Las Vegas. Team USA member and USBC Hall of Famer John Janawicz of Winter Haven, Florida, bowling in his first Senior Masters, is also in the Winners Bracket, along with PBA Tour champion Brad Angelo. Angelo of Lockport, New York, won a "battle of Buffalo" match with fellow PBA Tour champion Jack Jurek of Lackawanna, New York, in the opening round of match play.
The most impressive two rounds of match play Friday came from Troy Lint of Blandon, Pennsylvania. Lint won his first match with 768 to defeat Eric Schultz of Nolensville, Tennessee. Lint was even better in the second round of the Winners Bracket as he shot 835 to take care of Christopher Keane of Cape Coral, Florida.
Jurek and Fleming, who recovered from his tough loss to Williams, are two of the 16 players still alive in the Elimination Bracket. Joining them are USBC and PBA Hall of Famers Parker Bohn III of Jackson, New Jersey, and Jason Couch of Clermont, Florida. Bohn and Couch qualified second and fifth respectively for match play, but each lost their second match in the bracket and now must fight through the Elimination Bracket in order to reach the stepladder finals.
"I've bowled very well here at Sam's Town and had a lot of success on the lanes," Bohn said. "Unfortunately, the only thing that hasn't come with that success is winning a title. I finished third here in this event last year and I really, really want to get into the winner's circle here."
While Bohn will continue his quest to win his first Senior Masters title, a handful of name players had their title hopes come to an end Friday.
Defending champion Dino Castillo of Highland Village, Texas, qualified first for match play and won his first match, but then lost his next two and was eliminated. Also eliminated were USBC and PBA Hall of Famers Chris Barnes of Denton, Texas, and Mike Koivuniemi of Traverse City, Michigan.
Past champion Tom Hess of Granger, Iowa, and No. 3 seed Walt Blackston of Hawthorne, California, are also heading home. Blackston had a 799 series and a 300 game during qualifying.
For Weber and Williams, the title quest continues.
Williams, who won this event in 2017 and 2014, continues to battle arthritis in his bowling hand.
"Physically, I'm semi-ok," Williams said. "I've got arthritis in my right hand and it's pretty bad in my index and pinky fingers. I don't even shake hands with people anymore because it hurts too much; I fist bump them. Fortunately, the two fingers I use for bowling are decent. It hurts a little bit when I bowl, but it's not so bad that I can't bowl."
Despite the pain in his bowling hand, Williams still has the drive to win.
"I still enjoy the competition and competing in tournaments," Williams said. "You always want to win another tournament. That's just the way I am. I'm still decent and I've still got a chance to win tournaments. It's almost like the stars have to align these days for that to happen, but I'm not giving up; I'm still competitive."
For Weber, who won this event in 2016 and 2013, bowling in match play at Sam's Town brings a certain confidence.
"I've always bowled good at Sam's Town," Weber said. "I've always had a good reaction and my ball roll seems to fit this house. It's just a matter of finding the ball that strikes. I've been making ball changes quick and often when I need to. For me, I just need to make sure I feel good and that I'm not babying the ball, but throwing it."
Bracket matches continue Saturday until the field is cut to the top five for the stepladder finals Sunday at 1 p.m. Eastern. All competition in the USBC Senior Masters is live on
BowlTV
.
Since the stepladder will be broadcast on BowlTV, the top seed will have to be defeated twice in the true double-elimination format. The winner of the 2023 USBC Senior Masters will take home a major championship on the PBA50 schedule and the first-place prize of $20,000.
For scores and information about the 2023 USBC Senior Masters, visit BOWL.com/SeniorMasters.