Lennie Boresch Jr. earns top seed at 2022 Super Senior Classic
June 04, 2022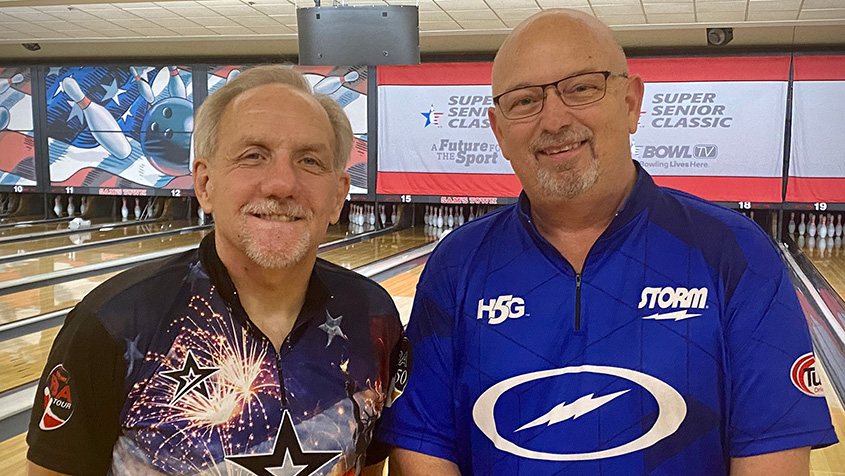 (pictured above: Ron Mohr (left) and Lennie Boresch Jr. have advanced to the stepladder finals at the 2022 Super Senior Classic)

CASHERS' ROUND
MATCH PLAY

LAS VEGAS
- United States Bowling Congress Hall of Famer Lennie Boresch Jr. of Kenosha, Wisconsin, earned the top seed for the stepladder finals at the 2022
Super Senior Classic
on Saturday thanks in part to a 5-1 record in match play at the Sam's Town Bowling Center.
Boresch, who was second after 18 games to 2017 Super Senior Classic champion Ron Mohr of Las Vegas, lost his first game in the round-robin portion of the event before collecting five consecutive wins and 30 bonus pins for each victory to finish with a 5,785 total to lead Group B.
Mohr, who was in Group A, went 3-3 in match play to finish with a 5,699 total, including bonus pins, to secure the top spot in his group and earn the No. 2 seed for Sunday's stepladder finals.
The 173-player field at the 2022 event bowled 12 games over two days to determine the 44 bowlers advancing to Saturday's Cashers' Round, based on total pinfall. An additional six-game block determined the top 12 to move on to match play.
The match-play finalists were split into two groups for six games of round-robin competition, with the top finisher in each group earning an automatic spot in the stepladder based on 24-game totals, including bonus pins. Boresch earned the top seed by having the highest overall total.
The second, third and fourth seeds from each group will face off in simultaneous group stepladders starting Sunday at noon Eastern, before the main four-player stepladder takes place at 2 p.m. Eastern.
From Group A, opening-round leader Tom Adcock of Forsyth, Illinois, Pete McCordic of Katy, Texas, and Eric Forkel of Henderson, Nevada, advanced to Sunday's group stepladder. McCordic and Forkel will face off in the first match, with the winner facing Adcock for the chance to advance to main stepladder.
In Group B, defending champion Amleto Monacelli of Venezuela, Jon DeLaney of McKinney, Texas, and Mitch Vernon of Olympia, Washington, will compete for a spot in the main stepladder. DeLaney and Vernon will be in the opening match, with the winner facing Monacelli, a USBC and Professional Bowlers Association Hall of Famer.
The winners of each group stepladder will claim the No. 3 and No. 4 spots in the finals, with seeding being determined based on their average for the event.
The winner of the 2022 Super Senior Classic will receive $7,500 for the top prize. All rounds of the 2022 event, including both stepladders Sunday, are being broadcast at
BowlTV.com
.