Lindenwood, Saginaw claim titles
April 29, 2006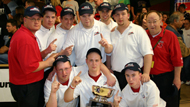 ROCKFORD, Ill. –
With help from their key players in the final frame, the Lindenwood women and Saginaw Valley State men claimed national championships Saturday at the 2006 United States Bowling Congress Intercollegiate Team Championships.
Both teams swept their opponents in the best-of-three Baker games championship match. The Lions defeated Central Florida 194-168 and 192-191 while the Cardinals took care of Newman 201-189 and 176-174.
The USBC Intercollegiate Team Championships is the pinnacle event of the college bowling season and featured the top teams in the country vying for national titles at The Cherry Bowl.
Lindenwood senior Jessica Lesagonicz stepped up in the final frame of Game 2 needing two strikes and seven to secure a victory. After the first shot crossed over and carried for a strike, she was perfect on the second shot. On the fill ball, she got just enough – leaving a 3-6-10 for the win.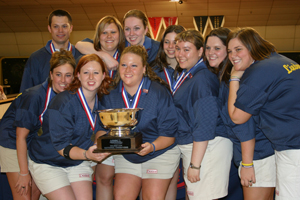 "The pressure was on, and I love it," Lesagonicz said. "I went up there and did the best I could. I don't believe it yet. It's been a long four years, and we've finally done it. It's a great feeling."
On the men's side, Saginaw Valley State got a clutch strike from anchor Dan MacLelland to propel it to victory. Trailing until the eighth frame, MacLelland pushed the Cardinals ahead with a strike on the first ball in the 10th for a double.
Newman's Cory Simmons, a USBC Team USA member in 2005, struck on the first ball in the 10th, but went high on the second shot – leaving a 4-7 and giving Saginaw Valley State the championship.
"On Thursday, we really didn't have a good look anywhere, but Friday we came out and had a lot of motivation behind us," MacLelland said. "We just played off each other, read off each other's moves and talked to each other like we did in our 11 other wins this year."
The Cardinals' victory marked their third national championship overall, all coming under long-time coach Dan Dorion.
"What they have accomplished here today will go with them the rest of their lives," said Dorion, whose team also won in 1991 and 1997. "They will always be national champions. It is a life-changing experience. It will give them more pride in whatever field they go into."
Saginaw Valley State had two players named to the men's All-Tournament Team with MacLelland and Anthony LaCaze joining Brian Valenta of Lindenwood, Collin Kerschner of Purdue and T.J. Mento of Wichita State. Simmons was named the tournament's Most Valuable Player.
For the women, Lindsey Coulles of Morehead State was named the Most Valuable Player while Stefanie Nation of Central Florida, Maryetta Lewis of Maryland-Eastern Shore, Amy Corbin of Morehead State and Lesagonicz also made the All-Tournament Team.
The 2006 USBC Intercollegiate Team Championships was sponsored by Brunswick, Pepsi and Kegel, the official lane maintenance provider of USBC.
2006 USBC INTERCOLLEGIATE TEAM CHAMPIONSHIPS
(at The Cherry Bowl, Rockford, Ill.)
Saturday's Results
MEN
Semifinals (Best-of-7 Baker, double elimination)
(3) Newman 4, (2) Lindenwood 3 (Lindenwood eliminated)
(9) Saginaw Valley State 4, (4) Wichita State 2 (Wichita State eliminated)
Finals (Best-of-3 Baker)
(9) Saginaw Valley State 2, (3) Newman 0
(Game 1 – Saginaw Valley State 201, Newman 189; Game 2 – Saginaw Valley State 176, Newman 174)
WOMEN
Semifinals (Best-of-7 Baker, double elimination)
(9) Lindenwood 4, (1) Maryland-Eastern Shore 3 (Maryland-Eastern Shore eliminated)
(6) Central Florida 4, (2) Morehead State 3
(6) Central Florida 4.5, (2) Morehead State 3.5 (Morehead State eliminated)
Finals (Best-of-3 Baker)
(9) Lindenwood 2, (6) Central Florida 0
(Game 1 – Lindenwood 194, Central Florida 168; Game 2 – Lindenwood 192, Central Florida 191)