Lindenwood, Wichita State win titles
April 23, 2005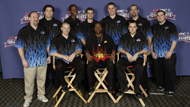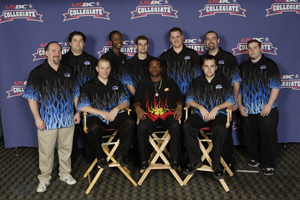 ROCKFORD, Ill. - Teammates describe Lindenwood University junior Emil Williams Jr. as the "Human Firework." Thanks to Williams' explosiveness Saturday, all of the Lions can call themselves national champions.

Lindenwood, located in St. Charles, Mo., defeated Fresno State 2-0 in the best-of-3 men's final at the 2005 Intercollegiate Bowling Championships, a United States Bowling Congress Event, at the The Cherry Bowl.

The Intercollegiate Bowling Championships is the pinnacle event of the college bowling season. The IBC brings together the top 16 men's and top 16 women's teams in the country to compete for national titles on national television (College Sports Television).

It is the first national championship for the Lions, who were participating in the Intercollegiate Bowling Championships for only the second time.

"It hasn't sunk in," said Williams, a Chicago native. "We just want to bask in this right now. This feels so unbelievable."

Williams, the leadoff bowler, sparked the Lions to strikes in four of the first five frames in Game 1. Lindenwood also took advantage of Fresno State's three opens frames, clinching a 189-185 victory when sophomore Brian Valenta, Lockport, Ill., struck on the final ball.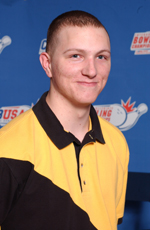 Valenta, a 2004-05 National Collegiate Bowling Coaches Association All-America first-teamer and a Junior Team USA 2005 member, received a $500 scholarship for being runner-up in Linds World Impex Most Valuable Player voting.

"These guys have had confidence all year," Lindenwood coach Randy Lightfoot said. "This is what happens when you believe in yourself. It also helps when you have one of the best collegiate bowlers in the country (in Valenta)."

Williams also led off with one of the Lions' five strikes in Game 2 and fed off three missed split conversions by the Bulldogs. Consecutive strikes from sophomore Jesse Scrivens, Athens, Pa.; senior Ryan Reid, Richmond, British Columbia; and sophomore Shea Bittenbender, Mount Cobb, Pa., sealed the championship - a 218-176 Game 2 victory.

"The team depends on me to get up there and get them going," Williams said. "This was a total team effort."

Other members of Lindenwood are senior Bryan Chase, Scranton, Pa.; senior Marc Schofield, Vancouver, British Columbia; and freshman Chad Czarnecki, Arnold, Mo.

The Lions were presented with the Helmer Cup, awarded to the IBC national champions. The Helmer Cup is named in honor of the late Kerm Helmer, longtime coach at Erie Community College who led his teams to four IBC titles.

Joining Valenta on the men's All-Tournament Team were Morehead State junior David O'Sullivan (MVP), Fresno State junior Ivan Miyasato, Fresno State sophomore P.J. Haggerty and Kansas junior Rhino Page.

2005 INTERCOLLEGIATE BOWLING CHAMPIONSHIPS
A United States Bowling Congress Event
The Cherry Bowl, Rockford, Ill.
Saturday's Results

SEMIFINALS
(Best-of-7 Baker games, double-elimination)

Men
Fresno State 4, West Texas A&M 3 (West Texas A&M eliminated)
Morehead State 4, Lindenwood 2
Lindenwood 4, Morehead State 0 (Morehead State eliminated)
Women
Western Illinois 4, Wichita State 2
Wichita State 4, Western Illinois 0
West Texas A&M 4, Pikeville 0
West Texas A&M 4, Pikeville 0 (Pikeville eliminated)

CHAMPIONSHIPS
(Best-of-3 Baker games, winner take all)

Men
Lindenwood 2, Fresno State 0
(Game 1 - Lindenwood 189, Fresno State 185; Game 2 - Lindenwood 218, Fresno State 176)

Women
Wichita State 2, West Texas A&M 0
(Game 1 - Wichita State 217, West Texas A&M 176; Game 2 - Wichita State 176, West Texas A&M 169)