Liz Johnson Among Four Players Advancing to PBA Chameleon Championship Finals
November 15, 2017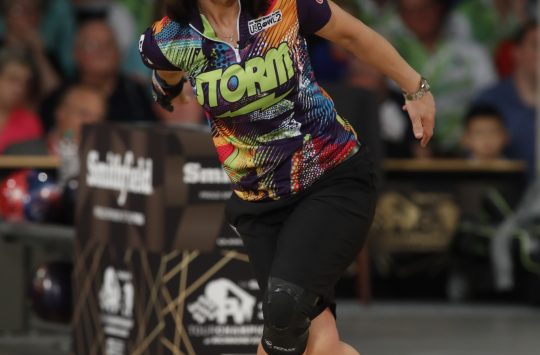 RENO, Nev. (Nov. 15, 2017) – Liz Johnson, Wes Malott, Anthony Pepe and Tom Smallwood swept their respective best-of-three Round of 8 matches Wednesday afternoon to advance to Saturday's finals of the PBA Chameleon Championship presented by Reno Tahoe that will be taped by ESPN at noon PST and live streamed on ESPN3.
The finals telecasts will use a format where the four finalists simultaneously bowl one game on the same pair of lanes with the top two scorers advancing to a head-to-head final match. The Chameleon finals will air on ESPN Sunday, Dec. 17 at 1 p.m. ET.
The Chameleon Championship is part of the GEICO PBA World Series of Bowling IX, presented by Eldorado Reno Resorts Properties and the 2017-18 Go Bowling! PBA Tour schedule.
Johnson, a USBC Hall of Famer and three-time reigning Professional Women's Bowling Association Player of the Year, beat Josh Blanchard of Mesa, Ariz. 2-0 (239-224, 228-214) to advance to the finals.
Johnson, a native of western New York who now lives in Palatine, Ill., is a two-time PBA regional champion, and has a best PBA Tour finish of second which came in the 2005 Banquet Open. She also owns a record 10 PWBA Tour major titles. She will be hoping to join Kelly Kulick, the 2010 PBA Tournament of Champions winner, as the only women to win a PBA Tour title.
Malott, of Pflugerville, Texas, a 10-time Tour winner, made his first TV final at the National Bowling Stadium by beating Swedish two-hander and PBA World Championship top qualifier Jesper Svensson 2-0 (279-258, 255-214).
Pepe, of Elmhurst, N.Y., whose first PBA Tour title came in the 2014 Cheetah Championship, will be trying for his second PBA Tour title advancing to the finals by beating Marshall Kent of Yakima, Wash., 2-0 (202-202, won roll-off 20-19, 279-233).
Smallwood of Saginaw, Mich., advanced to the finals with a 2-0 (249-178, 231-225) win over Thailand's Yannaphon Larpapharat. Smallwood, the 2009 PBA World Championship winner, will be trying for his third PBA Tour title.
Elimination rounds for the Shark Championship presented by Xtra Frame continue this afternoon. All competition is covered live by PBA's online bowling channel Xtra Frame.
PBA CHAMELEON CHAMPIONSHIP PRESENTED BY RENO TAHOE
National Bowling Stadium, Reno, Nev., Wednesday
Round of 16 (best-of-five games, winners advance to round of 8, losers earn $1,200)
Tom Smallwood, Saginaw, Mich., def. Matthew Sanders, Evansville, Ind., 3-0 (213-179, 246-206, 226-198).
Jesper Svensson, Sweden, def. Jason Belmonte, Australia, 3-1 (247-211, 215-243, 223-222, 279-221).
Marshall Kent, Yakima, Wash., def. Francois Lavoie, Canada, 3-2 (221-227, 155-258, 269-259, 254-253, 222-202).
Josh Blanchard, Mesa, Ariz., def. DJ Archer, Friendswood, Texas, 3-1 (215-242, 248-202, 300-225, 235-214).
Liz Johnson, Palatine, Ill., def. Ryan Ciminelli, Cheektowaga, N.Y., 3-2 (217-236, 238-248, 247-195, 248-207, 267-192).
Anthony Pepe, Elmhurst, N.Y., def. Zacharay Wilkins, Canada, 3-2 (218-199, 187-204, 183-234, 245-185, 225-194).
Wes Malott, Pflugerville, Texas, def. Glenn Pedersen, Norway, 3-1 (182-195, 245-225, 257-192, 279-180).
Yannaphon Larpapharat, Thailand, def. Adrian Ang Loong, Malaysia, 3-2 (198-223, 237-248, 266-227, 259-211, 225-187).
300 game: Josh Blanchard
Round of 8 (best-of-three games, winners advance to ESPN-taped finals Saturday at noon PT. ESPN telecast Dec. 17 at noon ET. Losers earn $2,000)
Smallwood def. Larpapharat, 2-0 (249-178, 231-225).
Malott, def. Svensson, 2-0 (279-258, 255-214).
Pepe def. Kent, Yakima, Wash., 2-0 (202-202, won roll-off 20-19, 279-233).
Johnson def. Blanchard, 2-0 (239-224, 228-214).