Longtime USBC Open Championships vendor reaches 60 years of participation in 2021
July 14, 2021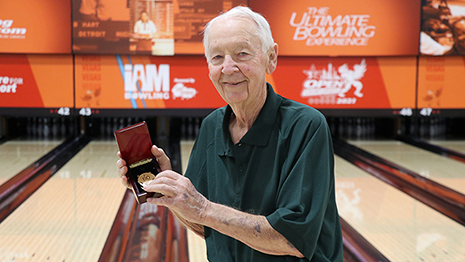 LAS VEGAS -
For many years, Norm Cummings of Reno, Nevada, has been responsible for creating the participation plaques at the
United States Bowling Congress Open Championships
, and his team had the honor of making a special one this week at the South Point Bowling Plaza.
One of the final awards they created for the 2021 event belongs to Cummings himself, who became the 29th bowler in tournament history to make 60 appearances on the championship lanes.
The 83-year-old right-hander was surround by his friends, family and entire staff, which has become like an extended family in a decade together at the USBC Open Championships and USBC Women's Championships, where they also handle all of the Squad Room photos, embroidery and video service.
His moment in the spotlight came Tuesday afternoon at the South Point Bowling Plaza after nearly three months of preparing awards, taking photos and embroidering shirts for tens of thousands of eager competitors.
"I don't think I was nervous, but it all was so overwhelming," said Cummings, who made his Open Championships debut at the 1959 event in St. Louis. "When the people applauded like they did, I couldn't believe it. I was impressed and humbled by how many people were excited about it."
Cummings also was impressed by the number of bowlers on his modest July team squad who had logged years, or decades, of participation and were well on their way to reaching 50 or 60 years of their own.
Based on the timeline of his career, which included a decade in the Open Championships public relations department from 1989-1999, Cummings has been present to see nearly every 60-year celebration. The first to reach the milestone was USBC Hall of Famer Bill Doehrman, who competed 71 consecutive times from 1908-1981.
"I really couldn't believe how many people on this squad were up there in years and well on their way to reaching 50," Cummings said. "From a standpoint of my interest in the game and its future, and my own desire to compete, to see that many people that far along, I know this thing is going to continue and get stronger. It's an awesome game and event, and people are here for so many reasons. If you want to bowl well, you work for it. If you want to have a good time with friends and family, you can do that, too."
Cummings, who was a Booster Team champion in 1990, later made a tradition of utilizing the event's on-site sub board to determine when he'd compete each year, and it has allowed him to meet people from all over the world.
Despite being in town and at the South Point Bowling Plaza since before the 2021 tournament got underway, as he has done in his various roles since 1989, Cummings waited nearly the entire 79-day run of this year's event to make his entrance into the elite 60-Year Club.
Along with the plaque, Cummings received a chevron and engraved money clip to commemorate the achievement, which he ranks closely with being inducted into the Milwaukee Area USBC Hall of Fame in 1987.
Though he's based in Reno, Nevada, a longtime and frequent home for the Open Championships, Cummings' roots are in the Midwest and Milwaukee area, a region rich with bowling tradition and a track record for success at the Open Championships.
He may not get to see his Wisconsin friends and fellow hall of famers as much as he'd like, but technology has allowed him to proudly keep up with all of the association and hall of fame news and activities, while being at the Open Championships every year allows for annual reunions with many.
Cummings turned his complete attention to bowling after eight years as a teacher, and he hasn't regretted it for one minute.
While he could've succumbed to any number of vices in life, bowling quickly became his habit and passion. That's where he chose to spend his time and money, and he continues to be rewarded - in success, relationships, accolades and satisfaction.
Cummings' mentor in the sport was Milwaukee's Ned Day, a hall of famer many times over and a three-time champion at the Open Championships.
Day pushed Cummings to test his skills against some of the top competitors of the mid-1900s, and that only fueled his passion for the game. It helped Cummings become a better bowler, introduced him to the pro shop business and allowed him to build the foundation for a lifetime behind the scenes at the sport's premier event.
"It didn't take long, and I was hooked," Cummings said. "Looking back, I have no complaints whatsoever. I did what I wanted to do and had a great time doing it. You make some mistakes, and you make some good things and memories. I already knew the sport was incredible because of how it brings families and generations together, and to work in it all these years, well, it's great to be associated with it."
Cummings knows his scoring potential is limited, but he still finds thrill in each strike and enjoys seeing the variety of styles each day at the Open Championships. He also is impressed by today's high-speed, high-rev bowlers and their powerful strikes.
This year on the tournament lanes, he rolled sets of 428 in team, 422 in doubles and 414 in singles for a 1,264 all-events total.
In 60 Open Championships appearances, he has knocked down 94,355 total pins for a career average of 179.7.
"Reaching this milestone absolutely will keep me going," Cummings said. "If I can walk and talk, you know I'll be out there again. It's just in my blood, though it's different than back when I used to bowl every day. More than anything, it's the people who have made it all so special."
Visit us on Facebook at the
official USBC Open Championships Facebook page
.