Martin drives his way to 60th consecutive USBC Open Championships appearance
June 09, 2022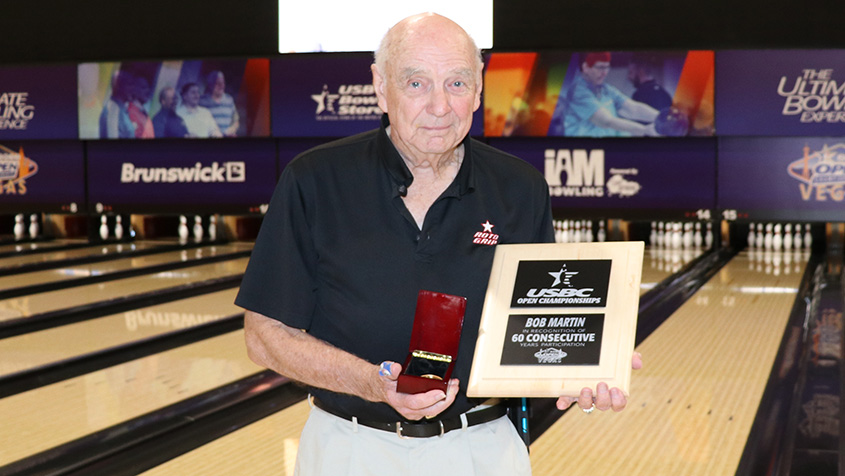 By Nick Bonsanto
USBC Communications

LAS VEGAS
- Imagine you are 87 years old and cannot wait to compete in your 60th consecutive
United States Bowling Congress Open Championships
, so you proceed to drive 1,300 miles from Texas to the South Point Bowling Plaza by yourself to make it happen.
That is precisely what Bob Martin of San Antonio did this week as he celebrated his milestone appearance at the tournament.
Yes, Martin does not like to fly, so driving to the USBC Open Championships is something he has done for 60 years.
"The kids don't like when I drive this far, but I like to do it," said Martin, who made his first appearance at the 1962 tournament in Des Moines, Iowa. "When I was young, I was a traveling salesman and drove 1,000 miles every four days, so it doesn't bother me."
Martin also drove himself into a very elite category for those who have participated at the Open Championships. Martin now is one of only 32 bowlers to reach 60 years on the championship lanes after his appearance Monday at the 2022 event in Las Vegas.
His family did fly to the tournament and were in attendance when he received a plaque, chevron and engraved money clip to commemorate the achievement.
In thinking about making it to his 60th tournament, Martin said, "I feel very, very lucky. Lucky to have the money to make 60. Lucky to be able to get off work to make 60. Lucky to have family that backed me to make 60. Not to mention, to stay healthy enough to make them all."
Like those that have accomplished this milestone before Martin, family support is a big part of the equation, and it's no different for him. For the Martin family, competing in the tournament was truly their family vacation each year.
"Up until 20 years ago, it was always all about family," Martin said. "I lost my wife 20 years ago. We were 11 days away from our 50th anniversary when I lost her."
Martin went on to talk about how they always planned vacations with their children during his time at the event.
"For 30-35 years, this was our family vacation," Martin said. "I remember we went to Oakland to bowl, and we took the kids out of school for three weeks. We bowled, then went down the California coast to Disneyland, and I would never have gone otherwise if not for the tournament."
Entering the 2022 event, Martin had amassed a total pinfall of 95,905. He added sets of 435 in team, 420 in singles and 417 in doubles to tack on an additional 1,272 pins this year to raise his tournament total to 97,177 for a lifetime average of 179.9.
Bowling has played a large role in Martin's life, even off the championship lanes. He managed a bowling center for the Army, and then later, became the local association manager for San Antonio in 1982. Martin still holds that position today.
Will the future hold a 61st appearance at the Open Championships for Martin?
"I don't like to fly, and Reno may be too far next year for me to drive," he said. "It's possible I will keep going when it comes back to Las Vegas, depending on how my leg holds up."
When asked how he enjoyed his milestone celebration, Martin simply said, "It was great, but I don't like all the attention."
Visit us on Facebook at the
official USBC Open Championships page
.