Maryland's Gasn selected as 2022 USBC Youth Volunteer of the Year
April 18, 2022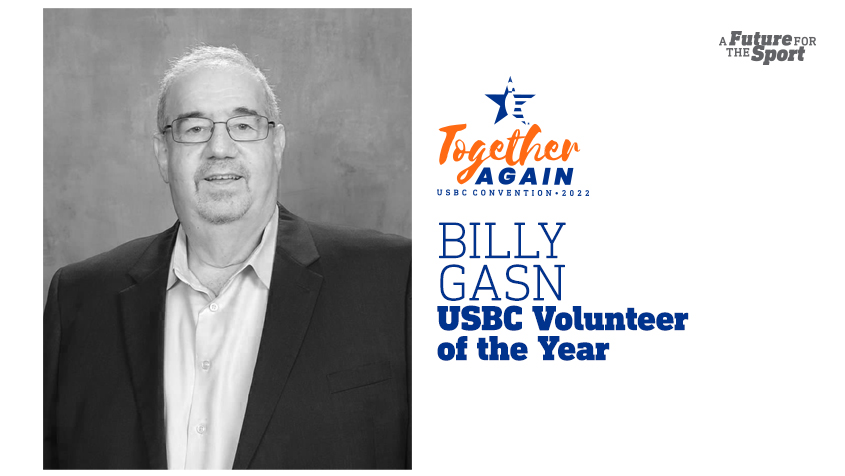 ARLINGTON, Texas
- Billy Gasn of Laurel, Maryland, who has spent countless hours running tournaments and leagues for youth bowlers to help them earn scholarship money and gain collegiate exposure, has been selected as the United States Bowling Congress Youth Volunteer of the Year by the International Bowling Campus Youth Committee.
The award recognizes an adult volunteer who has displayed outstanding efforts to foster, organize and promote certified youth bowling programs at the local, state and/or national level. The IBC Youth Committee selects the national award winner from submitted applications.
"It's a bit of a surprise," Gasn said. "I was sitting down watching TV one night, my phone rings, and it's Chrissie Kent (IBC Youth Committee Chair). I thought she was calling to talk to me about Natalie's team for the Storm U.S. National Junior Team Challenge. Instead, she was calling to tell me about this. It's an honor. It really is a great honor. But, it's not just me. Mike Sinek, Arlen Holmes and Danny Wiseman have all been great in helping out the kids. I think this brings recognition to the area and the work we're doing."
Gasn has been volunteering since 1996 when his son, Matt, began his youth career at AMF Laurel Lanes. He was asked to run the youth league at the center, and the elder Gasn quickly flipped the league from one with registration fees covering the Laurel Boys and Girls Club football uniform costs to a league which guaranteed each child at least a $50 SMART scholarship in its first season.
As Matt grew older and his skills improved, the two began to travel to various youth tournaments, and Billy's knack for league and tournament creation continued. Matt went on to have a stellar youth career, which included numerous local and state tournament wins, an Intercollegiate Team Championships title with Robert Morris-Illinois (now known as Roosevelt University), an All-American selection and a spot on Junior Team USA (2011). He also was an Academic All-American and earned two degrees.
"My motivation was to give back," Gasn said. "I always say, and my parents know this, 'I want every kid to experience what my son has experienced. I want every parent to experience what I've experienced because of my son's success.' I know Matt hates it when I talk about him, but that's the reality."
Eventually, Gasn became involved in the creation or running of multiple sport shot leagues, monthly youth tournaments and perhaps his two most important creations, the Storm U.S. National Junior Team Challenge and Storm Mid-Atlantic Junior Bowlers Tour.
The team event was created in 2016 with a format that includes all Baker games, which mimics what youth bowlers would experience at the collegiate level. The first running of the event came in 2017, with just under 30 teams and paid out $10,000 in scholarships. With its growth and reach increasing around the country each year since its launch, the 2021 event saw nearly 50 teams with a minimum scholarship prize fund of $75,000.
In 2018, Gasn began the Storm Mid-Atlantic Junior Bowlers Tour, which originally began as the Mid-Atlantic Youth Tour. The tour provides another avenue for youth bowlers to compete and prepare for the Team Challenge, along with Gasn's Youth Masters event. Gasn also has helped youth bowlers qualify for Junior Gold through his events and even created a "Junior Gold Qualifying Event Day," which consisted of multiple qualifiers in one day.
In an effort to help parents better understand the ins and outs of college bowling and how to help their young athletes get recruited, Gasn and Sinek, who is the manager of The Lanes at Fort Meade, conduct a college bowling seminar exclusively for parents.
Gasn, who is a USBC Bronze coach, does all of this while still working full-time. He has a true passion to help young athletes and their parents create a path toward youth and collegiate bowling success.
"It's been so rewarding at so many levels to see these kids succeed," Gasn said. "It's rewarding for a parent to say, 'I want to thank you so much because my kid received offers to go to college, and it's all because of you.' Receiving this award is great, and I feel I've gotten my satisfaction without receiving it, honestly. But, being able to be recognized by the national governing body of bowling, and receiving a national award with this kind of attention, is really great."
Gasn will be recognized in April for his volunteer efforts during the 2022 USBC Convention at The Orleans in Las Vegas.
This year's award ceremony, which includes a variety of awards for youth and adult bowlers, will take place during the morning session of the USBC Annual Meeting on April 28 at noon Eastern. The awards presentation will be broadcast live at BowlTV.com.
Learn more about awards for adult youth leaders and scholarship opportunities for youth bowlers at
BOWL.com/ScholarshipsAwards
.