Maryland bowler is eighth to reach 50 years at 2022 Women's Championships
July 02, 2022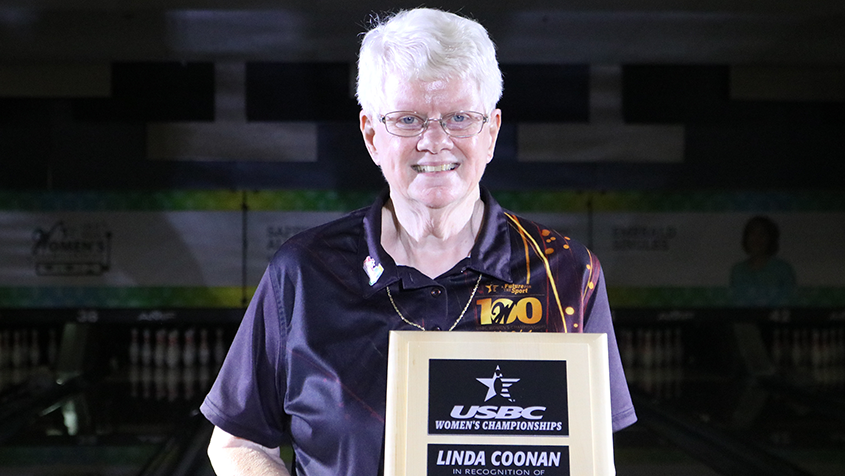 By Donovan Grubaugh
USBC Communications

ADDISON, Ill.
- Linda Coonan of Abingdon, Maryland, became the eighth and final bowler to make her 50th appearance this year at the
United States Bowling Congress Women's Championships
, and she could only describe what it meant to reach 50 years with one word - unbelievable.
Coonan never would have dreamed of making it to 50 years at the tournament when she first began bowling in 1966, and she bowled her first USBC Women's Championships in Atlanta in 1971.
"I started getting into the game when an alley was built near where I lived," said Coonan, who received a plaque, chevron and necklace to commemorate her achievement at Stardust Bowl. "I haven't looked back."
Her dedication to the sport goes beyond the lanes, as she served on her local board of directors for 50 years, president of the Baltimore Women's Bowling Association for six years, won her local President's Award in 1978, 2003, 2011 and 2013 and was inducted into the Greater Baltimore USBC Hall of Fame in 1990. She also was a delegate for the Women's International Bowling Congress for 37 years.
During her Women's Championships career, she now has been to 32 cities in 25 states, making many memories with various friends and family and sightseeing in every city.
In 1978, she was part of the group that bid for her local town of Baltimore to host the Women's Championships in 1981, and the city was granted the opportunity to host. She noted, "It was a fantastic time.
"These past 50 years seem to have flown by so fast, but I am so thankful for my friends, teammates and many more that I've met throughout the years. I bowled with some of these ladies for over 25 years, and we've had so many great times here."
When Coonan was asked if she has plans to make her 51st appearance in 2023 in Las Vegas at the South Point Bowling Plaza, she gave a yes without hesitation.
"Lord willing, you will absolutely see me next year in (Las) Vegas," Coonan said.
In her 50th appearance, Coonan rolled sets of 467 in doubles, 462 in team and 458 in singles for a 1,387 all-events total.
The bowlers joining the 50-Year Club at the 2022 Women's Championships included Doris Beath of Boerne, Texas; Phyllis Bourque of La Plata, Maryland; Pam Buckner of Reno, Nevada; Lillian Sitze of North Port, Florida; Joyce VanBuskirk of Lincoln, Illinois; Sue Werkheiser of Stroudsburg, Pennsylvania; and Verna Zimmerman of Normal, Illinois.
Onalee Kraus of Coldwater, Michigan, became the fifth bowler in tournament history to reach 60 appearances.