Maryland team takes Ruby lead at 2022 USBC Women's Championships
June 11, 2022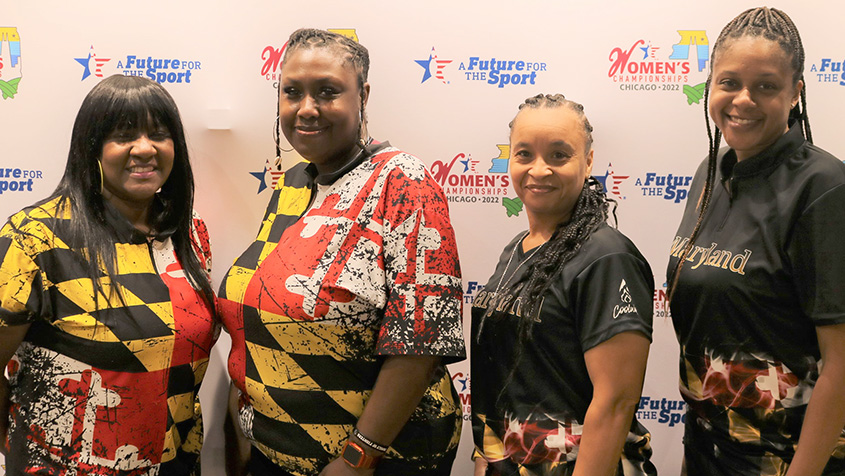 By Donovan Grubaugh
USBC Communications

ADDISON, Ill.
- For the third time in a week at the 2022
United States Bowling Congress Women's Championships
, the lead in Ruby Team has swapped hands, with the members of B-More Ladies #8 of Middle River, Maryland, taking the top spot Friday at Stardust Bowl.
After a good start with 771, things slowed down in Game 2 with 707. The team stayed loose with each other during Game 3 and shot 764 to propel them to the top of the Ruby leaderboard with a 2,242 total.
Off Balance 2 of Rockwell, Texas, had moved into the lead Thursday with a 2,227 total. The members of Quirky Turkeys of Fort Worth, Texas, had moved to the top of the standings last Friday with 2,213.
B-More Ladies #8 was led by Tigress Morris (617 series), along with teammates Lynette Monk (569), Toni Miller (542) and Bettina Thornton (514).
This year was the team's first trip to the USBC Women's Championships after bowling league together for 10-plus years in Baltimore.
"It was awesome to bowl this event with these ladies, and even better now that we took the lead," Thornton said.
Having bowled together for so many years prior to their trip to Addison was a big reason the team recovered so well in Game 3.
"We just kept having a good time," Thornton said. "We were not worried about the score, and it got us to the top. I'd say it worked out well for us."
Just a day prior to B-More Ladies #8 taking the lead, the members of Off Balance 2 said they would enjoy being at the top while it lasts, and the new leaders expressed similar thoughts.
Thornton and her team are not too concerned with holding the lead at the moment, but simply want to savor the moment with each other and continue to stay loose and have fun.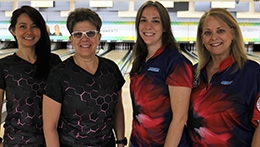 Off Balance 2 had taken the lead with games of 743, 771 and 713 on Thursday at Stardust Bowl. They were led by Cathy Sposito's 620 series, and she was joined by Maritza Matteo (571), Janelle Westbrook (564) and Heidy Acon (472).
Ruby Team features four-player teams with combined entering averages of 600-664.