Matt Staninger Leads 15 Players out of PTQ to Bowl PBA Indianapolis Open
February 19, 2019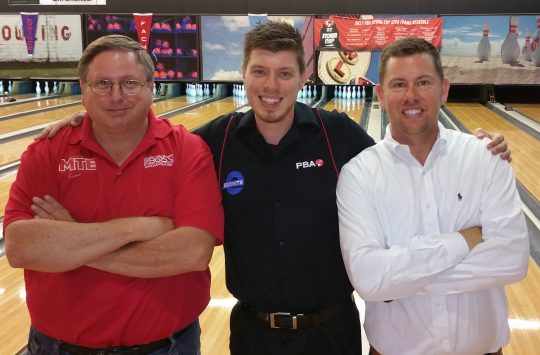 INDIANAPOLIS (Feb. 19, 2019) – Matthew Staninger, a 26-year-old third-year PBA member from Centerville, Ohio, averaged 228 for the six-game pre-tournament qualifier Tuesday to lead a field of 15 PBA members who will advance to the start of Go Bowling! PBA Indianapolis Open qualifying Wednesday at Woodland Bowl.
The PBA Regional champion, who will be competing in his third PBA Tour event, rolled games of 257, 277, 194, 256, 207 and 188 for a 1,369 pinfall total, easily qualifying first in a 23-player field. Justin Knowles of Okemos, Mich., was second with 1,232 pins. Christopher Jones of Edinburgh, Ind., claimed the last berth in the Indianapolis Open PTQ field by defeating Brandon Robertson of Venice, Fla., 190-163, in a one-game roll-off after they tied for 15th.
Qualifying in the Indianapolis Open, a Tier 2 PBA Playoffs points event, gets underway with two six-game rounds Wednesday at 10 a.m. and 5 p.m. EST. After the final qualifying round Thursday at 10 a.m., the top 24 players based on 18-game pinfall totals will advance to eight-game match play rounds Thursday at 6 p.m. and Friday at 10 a.m. and 6 p.m. The top five players after 42 games will compete in Sunday's stepladder finals, live on FS1, beginning at 3 p.m. EST.
All qualifying and match play rounds will be live-streamed by PBA's online streaming partner, FloBowling. For subscription information, visit FloBowling.com. For a complete roster of Indianapolis Open participants, click here: https://www.pba.com/Rosters/Details/2763.
GO BOWLING! PBA INDIANAPOLIS OPEN
Woodland Bowl, Indianapolis, Tuesday
Pre-Tournament Qualifier Standings (after six games; top 15 advance to the tournament proper):
1, Matthew Staninger, Centerville, Ohio, 1,369.
2, Justin Knowles, Okemos, Mich., 1,232.
3, Zac Doty, Campbellsville, Ky., 1,229.
4, Kevin Kullman, Lockport, Ill., 1,224.
5, Kenneth Ryan, Farmingdale, NJ, 1,211.
6, Aaron Lorincz, Center Line, Mich., 1,206.
7, Rafiq Ismail, Malaysia, 1,205.
8, Cody Shoemaker, Hanover, Pa., 1,196.
9, Geoffrey Young, Roanoke, Texas, 1,186.
10, Charlie Brown Jr, Grandville, Mich., 1,182.
11, Dwight Adams, Greensboro, N.C., 1,178.
12, Mike Eaton Jr., Wyoming, Mich., 1,172.
13, Kyle Mayberry, Mechanicsburg,Ohio, 1,162.
14, Tony Johnson, Canton, Ohio, 1,147.
15, x-Christopher Jones, Edinbugh, Ind., 1,134.
Failed to advance:
16, Brandon Robertson, Venice, Fla., 1,134.
17, Wendell Barger, Dry Ridge, Ky., 1,104.
18, Patrick Hanrahan, Wichita, Kan., 1,086.
19, Mike Coffey, Melbourne, Fla., 1,071.
20, Blake Demore, Springfield, Mo., 1,069.
21, Kevin Walter, Noblesville, Ind., 1,051.
22, Chip Tyson, Gastonia, N.C., 1,009.
23, Jacob Young, Noblesville, Ind., 888.
x-Jones defeated Robertson in a one-game roll-off, 190-163, to break a tie for 15th place.