McNiel to coach at 900 Global Showcase Lanes
November 19, 2012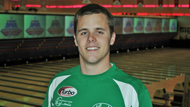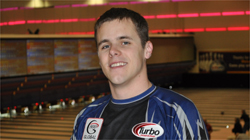 ARLINGTON, Texas -
Matt McNiel
recently has had the hot hand at the
United States Bowling Congress Open Championships
, and now he'll be sharing the secrets to his success as the featured coach at the
900 Global Showcase Lanes
in 2013.
McNiel, of Prior Lake, Minn., will be at the National Bowling Stadium in
Reno, Nev.
, from March until July to offer tips about mechanics, lane play and equipment selection to bowlers in town to compete at the USBC Open and
Women's Championships
.
The USBC-certified coach will be stationed on the 10 custom-built 900 Global Showcase Lanes located on the ground floor of the NBS. The lanes will be available for practice, coaching and two new side tournaments.
The Showcase Lanes concept was introduced at the 2012 Open Championships in Baton Rouge, La., and allows bowlers the opportunity to experience the lane conditions they'll be bowling on during their team events and develop their game plans, either as a team or individually. The coaching element, a highlight of the
VIP program
, gives competitors access to the expertise of a proven champion.
"Nothing beats first-hand experience because you can talk to someone about what it's like to be there and be in the moment, whether it was positive or negative," said McNiel, a three-time winner at the Open Championships. "I think my tournament experience definitely will be an asset at the Showcase Lanes, but I also have 11 years of pro shop experience and grew up doing lanes, so I understand ball layouts and oil patterns. I think I'm pretty well-rounded, and I know this will be a fun experience."
McNiel burst into the spotlight in 2010 when he claimed the Regular All-Events title with a record score of 2,326 and nearly repeated the feat with a 2,241 total and third-place effort in 2011. While both tournaments were held at the NBS, McNiel proved himself outside of Reno when he made headlines again in Baton Rouge.
On the way to the Regular Doubles title and a second all-events crown in 2012, McNiel became the first bowler in tournament history with three 800 series on the championship lanes (806 in singles in 2010; 822 in doubles in 2011 and 847 in doubles in 2012), and the record run also included two 300s and a 299.
"Teaching is probably my ultimate passion in life, and it's so rewarding when people come back to me after a lesson and tell me about their own success," said McNiel, who tops the average lists for two (246.83), three (250.7), four (239.11) and five (232.58) years at the Open Championships. "Being able to coach at the Showcase Lanes is an opportunity of a lifetime, and I'm excited about the chance to be a part of the event in such an important capacity. I look forward to working with all the teams and helping them succeed on the tournament lanes."
The Open Championships will be held at the NBS from March 1-June 30, while the Women's Championships will be held across town at the Reno-Sparks Convention Center from April 12 until July 1.
McNiel is scheduled to be on-site daily during the tournaments, and each one-hour coaching session will include game and equipment analysis and tips on how to succeed on the tournament conditions. A one-hour session with McNiel is included in the tournament VIP packages, but interested bowlers can get just the lesson (based on availability) for $200. Teams (up to 10 bowlers) interested in utilizing the 900 Global Showcase Lanes can do so for $100 per hour.
For more information about the 900 Global Showcase Lanes, visit BOWL.com/showcaselanes. To reserve your coaching or practice times, call 866-977-7433 or email
showcaselanes@bowl.com
.