Merten, Neeley selected as 2023 USBC Youth Ambassadors of the Year
March 24, 2023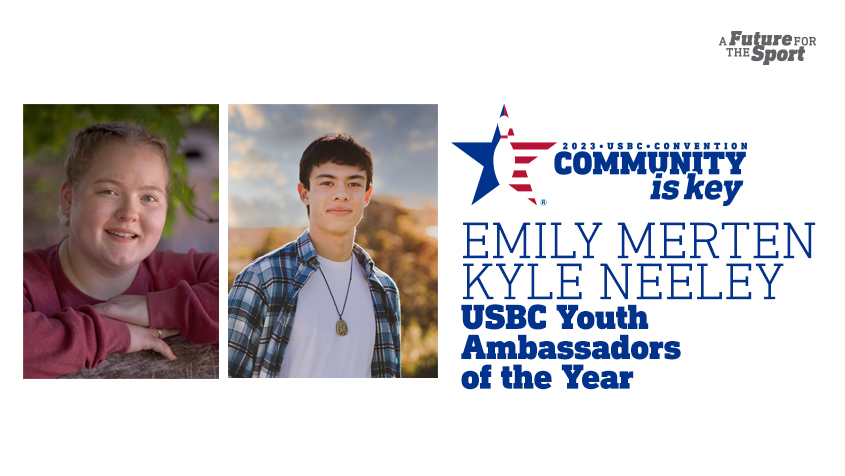 ARLINGTON, Texas
– Emily Merten of Omaha, Nebraska, and Kyle Neeley of Granville, Ohio, recently were selected as the 2023 United States Bowling Congress Youth Ambassadors of the Year by the International Bowling Campus Youth Committee.
The annual award recognizes one female and one male USBC Youth bowler for exemplary academic accomplishments, community involvement and contributions to the sport of bowling outside of league or tournament play.
Winners are chosen on submitted applications, and each will receive a $1,500 scholarship.
Merten, 17, is a senior at Millard North High School in Omaha, Nebraska, is an influential member of her community and has been an impactful member of her school's bowling team for four years.
Merten has been a member of the school's unified bowling team (consisting of students with and without intellectual disabilities) for four years and a member of the varsity girls' team since its inception three years ago.
She received the NCPA Academic All-State Award three consecutive years for unified bowling and both of her eligible years for varsity. To earn the award, a bowler needs to have a GPA of 3.7 or higher and display great sportsmanship and leadership.
Winning the USBC Youth Ambassador of the Year Award, however, was something of a surprise to Merten.
"I was really shocked," said Merten. "I didn't have any idea this would be something I could win, especially with it being a national award and only awarded to two people. It was just really exciting to know that other people see the value of what I was trying to do with being an ambassador for the sport and trying to bring kids into it."
Merten, who started bowling in a league in fifth grade and by sixth grade was bowling competitively in different tournaments, has hit her stride with her high school bowling teams.
She started with the unified bowling team in eighth grade and has continued that into high school. Merten thrives as a leader and has been selected captain of the unified team for two years and of the varsity team for three.
Millard's Unified Bowling Team Head Coach Tricia Rohde knows she can put any player with Merten, and she will make that player feel included and confident in their abilities. Also, she will encourage them to have a positive attitude no matter their level of skill or experience.
"Bowling on the unified team is a really cool experience because it reminds me every day to just have fun in the sport," said Merten. "Bowling can easily become super competitive and frustrating at times, but our unified bowlers always find a way to find the joy in it no matter their results. When I bowl unified, I really try to focus on the experience for them and what I can provide for them and the experience I can help give them."
Merten also has made an impact on the girls' varsity program, which was started just three years ago, serving as a mentor and positive influence on other team members and helping the team to a district runner-up finish in her senior year. She did all of this while having to recover from a recent shoulder surgery, using that time to focus on the other bowlers on her team.
Outside of high school, Merten has been on the board of the USBC Greater Omaha Area Bowling Association since 2021. She was the first youth to serve on the board and the association's Youth Committee.
"That's been a really cool experience to be able to talk about youth bowling from a different perspective," said Merten. "I'm able to relate the experiences I've had on the lanes and the experiences my friends have had, so it's a different perspective from what adults might have."
Additionally, Merten earned her Bronze-level coaching certification on her 16th birthday.
"Getting my bronze coaching certificate was not only helpful to me as a bowler in learning different tips and tricks, but also made it so I could help others," said Merten. "It allows me to give back to the people who have given so much to me."

Merten's other hobbies and interests include playing the alto sax, power lifting and participating in the University of Nebraska Medical Center High School Alliance. She has spent time volunteering at various bowling events and tournaments, including coaching in the Kids Bowl for Free program at her local bowling center, Maplewood Lanes, in 2020 and 2021.
After she graduates, Merten plans to bowl, play in the band and major in nursing at Mount Mercy University in Cedar Rapids, Iowa.
It's Merten's passion and love for the sport that make her such a great ambassador, and she's grateful for the opportunity.
"I've had a lot of people who helped me along the way to get where I am," said Merten. "I know there's not as many resources for bowling compared to other sports, so I've tried to advocate for different people to get them the resources they need to continue in their bowling journey."
Neeley, 18, is a freshman at Harvard University, where he plans to double major in molecular biology and economics.
Neeley was named captain of the 2022 Dexter High School All-American Team and has earned other honors such as two-time Licking County Player of the Year and two-time first team all-conference; nevertheless being named as USBC Youth Ambassador of the Year is special for Neeley.
"It's really awesome to win this award," said Neeley. "It was definitely unexpected, and I'm very honored. This award is super, super special because it encapsulates everything that I've worked towards as a bowler for the past 10 years or more, from performance in certain tournaments to leadership to my dedication to bowling off the lanes."
Neeley first picked up a bowling ball at age 5 and by the time he was 7, he was bowling in leagues. He entered his first tournament when he was 8 years old. He is a two-time Columbus City Tournament champion, the 2017 Ohio Pepsi State champion and has qualified for the Junior Gold Championships eight times.
He earned his Bronze-level coaching certification as well, and that's when the sport took on a new meaning.
"Once I turned 16, bowling opened up for me as more than just a competitive outlet," said Neeley. "It became something I could help other people with. I kind of took on a role as an assistant coach for my high school team because a lot of the kids on my high school team weren't necessarily experienced bowlers, so I just wanted to give them more of a passion for the sport. Since then, it's just been continuing to bowl in competition, continuing to serve more of a role as a coach and just talking to people a lot about the sport and encouraging them to pick up a ball and see where it takes you."
Academically, he graduated from Granville High School with a 4.25 GPA (weighted) and was a 2021 National Merit Finalist. He was the Granville Education Foundation Fall 2020 Grant winner, in which he helped obtain technology for remote learning throughout the school district.
And, while his accomplishments in the classroom and on the lanes are numerous, Neeley cites bowling as the one interest in his life that has been the most impactful. He credits the sport for allowing him to grow as a leader, a competitor, a friend, a coach and more.
"I really, really love the sport in all aspects," said Neeley. "Bowling has become a huge part of my identity. It really built me as a competitor, first and foremost, because I love the competitive aspect, but it also impacted me socially through relationship building. I've gained a lot of mentors and friends through the sport, and some of those friends became a lot of my closest friends."
Neeley has done volunteer work with The Salvation Army, served on the Granville Union Cemetery Board and has continued his community service by volunteering at a homeless shelter run by Harvard students.
He credits his parents and the various coaches he's had throughout his bowling career – Julie Wells, Al Sowards and Ron Hatfield – for shaping him as a bowler, coach and person.
Neeley enjoys coaching youth bowlers, taking the time to talk to and bowl with younger kids to help them learn more about the sport, and his passion to promote the sport hasn't stopped just because he's in college.

"I've definitely helped spread the word about the sport a little bit here at school," said Neeley. "There have been murmurs about potentially starting up a club team at the university. If that were to happen, I would probably take a leadership role in that. If that's something I could help accomplish by the end of my senior year, that would be really cool."
The sport will be part of Neeley's future as he plans to continue to bowl, coach youth bowlers and spread the "good word" of bowling to as many people as he can.
"I always tell people that bowling is so much deeper than what everyone thinks it is," said Neeley. "So many people don't even know the lanes are oiled or the difference between a house ball and one you might purchase. I try to emphasize that bowling has so much more nuance and beauty than it might first appear. I just try to get people interested in the sport."
Merten and Neeley will be recognized in April during the 2023 USBC Convention at South Point Hotel and Casino in Las Vegas.
This year's award ceremony, which includes a variety of awards for youth and adult bowlers, will take place during the 2023 USBC Annual Meeting on April 26 and 27. The meeting will be broadcast live at BowlTV.com.
Learn more about awards for adult youth leaders and scholarship opportunities for youth bowlers at BOWL.com/ScholarshipAwards.