Michigan bowler reaches 60 years at 2022 USBC Women's Championships
June 08, 2022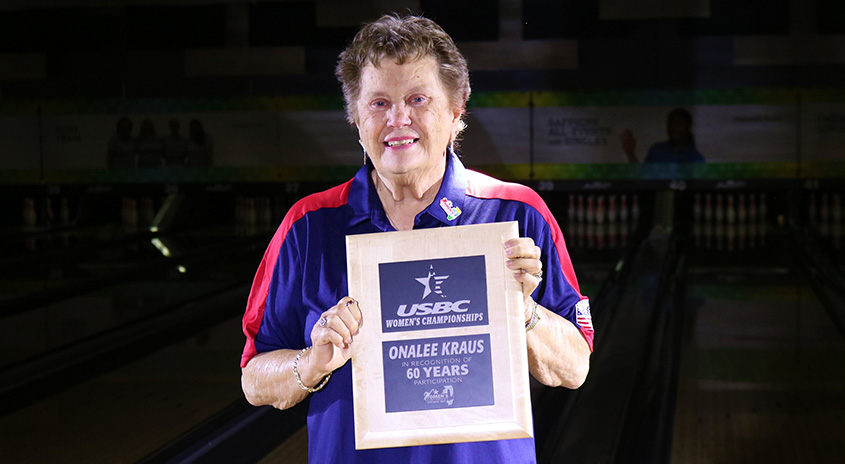 By Donovan Grubaugh
USBC Communications

ADDISON, Ill.
- For Onalee Kraus of Coldwater, Michigan, only the fifth bowler to reach 60 years at the
United States Bowling Congress Women's Championships
, it's more about the friendships she has made than just the bowling.
Over her 60 appearances, she has met hundreds of new people and stayed in close contact with many of them. Kraus has a particular fondness for the people she bowled with at the 2017 event in Baton Rouge, Louisiana, and she still bowls with some of the competitors from that year.
Since her first appearance at the 1957 event in Dayton, Ohio, she now has been to 42 different cities in 26 states, and she only has missed the event five times since she started her career at the USBC Women's Championships.
Thinking back to previous appearances, her favorite tournament memory was back in 1985 in Toledo, Ohio, when she was on the Women's International Bowling Congress Board of Directors at the time.
"I loved it and being around some of those people during that time," Kraus said.
Kraus' favorite city to visit was Baton Rouge in 2017, which is where she met some of her latest teammates.
For her dedication, she received a plaque, chevron and customized ring. When accepting these items before her team event, the entire crowd at Stardust Bowl was in full support for her, and she was overwhelmed with emotion, stating, "I'm speechless."
At this year's Women's Championships, Kraus rolled sets of 349 in singles, 325 in doubles and 321 in team for an all-events total of 995 in the Amethyst Division.
USBC Hall of Famer Anita Cantaline of Warren, Michigan, was the last bowler to reach the milestone at the Women's Championships. Cantaline made her 60th appearance at the 2009 event.
Mini Tvaska of St. Petersburg, Florida, holds the record for most years of participation at the Women's Championships. Tvaska made 67 appearances at the tournament.