Michigan bowler rolls 300, makes run at lead at 2022 USBC Open Championships
May 24, 2022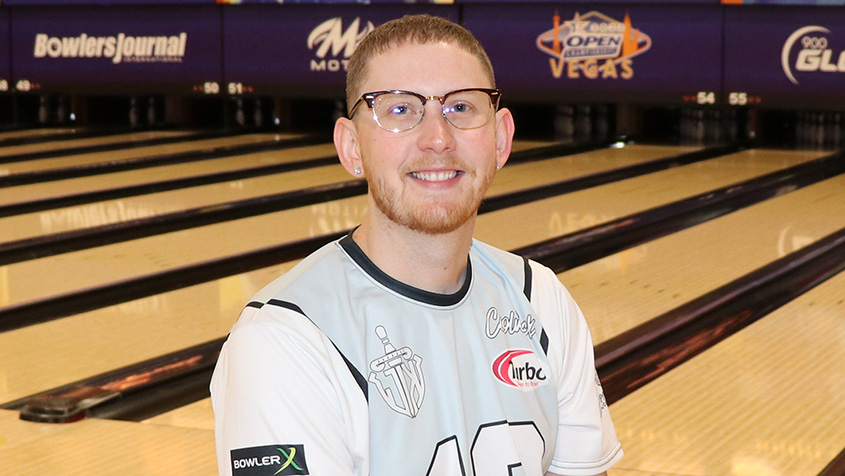 By Brandon Cruz and Aaron Smith
USBC Communications

LAS VEGAS
- Las Vegas may be a gambling town, but sometimes, you need to bet on yourself.
Justin Knowles of Okemos, Michigan, bet on his ability to make shots and comfort with urethane bowling balls when preparing for his trip to the 2022
United States Bowling Congress Open Championships
, and the decision paid off with a 300 game and run at the lead in Regular All-Events.
The two-handed left-hander started his doubles set Tuesday at the South Point Bowling Plaza with games of 226 and 237 before firing the 33rd perfect game of the 2022 event for a 763 series.
The 31-year-old had started his fifth USBC Open Championships appearance with a 678 set in team Monday, and after games of 246 and 256 to begin singles, he needed 298 in his final game for a share of the lead in all-events. Brian Waliczek of Frankenmuth, Michigan, leads Regular All-Events with 2,241.
A chip and a chair.
Knowles started his final game with seven consecutive strikes before a 7 pin stood on his delivery in the eighth frame. He converted the spare and struck out for 279 and a 781 series, allowing him to take over second place in all-events with a 2,222 total.
The 781 set also moved Knowles into a tie for sixth place in Regular Singles. Scott Patke of Lansing, Michigan, leads with 835.
Knowles was making his debut with a talented two-team group at the Open Championships, and he arrived in Las Vegas with a variety of urethane balls and a plastic ball.
"We were really good at communicating as a team leading up here," Knowles said. "I told Mike (Dole) I was going to bring all urethane. I ended up bringing five urethane balls and one plastic ball, so I was going to live and die by it. Our plan today was Mike going straighter, with me curving it and creating some hold. We made them pretty nice."
Knowles run to perfection at the end of doubles concluded on the left lane, which he noted was the tougher of the two lanes for him. He was able to make the adjustments in the final frame, however, to become the fourth left-hander to connect for 300 at the 2022 event.
"There were a lot of nerves, but the left lane was a little tighter down lane all day," said Knowles, who won the 2017 Bradley Open in Louisville, Kentucky. "I kind of squared up and got a light shaker, then I got really lucky on the 11th shot. I missed left and it got back, so I squared up again and thought I left an 8 pin. I got the lucky messenger. That was the tough lane all day."
The left lane ended Knowles' second run at 300 during his final game of singles as he also was chasing the top score in all-events.
"The focus was on that lane," Knowles said. "I let it kind of creep in my head that if I had so many good breaks on that lane, I wouldn't strike when I threw a pure one. I threw a pure one and wrapped the 7 pin, so I talked myself right into it."
Part of Knowles preparation for the Open Championships in 2022 included a stop at the
Bowlers Journal Championships
, which is being held at the South Point Bowling Center.
Knowles paired with 2011 Regular Doubles champion Chad Reiffer of Rockford, Michigan, to move into the top 10 in Open Doubles on Sunday with a 1,518 total.
Reiffer rolled a 300 of his own during the set and also paired with David Lance of Lake Wales, Florida, to take over the top spot in the division with a 1,561 total.
In addition to the success for Reiffer, Lance and Knowles at the Bowlers Journal Championships, two other members of their two-team group also recorded honor scores at the Bowling Center on Monday.
Aaron Ruiz of Old Hickory, Tennessee, connected for a 300 game, and Kamron Doyle of Fairview Heights, Illinois, rolled games of 268, 257 and 279 for an 804 series.
Regular Singles and Regular All-Events at the Open Championships features bowlers with entering averages of 176 and above.
Visit us on Facebook at the
official USBC Open Championships page
.