Michigan's Tarabek selected as 2023 USBC Volunteer of the Year
March 21, 2023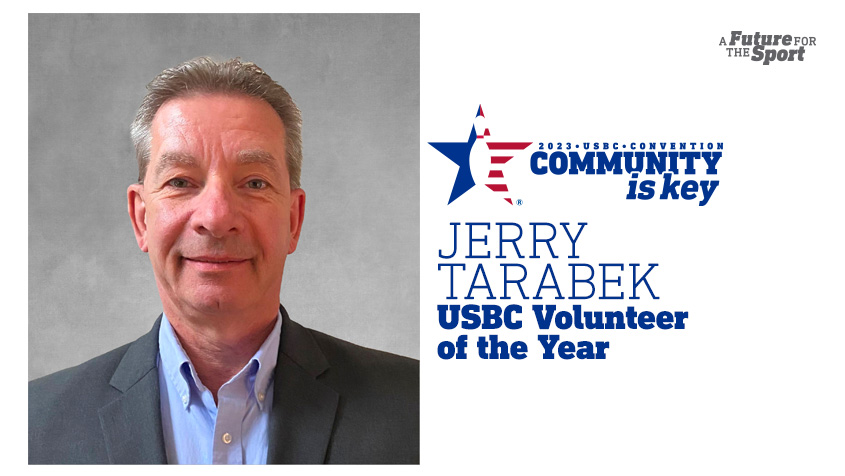 ARLINGTON, Texas
– Jerry Tarabek of Grand Rapids, Michigan, who has spent more than 40 years as a volunteer in various areas of bowling, has been selected as the 2023 United States Bowling Congress Youth Volunteer of the Year by the International Bowling Campus Youth Committee.
The award recognizes an adult volunteer who has displayed outstanding efforts to foster, organize and promote certified youth bowling programs at the local, state and/or national level. The IBC Youth Committee selects the national award winner from submitted applications.
Tarabek proved to be a little speechless when notified that he had been selected as this year's award recipient.
"Chrissie Kent (IBC Youth Committee Chair) reached out to me," Tarabek said. "She told me I had been nominated, which I didn't even know, and then that I had been selected as the winner. I was kind of just dumbfounded; I didn't know what to say. It's a great honor."
Tarabek, 67, began his volunteer work in 1981 when he began running the Saturday morning youth program at what was then Gold Crown Lanes (now Bowl One) in the Detroit area. Tarabek remembers it was the same year his daughter Briana was born.
"I was running the youth leagues there (Gold Crown) and did that for a few years," said Tarabek. "Then I jumped into actual coaching and got my Silver-level accreditation around 1985 or 86. I was coaching during the Saturday morning leagues at both Bowl One and Sunnybrook Lanes when the league moved out there."
From there, Tarabek was presented with a unique opportunity. In 2000, his son Brandon was bowling at Warren-Mott High School, and the team found itself without a coach.
"My son came to me and said, 'Do you want to coach us?'" Tarabek said. "Well, all the kids I had coached on Saturday mornings were on that team, so it was an easy transition."
Tarabek's time coaching the team at Warren-Mott was a successful one as he coached the boys' varsity team to a pair of state runner-up finishes and the boys' JV team to a state title in 2004. He ran the program until 2004 then turned it over to someone else because his family was moving to Grand Rapids.
It also was in 2004 when Tarabek's next volunteer venture in bowling began.
"My son was bowling in the Michigan Junior Masters Association program, which was run by Dan Ottman at the time," said Tarabek. "I was on the board of directors, and, unfortunately, at the start of our 2004-2005 season, Dan passed away unexpectedly. The program kind of fell in my lap, and I've been running it for the last 19 years."
As director of the MJMA, Tarabek has been pivotal in developing youth bowlers to collegiate bowling standards, has developed Junior Gold champions and members of both Junior Team USA and Team USA. In addition to their physical bowling abilities, MJMA members have been cited for their professional appearance and respectful attitude on and off the lanes, much of which can be credited to Tarabek's guidance.
"The Michigan Junior Masters is geared toward the higher-level athlete who has aspirations of bowling collegiately or even beyond that," said Tarabek. "The satisfaction I get is just seeing these kids excel, and when they go to college, they're prepared for it. But, when I was coaching the Saturday leagues or high school, that was all about giving the kids the right fundamentals and teaching them the right way to bowl and to enjoy the game."
For Tarabek, his volunteer work has been a way to pay back the sport he loves.
"I've never really looked at this for any personal gain or anything like that; it's always been about giving back to the game," said Tarabek. "Both our son (Brandon) and our daughter (Briana) bowled collegiately at Grand Valley State, so we got to travel around and watch them, and that was just so much fun. So, I just feel fortunate and I'm always looking to give back."
Tarabek has been bowling since he was a youngster and was a YABA member by the age of 13 and has been an adult USBC member since joining the ABC at the age of 18. He still bowls one night a week and, just this season, took over as head coach of the bowling teams at Forest Hills Central High School in Grand Rapids.
"Our whole family bowls," said Tarabek. "As a matter of fact, my wife and I met in a bowling alley. My son and his wife met in a bowling alley. My daughter and her husband met in a bowling alley. So, there's a strong history and connection with bowling and the friends you meet along the way are lifetime friends. It's those connections that make it fun. I get a lot of self-satisfaction from seeing kids excel and having fun at what they're trying to do."
Tarabek will be recognized in April for his volunteer efforts during the
2023 USBC Convention
at South Point Hotel and Casino in Las Vegas.
This year's award ceremony, which includes a variety of awards for youth and adult bowlers, will take place during the 2023 USBC Annual Meeting on April 26 and 27. The meeting will be broadcast live at
BowlTV.com
.
Learn more about awards for adult youth leaders and scholarship opportunities for youth bowlers at
BOWL.com/ScholarshipsAwards
.