Midwest bowlers celebrate 50 years at 2022 USBC Open Championships
May 18, 2022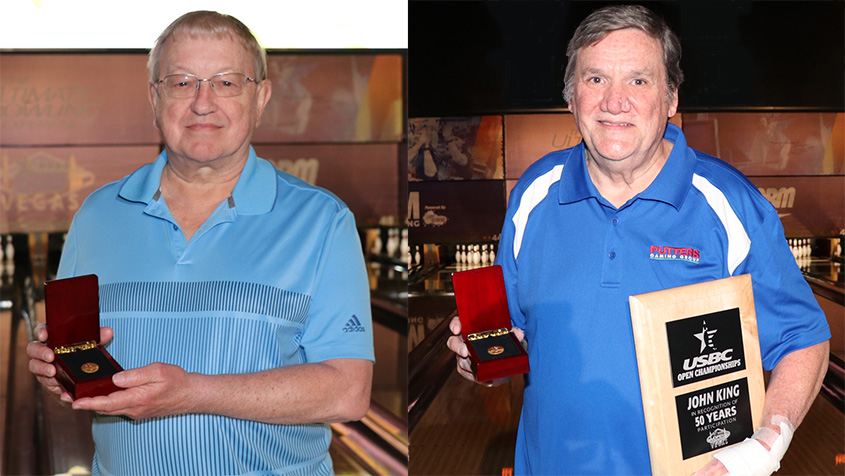 (in photo from left: Jack Pentek of Chardon, Ohio, and John King of Chicago)

By Jazmin Elizalde and Aaron Smith
USBC Communications

LAS VEGAS
- The journey toward 50 years of participation at the
United States Bowling Congress Open Championships
requires a strong support system.
Family typically serves as the backbone in helping build longevity at the tournament, and the newest members of the 50-Year Club at the 2022 event are thankful for the support they have received and being able to share in the experience with them.
Jack Pentek of Chardon, Ohio, and John King of Chicago recently made their milestone appearances at the South Point Bowling Plaza, and each of them were able to have their family by their side as they marched into the tournament's record book.
Pentek and King each received a plaque, chevron and diamond lapel pin to commemorate their longevity and dedication to the USBC Open Championships.
With no nerves and a calm demeanor, Pentek became the 21st bowler to take the stage for this achievement. The 70-year-old right-hander was escorted by his two sons, Scott and Brian, who also participated in the 2022 event and made their 27th and 25th consecutive appearances.
His sons added that even though their father has had this goal since his first year of participation, he came into the event without showing any concern about celebrating the milestone.
"We knew he was close," Scott Pentek said. "But, it wasn't until we were asked if we were going to escort him out that we realized it."
At 7 years old, Jack Pentek began to bowl and as he grew up, he worked at a couple of bowling centers.
When he made his first appearance at the Open Championships in 1971 in Detroit, he picked up a program and read about the history and milestones of all the bowlers for that year. At that moment, he decided that he had a goal to reach his 50th appearance.
He had to skip the 1975 event in Dayton, Ohio, since he was unable to get off work, but he's made every other appearance since his debut. He has visited 19 states over the course of his career at the Open Championships.
His favorite and most memorable tournament was in Reno, Nevada, in 2011. Pentek rolled to the highest all-events total of his career at the age of 60, finishing with a 2,003 total.
"I bowled nine 200 games. I beat everybody in our squad, except for my son, Brian. He had to beat me by three pins. He can't even let me win once," said Pentek while laughing.
In his 50th appearance, Pentek rolled sets of 541 in doubles, 483 in singles and 477 in team for a 1,501 all-events total, bringing his career pinfall to 85,357, a 189.6 lifetime average.
He remains calm on deciding to pursue his run at the 100,000-Pin Club. Although he is struggling with knee issues, he continues to participate in a senior traveling league and is proud of his overall performance over the years at the Open Championships.
Pentek says he will continue to participate at the Open Championships because it allows him to see friends he does not get to see as often as he would want.
"If I'm healthy, I will go for my 55th year of participation," Pentek said. "That's the next step. I'll try for Reno and see how I feel."
For King, he also was able to spend his milestone march with his family. He was welcomed into the 50-Year Club alongside his son, Jack, and wife, Lori.
The chance to share this moment with his family meant the world to him.
"This is one of my best weekends ever," said King, a 70-year-old right-hander. "It was fantastic."
Through his first 49 appearances, King never had the chance to see a presentation for 50 years until it was his time to be front and center at South Point.
"I've been to so many tournaments, but I've never seen anything like this," King said. "It's great. It's really something how they do it."
King made his first appearance at the 1970 Open Championships in Knoxville, Tennessee. He missed the 1972 and 1973 events but has made his annual visit to the tournament each year since 1974.
He has some great stories from all his trips to the Open Championships, but one of his favorites is from the first appearance in Knoxville.
"I was 18 years old and had shot 561 in team and 561 in doubles," King said. "One of my teammates told me if I went nine all day in the last frame of the third game of singles, I could have another 561. I said hell to that and struck out for 582. I ended up cashing in singles and all-events."
He's had a lot of people who have helped him to his 50th appearance, including Jack, who made his 23rd consecutive appearance.
King also is thankful to his good friend Ron Hennessey of Chicago, who's been there for more than 40 of his appearances and has logged 45 trips of his own to the Open Championships.
"Ron was my first doubles partner, and he'd be here today, but he's battling leukemia," King said. "He's doing better and says he'll be here next year in Reno. He's called me for the last couple days to see how we were doing. I've bowled over 40 tournaments with him alone, and he has five more to go for 50. I hope he gets it."
King rolled sets of 598 in doubles, 588 in team and 497 in singles for a 1,683 all-events total in his 50th appearance. He now has knocked over 83,307 pins for his career at the Open Championships for a 185.1 average.
Along with being part of his first presentation at the Open Championships, King also enjoyed the camaraderie he shared with his teammates and fellow competitors.
"I enjoyed this," King said. "It really was a great weekend with the four teams we had here, and five of us got plaques. When I was walking back to my hotel room, there were like 15 or 20 guys that I didn't know who came up to me to congratulate. It was unbelievable and a lot of fun."
Visit us on Facebook at the
official USBC Open Championships page
.