Mike Edwards wins Senior Masters
June 15, 2012
LAS VEGAS -
Mike Edwards of Tulsa, Okla., made it through the double-elimination match-play bracket undefeated to win the 2012
United States Bowling Congress Senior Masters
on Friday.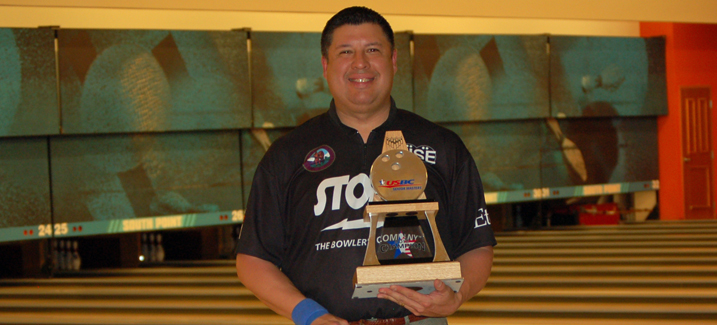 Edwards, competing in his second Senior PBA Tour event, won the title with a 701-691 victory over Hugh Miller of Mercer Island, Wash., at the South Point Bowling Center. The victory gave Edwards a payday of $16,000 as he finished on top of the field of 283 of the top bowlers age 50 and older in the world.
"This is validation to let me know that I'm legitimately back because I have had a rough year and a half," said Edwards, who won seven matches en route to the title. "My father died five months ago, and I really lost my passion for bowling. I hope that the Senior Tour will revitalize my career, especially now that I've won a major."
Edwards, who turned 50 in December, sat and watched as Miller finished the championship match. Needing all three strikes in the 10th frame to win by one pin, Miller struck on his first shot and then left a 6 pin. In the double-elimination format, even had Miller won the match, the two would have bowled a second championship match.
"Sitting on the bench to win has never happened to me," said Edwards, who has been a PBA member since 1981 and won his lone PBA Tour title in 1994. "It didn't hit me for a second, and I had to add up the score again real quick. I don't think it has sunk in yet."
Miller, a seven-time winner on the PBA Tour and two-time Senior PBA Tour winner, defeated USBC Hall of Famer Amleto Monacelli of Venezuela, 634-571 for the right to take on Edwards for the title. The loss gave Monacelli a third-place finish in his Senior Masters debut.
Two-time Senior Masters champion and 69-year-old Gary Dickinson of Edmond, Okla., fell short in his bid to become the first player to win the event three times. Dickinson lost to Monacelli, 771-538, to finish fourth.
To watch
BowlTV
's archived footage of the event,
click here
.
2012 USBC SENIOR MASTERS
At South Point Bowling Center, Las Vegas
Friday's results

MATCH PLAY
Double elimination, three-game matches decided by total pinfall (Name/hometown followed by three-game pinfall total)

ROUND 6 ELIMINATION BRACKET
(Losers eliminated, earn $1,900)
Larry Popp, Marion, Ohio, def. Tom Carter, Rockford, Ill., 645-514
Crister Danielsson, Sweden def. Pete Thomas, Oklahoma City, 690-658
Walter Ray Williams Jr., Ocala, Fla., def. Paul Appling, Camarillo, Calif., 703-614
Amleto Monacelli, Venezuela def. Mike Dias, Lafayette, Colo., 662-639
ROUND 4 WINNERS BRACKET
Hugh Miller, Mercer Island, Wash., def. Gary Dickinson, Edmond, Okla., 637-545
Mike Edwards, Tulsa, Okla., def. Charlie Tapp, Portage, Mich., 738-670
ROUND 7 ELIMINATION BRACKET
(Losers eliminated, earn $2,400)
Danielsson def. Popp, 670-585
Monacelli def. Williams, 724-676
ROUND 8 ELIMINATION BRACKET
(Losers eliminated, tie for fifth, earn $3,400)
Dickinson def. Danielsson, 646-562
Monacelli def. Tapp, 707-608
ROUND 5 WINNERS BRACKET
(Winner advances to championship match)
Edwards def. Miller, 620-603
ROUND 9 ELIMINATION BRACKET
(Loser eliminated, finishes fourth, earns $4,600)
Monacelli def. Dickinson, 771-538
ROUND 10 ELIMINATION BRACKET
(Winner advances to championship match; Loser eliminated, finishes third, earns $6,000)

Miller def. Monacelli, 634-571

CHAMPIONSHIP
(Winner earns $16,000; Loser finishes second, earns $8,000)
Edwards def. Miller, 701-691