Mike Scroggins Wins PBA50 UnitedHealthcare Sun Bowl In The Villages In PBA50 Tour Debut
April 21, 2015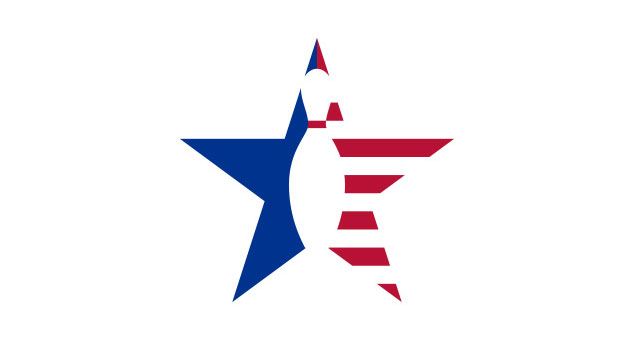 After a nearly year-long absence from top-level competition recovering from foot problems, eight-time PBA Tour winner Mike Scroggins of Amarillo, Texas, won the PBA50
UnitedHealthcare Sun Bowl In The Villages presented by Radical Tuesday in his PBA50 Tour debut at Spanish Springs Lanes.
Scroggins, who qualified fifth for the finals, won three consecutive matches before battling fellow left-hander and tournament leader Parker Bohn III in a championship match that went down to the 10th frame.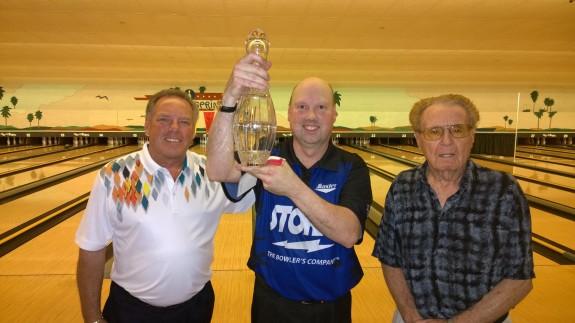 Bohn, who dominated the tournament and was coming off a win in the season-opening Pasco County Florida Open, threw a strike on the first ball in the 10th frame and then a nine-count and spare forcing Scroggins to get the first two strikes in the 10th. Scroggins got the first two strikes and then a nine-count on the fill ball to beat Bohn 255-246.
"This is one of the best feelings I've had in bowling especially after what I've been through for the past year," Scroggins said. "It made it extra special to beat the great bowlers that were in the finals which I felt very fortunate to do.
"I was having good success on the right lane so when Parker left that nine-count, I felt pretty confident I could get the job done," Scroggins said of the final frame. "I just told myself to relax and throw the kind of shots I'm capable of and I could win it."
Scroggins suffers from the condition plantar fasciitis, a tendon and ligament disorder in both feet, which put him out of action for more than nine months.
It's been a long road to recovery and it's really something that won't totally go away," Scroggins said. "It's something that comes with age and I'm going to continually have to manage it."
As the fifth qualifier in the stepladder, Scroggins opened with a 231-205 win over PBA Hall of Famer Johnny Petraglia who was trying for his ninth PBA50 title. Scroggins then went on to beat two-time PBA50 Player of the Year and eight-time PBA50 Tour winner Ron Mohr 239-227 in the second match before beating Hall of Famer and four-time PBA50 Player of the Year Tom Baker 234-202 in the semifinal match.
The PBA50 Tour heads to Mooresville, N.C., April 26-29 for the Miller High Life Classic presented by Columbia 300 at George Pappas Victory Lanes.
Fans can follow PBA action through the entire PBA Network which includes wall-to-wall coverage of an expanded schedule of live events on Xtra Frame, player interactions through Facebook and Twitter, mobile gaming, original programming, archived events and immediate news updates 24/7 on varying communications devices anywhere in the world. For additional PBA Network information visit http://www.pba.com/PBANetwork.
PBA50 UNITEDHEALTHCARE SUN BOWL IN THE VILLAGES PRESENTED BY RADICAL
Spanish Springs Lanes, The Villages, Fla., Tuesday
Final Standings
1, Mike Scroggins, Amarillo, Texas, $7,500.
2, Parker Bohn III, Jackson, N.J., $4,000.
3, Tom Baker, King, N.C., $2,500.
4, Ron Mohr, Las Vegas, $2,000.
5, Johnny Petraglia, Jackson, N.J., $1,850.
Stepladder Results
Match One – Scroggins def. Petraglia, 231-205.
Match Two – Scroggins def. Mohr, 239-227.
Semifinal Match – Scroggins def. Baker, 234-202.
Championship – Scroggins def. Bohn, 255-246.
Final Match Play Standings (after 32 games, including match play bonus pins, top five advance to stepladder finals):
1, Parker Bohn III, Jackson, N.J., 9-7, 8,231.
2, ss-Tom Baker, King, N.C., 9-7, 8,038.
3, Ron Mohr, Las Vegas, 9-7, 8,031.
4, ss-John Petraglia, Jackson, N.J., 9-7, 8,001.
5, Mike Scroggins, Amarillo, Texas, 8-8, 7,979.
6, Amleto Monacelli, Venezuela, 9-7, 7,964, $1,700.
7, a-Bo Goergen, Sanford, Mich., 10-6, 7,895, $1,550.
8, a-Darin Hays, Wesley Chapel, Fla., 10-6, 7,873, $1,500.
9, Bryan Goebel, Shawnee, Kan., 7-8-1, 7,783, $1,475.
10, Lennie Boresch Jr., Kenosha, Wis., 10-6, 7,778, $1,450.
11, Carolyn Dorin-Ballard, Keller, Texas, 11-5, 7,764, $1,425.
12, Stoney Baker, Canton, Ga., 7-8-1, 7,676, $1,400.
13, Ernie Segura Jr., Taylor, Mich., 8-8, 7,633, $1,363.
13, Bob Learn Jr., Erie, Pa., 8-8, 7,633, $1,363.
15, ss-Frank Gallo Jr., Jacksonville, Fla., 6-10, 7,536, $1,325.
16, Terry Metzner, Kentwood, Mich., 5-10-1, 7,434, $1,300.
Other Cashers (after 24 games, including match play bonus pins):
17, Brian Voss, Centennial, Colo., 5-3, 5,762, $1,200.
18, a-Jerry Brunette Jr., Rochester, N.Y., 4-4, 5,756, $1,190.
19, Peter Knopp, Germany, 4-4, 5,728, $1,180.
20, a-Craig Auerbach, Sunrise, Fla., 3-4-1, 5,716, $1,170.
21, a-John Dougherty, Fort Walton Beach, Fla., 4-4, 5,690, $1,160.
22, Warren Nelson, Middleburg, Fla., 5-3, 5,684, $1,150.
23, Joe Scarborough, Charlotte, N.C., 5-3, 5,681, $1,140.
24, John Burkett, Southlake, Texas, 4-4, 5,678, $1,130.
25, Mike Dias, Lafayette, Colo., 4-4, 5,672, $1,120.
26, ss-Bill McCorkle, Westerville, Ohio, 2-6, 5,635, $1,110.
27, ss-Don Sylvia, Daytona Beach, Fla., 4-4, 5,621, $1,100.
28, James Lord, Fort Mill, S.C., 2-6, 5,583, $1,095.
29, Gary Morgan, Atlanta, 3-5, 5,565, $1,090.
30, ss-Michael Henry, Brunswick, Ohio, 2-6, 5,504, $1,085.
31, ss-Mark Scime, Winter Garden, Fla., 3-5, 5,497, $1,080.
32, ss-Roger Kossert, Lithia, Fla., 1-7, 5,486, $1,075.
300 Game(s): Stoney Baker, Johnny Petraglia, Amleto Monacelli, Gary Morgan.