Minnesota bowler latest to join 50-Year Club during emotional 2022 USBC Open Championships
April 17, 2022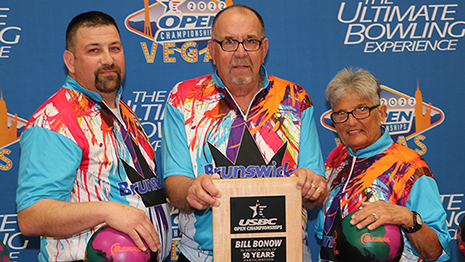 LAS VEGAS -
When Bill Bonow of Winona, Minnesota, took to lanes 45 and 46 at the South Point Bowling Plaza for his 50th appearance at the
United States Bowling Congress Open Championships
, it was clear his emotions were starting to stir.
On his team, Bones Inc., was his son Seth. On the next lane was his wife, Kris. With just a few moments to regain his composure, this was the scene Saturday immediately after he was recognized for his half-century of participation in the tournament.
Bonow received a plaque, chevron and diamond lapel pin to commemorate his five decades on the championship lanes, a journey that began at the 1971 event in Detroit.
"A group of us drove from Minnesota to Detroit for that first tournament, which is about a nine-hour drive," Bill Bonow said. "I remember that tournament in Detroit because I thought I bowled so badly. Looking back, I really didn't, but who knew?"
Bonow's love of bowling started in a little church in Winona called St. Martin's, long before his USBC Open Championships career began.
"It was a six-lane facility, with guys setting up the pins in the back," Bill Bonow said. "You could not have a high swing, or else your ball would get stuck in the pipes. I wanted to follow in my dad's footsteps, and that is where I started to learn the game."
His father, Warren, was the first of three generations to be enshrined into the Winona Bowling Association Hall of Fame, followed by Bill and then Seth. Bowling is a tradition in the Bonow family.
"I always wanted to be a bowler, just like my dad and grandfather," Seth Bonow added. "There was never any pressure to bowl. It was something I really enjoyed and was pretty good at."
That is quite an understatement, as Seth also has been a consistent participant in the Open Championships. This year marked his 27th consecutive tournament, and he entered the event with overall career average of 190.7.
His weekend at the South Point Bowling Plaza included 640 in a team, 619 in singles and 616 in doubles for a 1,875 all-events total.
"I remember the first time I bowled with my dad at this tournament, which was as a sub on his team in 1995," Seth Bonow recounted. "I didn't want to let him or the team down. That has always pushed me to do my best - not letting anyone down."
For his own Open Championships career, Bill Bonow has averaged 185.9, knocking down 83,683 pins.
This year, he rolled 557 in singles, 553 in team and 539 in doubles for an all-events total of 1,649.
"It is such an honor for me to bowl with Seth," Bill Bonow said. "I was his coach when he was younger, and seeing how far he has come, not only as a bowler but as a man, is so amazing to see."
Seth Bonow also is a bowling coach, and according to him and his father, the Open Championships has not yet seen the best Bonow bowler.
That honor belongs to Seth's son, Gunner, a fact not lost on Bill Bonow, but the bowling world will have to wait a year to find out, as the younger Bonow is a few months shy of his 18th birthday. All participants at the Open Championships must be 18 or older.
"The ultimate would be for me to bowl in the Open Championships with Seth and Gunner," said the elder Bonow, with a voice full of emotion. "Maybe next year in Reno (Nevada), my dream will come true."
With tournament No. 50 now in the books, Bill Bonow is ready to pass along some advice to his grandson. It's the same thing he shared with Seth many years ago.
"Don't get too discouraged on the USBC lanes," Bill Bonow said. "It is one thing to bowl in your regular hometown league, and another to bowl in the Open Championships. Just do your best."
That is something all bowlers could learn from, even if your last name isn't Bonow.
Visit us on Facebook at the
official USBC Open Championships page
.