Minnesota bowler makes 60th trip to USBC Open Championships
May 27, 2022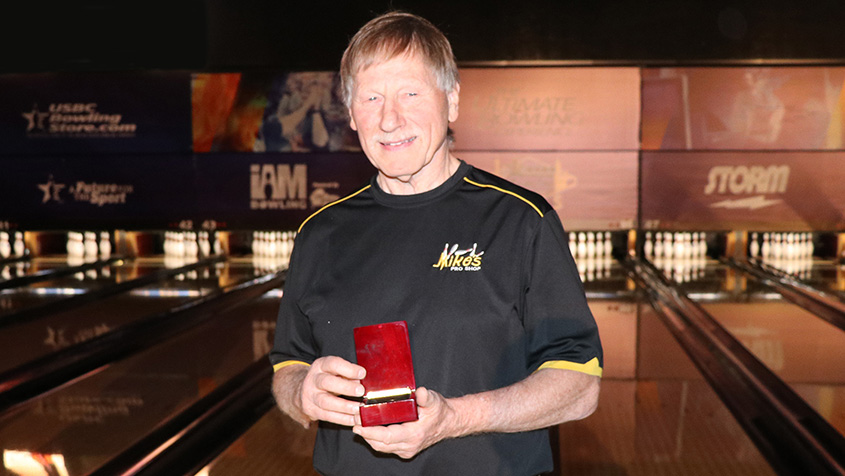 LAS VEGAS
- Although Mike Schmid of Minneapolis still finds himself in awe looking at his name alongside some of the other members of the 100,000-Pin Club at the
United States Bowling Congress Open Championships
, he's earned his spot as one of the tournament's most decorated competitors.
The 80-year-old right-hander continues to add to his list of accolades at the event, and he recently celebrated another milestone at the South Point Bowling Plaza after making his 60th appearance at the USBC Open Championships. Schmid received a plaque, chevron and engraved money clip to commemorate his dedication and longevity.
He's the 31st bowler in the 118-year history of the Open Championships to reach 60 years of participation at the event, to go along with his spot as one of 24 competitors to knock over 100,000 pins during his career.
"I can't believe that," said Schmid, who joined the 100,000-Pin Club at the 2019 event, also at the Bowling Plaza. "I look at some of the names on the 100,000 list, and those people are icons ... and I'm there, too. The game has been very good to me. The game has been my life. I'm going to keep trying to get people involved and give back. I'm extremely blessed."
Schmid started his tournament career at the 1961 event in Detroit, and he's made all but one appearance since his debut (1966).
He has plenty of memorable highlights over the course of his career at the event. Schmid took the lead in Regular All-Events at the 1970 event in Knoxville, Tennessee, before ultimately finishing tied for second place.
His finish in all-events allowed him to represent the United States in the Lee Evans Tournament of the Americas in 1970 and be part of Team USA in 1971.
As he made his 50th appearance at the 2011 event in Reno, Nevada, he rolled a 298 game in singles on the way to his best three-game set at the Open Championships (729).
His 2019 appearance at South Point stands as one of the top Open Championships moments in recent history, as
he was greeted by an incredible crowd, all waving cutouts of Schmid, as he delivered a strike to surpass the 100,000-pin mark
.
"Jay Joyner, who now has 52 tournaments, started telling me I had a shot at 100,000," Schmid said. "I never gave it a thought. I used to look at that crystal pin and think it was a dream. He kept telling me I had a shot, and being able to do that was really cool. It was a huge thrill."
Along with making his yearly appearance at the Open Championships, Schmid stays busy organizing more than a dozen teams to compete each year at the event.
His goal in taking on the extra work is simple. He wants to get more bowlers participating and experiencing the tournament.
"Most of the people who bowl this tournament, they're fanatics like me," Schmid said. "Some are afraid to try it at the national level, though. I feel like people who care about the game need to try this at least once. That's why I like to get people involved, and people get pretty excited about it, too. It's a lot of work, but it's very rewarding."
In his 60th appearance, Schmid rolled sets of 575 in singles, 476 in team and 470 in doubles for a 1,521 all-events total. It brings his pinfall total to 103,487 for his career, 190.5 average.
As Schmid looks ahead to his future at the Open Championships, he plans to keep his trip on the schedule each year as he hopes to make a run at the participation record of 71 years, held by USBC Hall of Famers William Doehrman and Joe Norris and Sylvester Thiel.
"I just want to get as many tournaments as I can," Schmid said. "A lot of us have a shot at the record, and that's the thing for me. I hope I get a shot at it."
Visit us on Facebook at the
official USBC Open Championships page
.