Minnesota bowler overcomes obstacles, adds to success at USBC Open Championships
May 01, 2022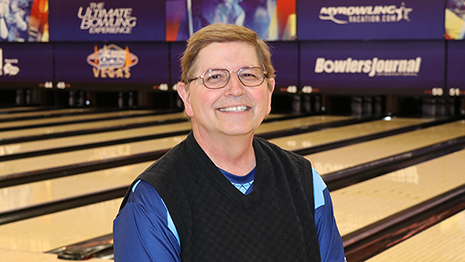 LAS VEGAS -
Though he bowled well, John Eiss of Orono, Minnesota, barely remembers being in Las Vegas for the 2021
United States Bowling Congress Open Championships
.
At the 2022 edition of the event at the South Point Bowling Plaza, the 68-year-old right-hander turned in an inspirational performance that his family, friends and teammates will never let him forget.
In his final game of singles Saturday night, the two-time Eagle winner tossed 12 consecutive strikes for the 19th perfect game of this year's tournament. It came after games of 218 and 244 for a 762 series, the best singles set of his 48 tournament appearances. He is tied for 11th place in Regular Singles.
The 300 also made Eiss the 35th bowler in 118 years of USBC Open Championships history with multiple perfect games on the tournament lanes. His first came in doubles in 1993.
This time, he nearly was void of emotion until the final pin fell, after which, he raised his arms in a combination of jubilation and awe, before falling into a chair in the settee area with help from his longtime teammates.
Eiss has been under the careful watch of an endocrinologist, who put him on medication to help maintain the function of his pituitary gland. Typically, it requires 28-31 pills a day, but that number was increased to 41 for his trip this week to the Open Championships.
"It's embarrassing for me in public because I'm always searching for the words, and as soon as the meds die, I just crash," Eiss said. "My team didn't even know what to expect, because I crashed at a couple tournaments this year. My endocrinologist came up with a plan to help me get through this, and I made it."
Eiss also is suffering from what is known as long-haul COVID, featuring a variety of ongoing symptoms, including brain fog, a term used to describe slow thinking, problems with attention, memory issues and more.
Evaluation suggests he likely had one of the early cases of COVID-19.
Just before COVID-19 brought the world to a halt in 2020, he was returning home from a friend's house in Las Vegas. He felt good but woke up in the middle of the night and struggled to get out of bed. By 6 a.m., he couldn't get up at all. By 11 a.m., he was in a coma.
COVID tests hadn't even been unpacked yet, as it only was Feb. 29, 2020, so they treated him with three powerful corticosteroids, and he came out of it.
But wait, there's more. About two years prior, Eiss suffered from a brain tumor that required two surgeries.
"To give you an idea of what this has been like, I almost don't remember being at this event at all last year," Eiss said. "I remember a half-hour, where I would just sit in the settee, and Sam (Lantto) would tell me which ball I was using and where I was playing, and I would sit down between shots. I barely made it through, and that's the only thing I remember from the whole trip."
In his appearance at the Open Championships in 2021, Eiss shot 598 in team at the South Point Bowling Plaza, then added 598 in doubles and 611 in singles at the South Point Bowling Center for a 1,807 total.
Eiss did everything possible to help avoid a repeat of that situation this year, ultimately not wanting to be a burden or hinderance for his team.
Through the health issues for Eiss in recent years, their friendship and dedication to him as a part of their team and success is unwavering.
"At the time we started bowling together with the Lakers, I had bowled around John, but I didn't really know him," said Lantto, who has bowled with Eiss for three decades. "Once I joined the team, I learned he's the eternal optimist, he's always positive and he's always supportive. You can always count on him to say a positive thing to get you on track to be able to bowl well. To see him where he's so lost at times is heartbreaking, but we're here for him. We're supportive. We'll continue to do the best we can for him."
Even with some interchangeable parts, the core of the group has established a legacy in the state of Minnesota and at the Open Championships that features an aviary of Eagles and a pair of USBC Hall of Fame nods.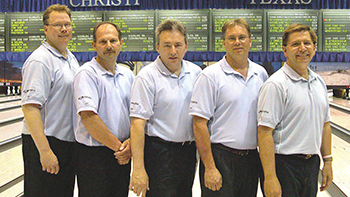 With Eiss' help in 2002 and 2006, Linds Lakers 1 of Minneapolis claimed the Team All-Events title at the Open Championships. He was joined in those wins by Lantto, Charles Vashaw, Gary Green and USBC Hall of Famer Todd Savoy.
This year, Eiss' team is known simply as The Lakers A, and he was joined on the roster by Lantto, Vashaw, Thomas Corbett and Scott Sodergren.
"I love bowling with these guys, and we've been together for decades," Eiss said. "I'm grateful to them for having me back each year through this. I'm a word guy normally, and I'm struggling right now. It's very gratifying and humbling. I feel very fortunate to even be here at all. Then to have some success - I don't know if I'll grasp it until later."
At the suggestion of Luke Voaklander, a member of the quintet's companion team, who also works at Eiss' Country Club Lanes, Eiss uses a notepad during competition to keep track of what he's doing. It helps him know from one shot to the next where he is playing on the lanes.
Eiss, who was a member of Team USA in 1992, 1995 and 1999, is a veteran bowler with a lot of physical tricks, and having that versatility has allowed him to continue being competitive.
The rest of his appearance at South Point this weekend included a 648 series in team Friday and a 610 effort in doubles to kick things off Saturday. He finished with a 2,020 all-events total, his best performance since his career-high of 2,164 a dozen years ago.
"I'm very, very pleased, and my main goals were not to embarrass myself or hurt the team," Eiss said. "It's validation that my career isn't totally over, and I might still have a little bit in me. I was very spoiled. I was in my mid-60s and still seemed competitive, but I've gone down quickly the last couple of years. I've got two years until 50 Open Championships, when it comes back here, and I want to be competitive until then."
To see Eiss succeed on the lanes Saturday was rewarding for his teammates, who have watched him struggle to find the results he deserves and get frustrated because of the limitations that have developed. It was redemption, and it happened on the biggest stage in bowling.
"John has always said, 'a great USBC (Open Championships) makes up for a bad bowling season, and he had a great one," Voaklander said.
Eiss helped The Lakers A to a 3,167 team total Friday, while Voaklander's The Lakers 1 of Brooklyn Park, Minnesota, with Robert Clements, Joseph Robillard, Green and Savoy, moved into ninth place in Regular Team with 3,324.
Storm Products Inc. 1 of Alva, Florida, led by former Laker and four-time Eagle winner Matt McNiel, tops the team standings with 3,486.
David Jecko of Whitesboro, New York, who also rolled a 300 game this year, leads Regular Singles with 788.
Brett Cunningham of Clay, New York, is the Regular All-Events leader with 2,220.
Visit us on Facebook at the
official USBC Open Championships page
.