Minnesota team tops standings at 2019 USBC Open Championships in Las Vegas
May 03, 2019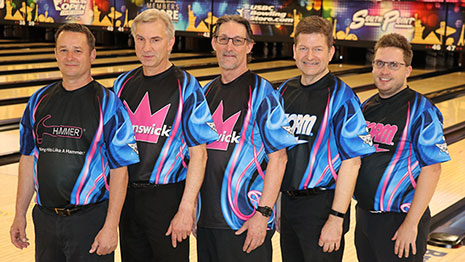 LAS VEGAS -
Australia's Christopher Castle all but promised he was going to get his picture on BOWL.com before leaving the South Point Bowling Plaza this year, and while that conversation may have been tongue-in-cheek, it certainly is a back-of-mind goal for many competitors at the
United States Bowling Congress Open Championships
.
Twelve hours later, Castle and his Melrose Bowl Red teammates were lined up on the approach having their picture taken as the new Regular Team leaders at the 2019 event, which is approaching the halfway point of its 122-day run.
The group turned in a consistent performance that included games of 1,089, 1,189 and 1,023 for a 3,301 total, also marking the first time the 3,300 threshold had been crossed in the tournament's two visits to the South Point Bowling Plaza.
At the same time, Melrose Bowl Black, which included a pair of USBC Open Championships doubles winners, moved into 10th place in the Regular Team standings with a 3,135 total.
Thomas Jones, who rolled a 299 game during his team event at the 2006 tournament in Corpus Christi, Texas, again set the pace for his team Thursday, leading Melrose Bowl Red with a 695 series. He was followed by John Hommes (658), Castle (656), Craig Schiffler (655) and Michael Wirz (637).
Nicholas Hogan's 683 series helped Melrose Bowl Black to games of 959, 1,049 and 1,127. He was joined by David Olynyk (620), John Kreyer (617), Ronald Cleveland (616) and Steve Bohn (599). Kreyer and Bohn are the 2010 Regular Doubles champions.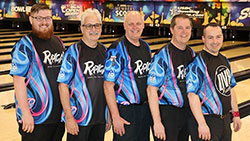 S and B Pro Shop 1 of Warren, Michigan, the defending Regular Team champion, previously held the lead this year with a 3,254 total, rolled March 23. The 2019 Open Championships kicked off March 9 and will conclude July 8.
"I've been bowling with these guys for three years now, and it's a lot of fun," said Castle, who made his third Open Championships appearance. "To do well like this means everything. It was an awesome night. I set a goal for myself to bowl better than last year, and while individual success is nice, it's extra sweet to bowl well as a team. They make my job easy. They make me laugh, and we just bowl. If we can hold on to win, it would be fantastic."
Castle made a run at the lead in Regular All-Events during the 2018 Open Championships in Syracuse, New York, before ultimately settling for 13th place with a 2,110 nine-game total.
The 32-year-old right-hander arrived in Las Vegas motivated to improve on last year's performance, but also looking to repay his Open Championships teammates for costing them a state title this year.
Hommes, Wirz, Schiffler and Jones, along with friend Daron Hansen, were leading Scratch Team at the 2019 Minnesota State USBC Open Championships, before Castle, who teamed with four-time Open Championships titlist Matt McNiel, topped them by single pin, with one weekend of competition left.
Whether their success is at the local, state or national level, the teammates know it can't happen without communication and teamwork. The core of the Melrose Bowl group has been bowling together for about six years. Overall, Jones (31), Wirz (26), Hommes (25) and Schiffler (16) have combined for nearly 100 appearances at the Open Championships.
"We had a game plan coming in, and we executed it very well, but the main thing was that we communicated on every shot," said Kreyer, who rolled the first perfect game of the 2007 Open Championships and tossed an 816 series on the way to the doubles win in 2010. "We set up our orders to be conducive to everyone's games and give them the best read possible. To be on a different side of taking the lead and being able to help them feels just as good."
Now, the wait begins to see if Thursday's performance is enough to hold on for this year's Regular Team title.
It's a position Kreyer and Bohn are familiar with, so they'll offer what they can to help keep their teammates sane over the next two months.
"Tonight was a lot of fun and a team effort from start to finish, and we enjoyed trying to hang in there with them," said Kreyer, a 38-year-old left-hander who made his 18th consecutive tournament appearance. "The wait is going to be nerve-wracking, and in the bowling community, the news spreads fast, so if someone is making a run, we'll get online and check it out. If someone bowls well and goes ahead of them, they'll have earned it."
Other visitors to the online leaderboard now may wonder how a young competitor from Down Under ended up in Minnesota.
Castle met Kreyer and Bohn during the 2009 USBC Masters, also in Las Vegas, and their friendship quickly grew.
Because Castle's career as a personal trainer gives him some flexibility with his schedule, he was able to carve out more than two months this year to spend in Minnesota and at events across the United States.
Since the Minnesota bowling community is so tight-knit, many bowling centers, including Schiffler's Melrose Bowl, are willing to lay down challenging conditions to help competitors stay sharp for tournament season.
So far in 2019, Castle and his friends from The North Star State already competed in the 2019 Masters, Minnesota's state tournament and the Open Championships in Las Vegas, and the whole group soon will head to the Greater Ozarks Open Bowling Tournament in Missouri.
"Chris gets to come over and experience the United States and a little bit of Minnesota weather, and we all have a good time on and off the lanes," Kreyer said. "It's all business when we're on the lanes, but we're always there to help each other out. We try to have a great time no matter where we are or what we're doing. It's a team game with a lot of encouragement along the way."
Melrose Red and Melrose Black will return to the lanes at the South Point Bowling Plaza for doubles and singles on Friday at 10:45 p.m. Along with potential for success in doubles, singles and all-events, the teams also will have their eyes on the Team All-Events standings.
Team All-Events includes the combined all-events totals of all five team members, and this year's leader is Mento Produce of Syracuse, New York, with a 9,983 total.
Visit us on Facebook at the
official USBC Open Championships Facebook page
.