Mississippi bowler rolls perfect game at first USBC Open Championships
April 28, 2022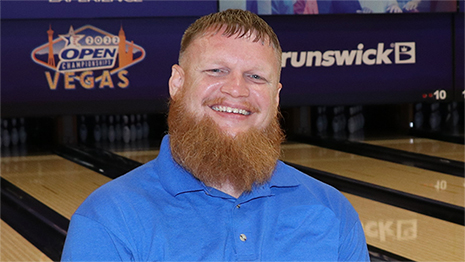 By Nick Bonsanto
USBC Communications

LAS VEGAS -
Frank Gannon Jr. of Biloxi Mississippi, became the 15th bowler in April, and 16th overall, to roll a perfect game at the 2022
United States Bowling Congress Open Championships
.
Participating in the event for the first time, the 38-year-old right-hander found his groove Wednesday during his final game of singles at the South Point Bowling Plaza.
The 300 came after scores of 223 and 190 to earn the first-timer a 713 series.
As of Wednesday, the 47th day of this year's 129-day USBC Open Championships, David Jecko of Whitesboro, New York, leads Regular Singles with 788. Jecko also tossed a perfect game in his final game of singles.
"I'm still a little speechless on it," Gannon said. "Being able to say I accomplished something like that for Nationals, after I struggled yesterday, is a great feeling."
Gannon was noticeably excited after completing his 300, as were his teammates, who traveled with him from Biloxi to compete.
He laughed when talking about the celebration after he threw his 12th strike.
"The only bad thing about us celebrating was that someone knocked over my beer," said Gannon, who hones his skills at Cypress Lanes in D'Iberville, Mississippi.
Gannon had sets of 563 in doubles and 470 in team, and he finished his Open Championships debut with a 1,746 all-events total. Brett Cunningham of Clay, New York, leads Regular All-Events this year with a 2,220.
Reflecting on the difficulties he encountered during Tuesday's team event, contested on a different oil pattern than doubles and singles, Gannon said simply slowing down Wednesday was a key to his success.
Visit us on Facebook at the
official USBC Open Championships page
.