Missouri bowler honored as 2022 Chuck Hall Star of Tomorrow
April 21, 2022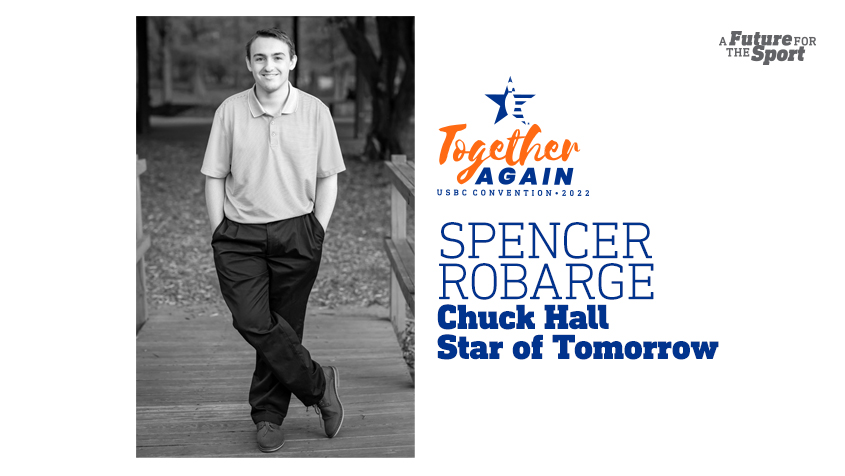 ARLINGTON, Texas
- Spencer Robarge of Springfield, Missouri, has been selected as the 2022 Chuck Hall Star of Tomorrow Award winner by the International Bowling Campus Youth Committee.
The annual award recognizes star qualities in a United States Bowling Congress Youth member, including distinguished bowling performances on the local, state and national levels, academic achievement and community involvement. Applicants must be a male high school senior or college student.
Robarge, 19, receives a $6,000 scholarship as this year's award recipient.
"You know, it just blew my mind," said Robarge, when describing his emotions when he received the news. "I was down in the Rhatigan (Student Center) practicing and I got the call. I just remember standing there thinking to myself, 'Oh, that's the one that I really wanted to win.' And, when I heard that it was that one, I just kind of relished it a little bit more than others because some of the greatest bowlers have won that award. That was the one that I thought would be really cool to win."
Robarge currently is a freshman at Wichita State University, where he's majoring in business management. A graduate of Kickapoo High School, Robarge earned a 4.76 weighted GPA, which included honors coursework in algebra, biology, Earth science, world history, chemistry, sociology and liberty and law.
Robarge's path into bowling was manifested by his grandmother, who was an avid league player. She often served as the secretary for many of her leagues. Robarge's mother, Susan, didn't bowl as much, but that didn't stop his brother, Blake, from joining in on the fun and catching the bowling bug early in life.
When Robarge began watching his brother bowl, it was only natural for him to get the itch. At 4 years old, Robarge rolled his first ball down the lanes and a blossoming career was born.
On the lanes, Robarge's youth bowling resume speaks for itself. Last year, as an 18-year-old amateur, he qualified as the No. 5 seed for the live televised finals of the 2021 USBC Masters and finished in third place.
He has three sets of 846 or better to his credit, earned the USBC National High Average Award for youth males (250) during the 2020-2021 season and holds the USBC Youth record for number of 300 games (41). He also shares the USBC Youth record for number of 800 series with 22.
He is a three-time member of Junior Team USA (2020-2022), won the 2021 Professional Bowlers Association Junior National Championship and recorded a victory at the 2015 Junior Gold Championships in the 12-and-under division.
He recently was named the National Collegiate Bowling Coaches Association (NCBCA) Rookie of the Year for the 2021-2022 season.
Off the lanes, Robarge has volunteered numerous hours assisting at a church food bank and created a fundraiser to raise money for Ballard vs. The Big C. He always tries to help as many people as he can, especially because of what many have endured during the COVID-19 pandemic.
"I always try to help people when they need help," Robarge said. "The last two years have been crazy and people, at different times, have needed help. Nobody wanted anything like this to happen, and we've all been affected differently by it, so I think being there for others in their time of need is definitely important for me."
Academically, Robarge always has prided himself on being a great student, and his academic record has always been a priority ahead of bowling. He recently was named an NCBCA Scholar Athlete, which meant a great deal to him.
"For me, school comes first," Robarge said. "I'm here to get a degree first. I'm here to bowl second. Studies come first. I want to make sure I have good grades in all my classes and understand the material. If there's a choice between practicing and homework, it's going to be homework. I've been that way throughout my academic career, especially since I've gotten to college. It's always been about school for me."
With Robarge's focus on academics, his need to help people and his bowling prowess, the future certainly is bright, and he'd like to keep bowling at the forefront as his future progresses.
"I've always dreamed of opening and owning a bowling center," Robarge said. "I think that would be really cool. But, I'm pretty open about that. I really want to stay in the bowling industry and use the knowledge that I've gained to try and help other bowlers reach their goals."
Robarge will be recognized in April during the 2022 USBC Convention at The Orleans in Las Vegas.
This year's award ceremony, which includes a variety of awards for youth and adult bowlers, will take place during the morning session of the USBC Annual Meeting on April 28 at noon Eastern. The award presentations will be live to watch at BowlTV.com.
Learn more about awards for adult youth leaders and scholarship opportunities for youth bowlers at
BOWL.com/ScholarshipsAwards
.
CHUCK HALL STAR OF TOMORROW AWARD WINNERS
Year, winner, hometown
1980 Chris Whitty, Simonton, Texas
1981 Drew Barthle, Tampa, Fla.
1982 Ricky Corona, Oakland, Calif.
1983 Dan Nadeau, Las Vegas
1984 Robert Beck, Houston
1985 Justin Hromek, Andover, Kan.
1986 Pat Healey, Wichita, Kan.
1987 Mark Fisser, Buena Park, Calif.
1988 Bradley Joinetz, San Antonio, Texas
1989 Lonnie Waliczek, Wichita, Kan.
1990 Jason McCarty, Fultondale, Ala.
1991 Chris Williams, Anchorage, Alaska
1992 Robert Smith, Moorpark, Calif.
1993 Vince Biondo, Hoffman Estates, Ill.
1994 Michael Mullin, New City, N.Y.
1995 John Miller, Wichita, Kan.
1996 David Eisenberg, Kendall Park, N.J.
1997 Todd Filter, Cedarburg, Wis.
1998 James (Eddie) Kirtley, Bowling Green, Ky.
1999 Andrew Cain, Glendale, Ariz.
2000 Scott Norton, Cypress, Calif.
2001 Sean Rash, Anchorage, Alaska
2002 Nathan Bohr, Austin, Texas
2003 Marc D'Errico, Rochester, N.Y.
2004 Patrick Haggerty, Weimar, Calif.
2005 Brandon Temple, Tempe, Ariz.
2006 Eric Helmrich, Saint Leonard, Md.
2007 Jonathan Buckert, Rochester, N.Y.
2008 Kyle Kahlden, Houston
2009 Chris Bardol, Brockport, N.Y.
2010 Andrew Koff, Miami, Fla.
2011 Brent Bowers, Mulvane, Kan.
2012 Kyle Anderson, Lockport, Ill.
2013 Joey Kopera, Orland Park, Ill.
2014 Derick Holmes, Wichita, Kan.
2015 Anthony Sidari, Hazleton, Pa.
2016 Jack Cook, Denville, N.J.
2017 Carson Opela, Rio Rancho, N.M.
2018 Alex Olendorff, St. Louis, Mo.
2019 Trace Nuss of Tampa, Fla.
2020 Ryan Gatton, Owensboro, Ky.
2021 Zachary Lewis, Medina, Ohio
2022 Spencer Robarge, Springfield, Mo.