Missy Parkin wins 2011 USBC Queens
April 27, 2011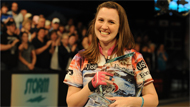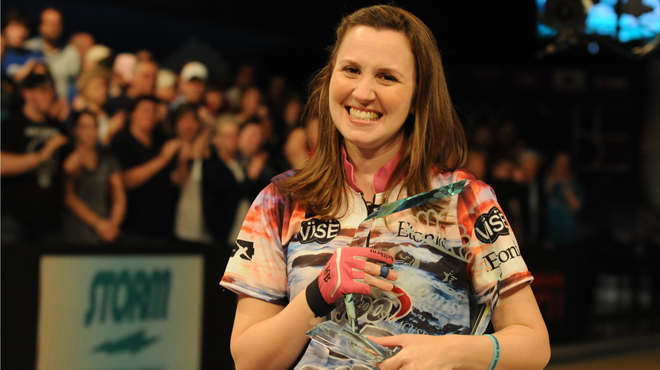 SYRACUSE, N.Y. - After a heart-breaking finish at last year's USBC Queens, there was no way Missy Parkin of Lake Forest, Calif., was going to let the coveted title get away again.

The 29-year-old right-hander headed into the 2011 Queens more determined than ever and defeated top-seed Elysia Current of Ephrata, Pa., 214-189, to claim her first major championship at the Oncenter Convention Center on Wednesday.

The championship round aired live on ESPN2 and marked the first time a women's bowling event was broadcast in high definition.

"I've made TV shows before, but I've never won, and words can't describe how I'm feeling right now," said Parkin, who took home the Queens tiara and $20,000 first-place check for the win. "I was raised in a pro shop and a bowling center, and this is something I've always dreamed about. To finally get it is an amazing feeling."

Parkin made a run at the Queens title last year in El Paso, Texas, but her efforts were derailed by a 7-10 split that haunted her for months after. She stepped up needing a mark to defeat eventual champion Kelly Kulick in the second match of the night, but the untimely split left her with a fourth-place finish.

"After last year's show, I was pretty devastated, and for a while after that, every time I left the 7-10, I got angrier and angrier," said Parkin, whose only loss this week was against Current in the match to determine the No. 1 seed for the TV show. "But today, I definitely had a different mindset. I told myself I needed to throw 10 good shots every game, and that's all I could do. That was my plan all week, and it worked out well."
Current started the championship match with three consecutive strikes before being slowed by a split and three straight spares in frames five through seven. A missed washout in the ninth frame ended her bid for her first win on bowling's biggest stage, but she intends to learn from the experience.

"I didn't catch a couple of the shots like I should have, and the end result wasn't good," said Current, who was the 2003-04 Collegiate Player and Rookie of the Year at Fairleigh Dickinson and then went on to help Wichita State to a televised national championship in 2007. "I'm definitely going to take what I learned here and use it to help me achieve bigger and better things."

Current, a 26-year-old right-hander, earned $10,000 for the runner-up finish.

In reaching the title match, Parkin downed USBC Hall of Famer and 2002 Queens champion Kim Terrell-Kearney of Grand Prairie, Texas, 235-172. Terrell-Kearney received $7,000 for the third-place effort.

To open the championship round, one-time Professional Women's Bowling Association titlist Cathy Dorin-Lizzi of Sandusky, Ohio, defeated USBC Hall of Famer and three-time Queens champion Wendy Macpherson, 180-168.

Dorin-Lizzi was the only bowler in the 206-player field guaranteed to make the show, since she was slated to be the sideline reporter for the telecast, but she chose a different route, which included a match-play win over her hall-of-fame sister, Carolyn Dorin-Ballard. Dorin-Lizzi's run came to an end in the second match of the night as she fell to Terrell-Kearney, 223-206. She took home $5,000 for the fourth-place finish.

The 2011 Queens featured 206 of the top female bowlers in the world competing for a total prize fund of $120,000.