Monacelli wins 2015 USBC Senior Masters
August 02, 2015
Complete brackets

GREEN BAY, Wis. -
Amleto Monacelli of Aventura, Florida, capped off a week of throwing big shots when he needed them by delivering a strike in his final frame to claim the 2015
United States Bowling Congress Senior Masters
title Sunday at The Ashwaubenon Bowling Alley.
The USBC and Professional Bowlers Association Hall of Famer defeated top seed Pete Weber of St. Ann, Missouri, twice - 192-190 and 254-243 - for his third PBA50 major victory and fifth title overall.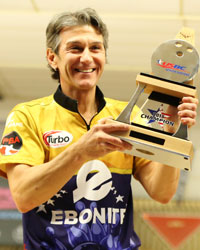 Monacelli earned $16,000 for the win, while Weber took home $8,000 as the runner-up.
Weber, 52, had a chance to lock up his second USBC Senior Masters title in three appearances with a double in the 10th frame, but a 7-10 split gave Monacelli a chance to mark for the win.
A format change for the 2015 tournament meant the event would feature a true double-elimination format and Weber would have to be defeated twice to deny him from becoming the sixth two-time Senior Masters champion.
"To beat Pete Weber twice for the title, especially with the way he bowled all week, was incredible," said Monacelli, a 53-year-old right-hander, who won the Senior U.S. Open in 2012 and 2013. "Two times this week I was close to not making it through, but I knew I was bowling well and just needed to stay strong mentally. I did that, and I was able to fight my way back."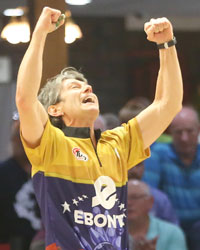 A missed 10 pin to finish his fourth match in the winners bracket sent Monacelli to the elimination bracket, where both of his opponents forced him to double in the 10th frame. He escaped with two- and three-pin victories, to earn a spot in the four-player shootout round, where he used a 300 game to propel him to the No. 3 seed for the stepladder.
"When I shot the 300, I felt like I had a good cushion to get there, and I was able to keep up with the changes and make it," said Monacelli, who also owns 19 PBA Tour titles. "This was an incredible week against a very talented field, especially today on the show, and to come out on top is amazing."
In the first game of the title tilt, Monacelli took the lead with a strike in the ninth frame and was able to hold on to force a second game, despite leaving, and failing to convert, a 4-6-7 split in the final frame. Weber, who finished first, left a 4-9 split in the 10th frame and missed both pins on the spare attempt.
Weber, who has 37 PBA Tour victories, including 10 majors, and four PBA50 wins, including the Suncoast Senior U.S. Open in June, led all three rounds of qualifying and compiled a 6-0 record in match play to claim the No. 1 seed for the finals.
On the way to the championship match Monacelli struck six times in his first seven frames against No. 2 qualifier Brian Voss of Centennial, Colorado, and cruised to a 238-204 victory. Voss finished third and pocketed $6,000.
Monacelli's first match against Rick Steelsmith of Wichita, Kansas, wasn't as smooth, as both players left three frames open. An eighth-frame ball change on the right lane helped Monacelli sandwich three consecutive strikes between a pair of splits, which proved to be enough to escape with a 179-173 win over the 1987 USBC Masters champion.
In the opening match Sunday, Steelsmith used a pair of doubles to outlast defending champion Walter Ray Williams Jr. of Oxford, Florida, 217-186.
Williams never found any momentum, and a 4-6-7 split in the 10th frame ended his chances of becoming the first back-to-back winner at the Senior Masters since Tom Baker of King, North Carolina, in 2007, and first bowler to win the Masters (2004 and 2010) and Senior Masters twice.
All 194 competitors at the 2015 Senior Masters rolled 15 qualifying games over three days before the field was cut to the top 63, who joined Williams in match play.
The Senior Masters was the first of three USBC tournaments that will take place in Green Bay in the coming week. Bowlers competed for a total prize fund nearly $115,000.
The Senior Masters will be followed by the
International Training and Research Center Super Senior Classic
, the premier event for USBC members age 60 and older, and the
USBC Senior Championships
, which will bring bowlers from across the United States and Canada.
All qualifying and match-play rounds at the Super Senior Classic will be broadcast live on BowlTV beginning Monday at 3:30 p.m. Eastern.
To watch the Senior Masters and Super Senior Classic live, visit
YouTube.com/BowlTV
.