Mother cheers son to perfection at 2022 USBC Open Championships
April 30, 2022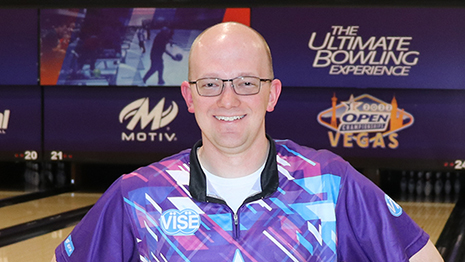 By Nick Bonsanto
USBC Communications

LAS VEGAS -
Jon Breckel of Bismarck, North Dakota, rolled a 300 game at the 2022
United States Bowling Congress Open Championships
in front of his biggest cheerleader, his mother.
The perfect game was the 17th of this year's 129-day event at the South Point Bowling Plaza.
Breckel's mother, Sonja, watched and cheered as her son tossed 12 consecutive strikes during his second game of singles Friday evening.
"It's really big," Breckel said. "Mom got me into bowling when I was about 5 years old. It's nice to have her as a cheerleader and supporter. She has traveled with me to all my tournaments since my dad passed in 2008."
The momentum of the 300 saw Breckel enter the final game of his 2022 USBC Open Championships campaign with a chance at the lead in Regular Singles and Regular All-Events.
The 31-year-old right-hander finished singles with a 237 game and 760 series, leaving him 28 pins shy of David Jecko of Whitesboro, New York, who leads with 788.
Breckel had great look on the event's first oil pattern Thursday and flirted with 300 during the final game of his team event. He started with 10 consecutive strikes, before a single pin ended his run. He finished with a 760 series, which included games of 224, 247 and 289.
Since 2013, the Open Championships has featured two lane conditions each year - one for team competition and another for doubles and singles.
With his 657 doubles set added in, Breckel now finds himself in seventh place in Regular All-Events with a 2,177 total. Brett Cunningham of Clay, New York, leads with 2,220.
Firing on all cylinders and turning in the best performance of his eight appearances at the Open Championships, Breckel was extremely happy with the outcome this week.
When speaking with Breckel and watching him interact with his teammates, it's clear how much they also mean to him.
"Many of us grew up in juniors together and have a lot of chemistry," Breckel said. "Nine of the 10 guys we brought here have been together for seven or eight years now. The biggest thing is having a good group of guys behind me."
Breckel's mother expressed how successful her son has been in tournaments around North Dakota, where he was named the NDbowling.com North Dakota Player of the year for the 2021-2022 season.
Breckel finished the day at South Point with one final thought about the history, tradition and prestige of the Open Championships.
"I would give it all up to win an Eagle," Breckel said about the coveted prize awarded to all winners at the Open Championships.
Visit us on Facebook at the
official USBC Open Championships page
.