New England Bowling Association Tournament of Champions
November 28, 2011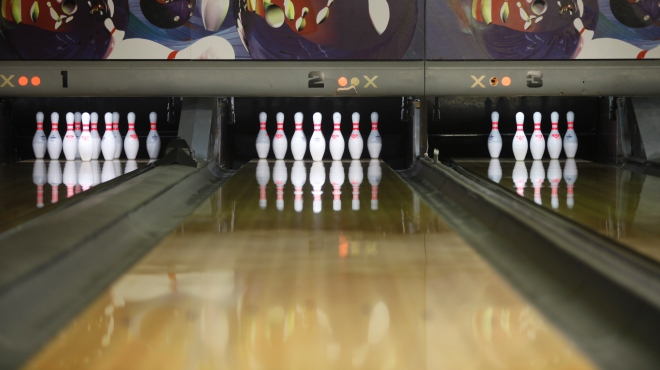 Cranston, R.I. –
Alex Aguiar beat top seed Jon Van Hees to capture the New England Bowling Association's annual Ebonite Tournament of Champions on Nov. 27.
Qualifying 11th out of the 16 match-play finalists, Aguiar advanced through the three rounds for the chance to go up against Van Hees. In the two-game finale, Aguiar defeated Van Hees, 544-457, to win the $1,750 prize and an entry to defend his title in next year's Tournament of Champions.  Van Hees won $1,050 for second place.
Third and fourth places were Dave Kipperman and Bill Webb; each won $625.
Aguiar rolled to the finals with two game totals of 499, 504 and 456 while Van Hees, cruised with 541, 488 and 482.  The finals was decisive with Aguiar rolling 544- 457.  Low to cash was +163 for five games.  Winning ten titles has been a goal of Aguiar's.
"To say I have 10 titles is something I am very proud of," Aguiar said. "I would like thank the guys at Storm for taking care of me."
The winner's circle has been found by Aguiar across the U.S.  Recently he teamed up with Parker Bohn III to win the PBA doubles title in the western region.  When asked about how it felt winning, he said "To me the Tournament of Champions is a little different since it is one squad and only 16 make it.  You are bowling against the best bowlers in New England, so it's special."
Aguiar has an impact on bowling on and off the lanes.  After serving on the NEBA Board of Directors  in the membership run organization for five years, Aguiar has now become president.
"I think NEBA is the best run organization in the country," Aguiar said. "If you are a competitive bowler, you should bowl in these tournaments whenever you are in the area.  We have had a lot of quality players who have walked through the door and competed."
Click
here
for scores and final standings.
On the Saturday preceding the Tournament of Champions, NEBA held a tournament for those who have not won a title. Jim Bosse found his way through the field at AMF Lang's Lanes to earn his first title. 
Qualifying 13th out of the turnout of 174 entries and receiving a bye, he won four match play rounds to bowl Fero Williams in the title match.  Forty bowlers made the cut to the semis where Williams needed to qualify through a lower round.  Bosse rolled 223, 208, 255 and 247 to earn his finals berth while Williams needed 245, 214, 201, 265 and 245 for his.  The final match ended with Bosse winning 243-214.  He won $2,000 plus and entry to Sunday's Tournament of Champions.  Williams garnered 1,050.  Low to cash was +84 for 5 games.
Bosse proved he had the right stuff of champions by qualifying third in the Sunday tournament.
If you would like to have your organization's tournament results posted on BOWL.com, please email webcontent@bowl.com for guidelines.