New friends now lead Ruby Doubles at 2022 USBC Women's Championships
June 04, 2022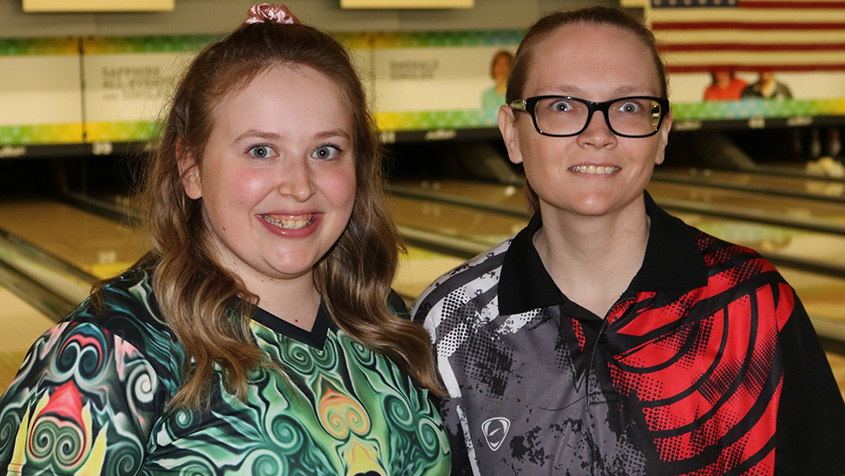 By Justin Hauser
USBC Communications

ADDISON, Ill.
- We all start off as strangers to each other at some point. Friendships often are developed through special moments that bond us together over time, and that is exactly what happened Saturday on the lanes at the 2022
United States Bowling Congress Women's Championships
.
Kailee Tubbs of Flint, Michigan, and Chelsey Moon of Chandler, Arizona, had no idea who each other were before a post in a bowling group on Facebook brought them together this week at Stardust Bowl, and now they are leading Ruby Doubles with a 1,298 total.
Mary Gray of Council Grove, Kansas, and Patti Bryans of South Branch, Michigan, had previously held the top spot in Ruby Doubles with a combined score of 1,207.
"I happened to see this post on a Facebook group I'm in about a group of gals needing a sub, and I jumped at the opportunity," said Tubbs, who made her first appearance at the USBC Women's Championships.
Tubbs rolled games of 213, 267 and 216 for a 696 series, while Moon shot games of 234, 179 and 189 for a 602 series to set the bar high with only four weeks remaining in the tournament.
Neither Tubbs or Moon realized what had just occurred until their squad organizer, Cathy Cooper, came over to tell them the great news.
"We were surprised for sure," said Moon, who rolled her highest series in her six years of participating at the Women's Championships with the Incredibowl group out of Arizona. "This would mean everything to us."
Tubbs, who bowled collegiately for Wisconsin-Whitewater, added, "All bowlers dream of winning a USBC title, and to come here for my first time bowling and partnering up with Chelsey on a whim would make it that much more special."
Both Tubbs and Moon are going to keep a close eye on the leaderboard as the tournament gets closer to its final day in July. They plan on joining forces again next year to defend if they can hold on to capture the title and to also keep in touch after it's all said and done.
Ruby Doubles features bowlers with combined entering averages of 322-349.
The 2022 Women's Championships kicked off April 24 and will conclude July 3.