New Jersey and North Texas to host Bowlmor AMF U.S. Opens
February 16, 2015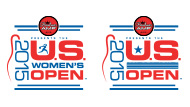 ARLINGTON, Texas –
Bowlmor AMF, the largest operator of bowling centers in the world, will host and provide television sponsorship for Bowling's U.S. Open and U.S. Women's Open in 2015. The tournaments will be held in AMF and Brunswick centers with more than $250,000 support of the events from Bowlmor AMF.
The 2015 Bowlmor AMF U.S. Women's Open will take place at Brunswick Zone Carolier in North Brunswick, New Jersey, Aug. 31-Sept. 6 and will be a part of the new Professional Women's Bowling Association (PWBA) Tour schedule. The television finals are scheduled for Sunday, Sept. 6.
The 2015 Bowlmor AMF U.S. Open will take place at AMF Garland Lanes in suburban Dallas/Fort Worth from Nov. 2-8 with the television finals scheduled for Sunday, Nov. 8.
"The U.S. Open and U.S. Women's Open are a key part of bowling's rich tradition and we're proud to play a major role in this year's series of events," said Tom Shannon, Bowlmor AMF Chief Executive Officer, Chairman and President. "Bowlmor AMF is committed to growing the sport at every level and look forward to supporting the industry's greatest athletes as they compete for bowling's most prestigious title."
"We are thrilled to have Bowlmor AMF as a partner that is clearly invested in our membership and future for the sport," said United States Bowling Congress (USBC) Executive Director Chad Murphy. "The U.S. Opens will be in great local markets and we look forward to providing outstanding national exposure for the events."
The U.S. Opens will have a traditional 56-game format with three eight-game qualifying rounds followed by a cut to the top one-third of the field before the top 24 players qualify for round-robin match play. Television finals will feature a stepladder format.
"The success of the 2015 U.S. Opens are something for the bowling industry to celebrate," said Bowling Proprietors' Association of America (BPAA) Executive Director Frank DeSocio. "We owe a great thanks to the leadership at Bowlmor AMF for stepping up to join the International Bowling Campus and do something great to benefit all of bowling."
Both events will feature a top prize of $50,000 and will be operated by USBC. Each will have a $400 entry fee with a 1:3 prize ratio.
Registration for both tournaments will open April 6. Entries will be sold on a first-come, first-served basis and only entries paid in full will be accepted. Those who want to run a qualifying event should contact Damon Sarrocco at
damon.sarrocco@bowl.com
for information.