New Jersey bowler celebrates 50 consecutive USBC Open Championships
June 11, 2022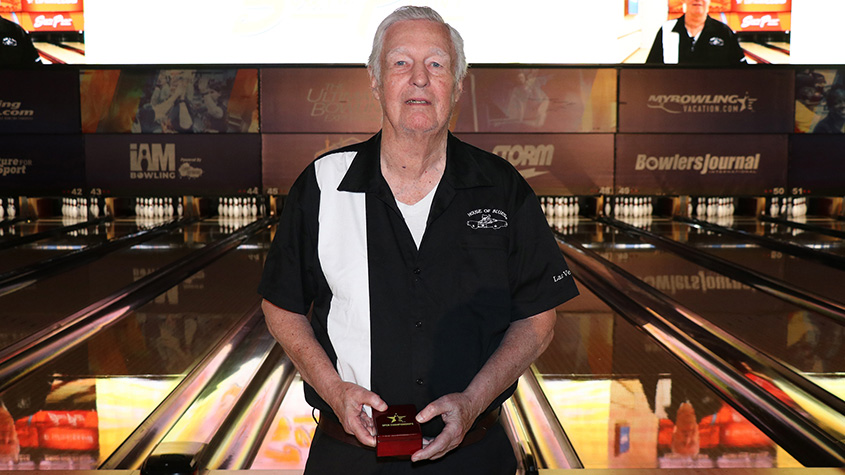 By Sam Neves
USBC Communications

LAS VEGAS
- For Thomas Meade of Elizabeth, New Jersey, reaching his 50th consecutive
United States Bowling Congress Open Championships
appearance has been a reflective experience that he soon will not forget.
Meade was recognized for his longevity Wednesday at the South Point Bowling Plaza and received a plaque, chevron and diamond lapel pin to help usher him into the 50-Year Club at the event.
"Well, it definitely means that I'm old," Meade, an 81-year-old left-hander, said jokingly. "I honestly didn't think that I'd do it."
Making his USBC Open Championships debut at the 1972 event in Long Beach, California, Meade is the only one left from his original group that still bowls.
"We started in 1972 as a group of six guys," Meade recalled. "Four of them have passed, and the other quit bowling 10 years ago. Bill Neafsey knew me as a competitive bowler in the Elizabeth area and asked me to bowl my first national tournament."
Over his 50-year run, Meade has fallen in love with the travel and looks forward to the trip to the Open Championships every year.
"I'd have to say my favorite city I've visited and bowled in during my 50 years has been Jacksonville," said Meade, a Union County USBC Hall of Famer. "But, Salt Lake City will always hold a special spot in my heart."
In 1996, Meade bowled his personal best at the Open Championships in Salt Lake City, firing a 2,018 all-events total. It was the highest of his career by nearly 100 pins.
In his 50th appearance this week, Meade put together sets of 543 in singles, 471 in doubles and 458 in team for an all-events of 1,472. For his career at the tournament, he's now knocked over 83,862 pins for a lifetime average of 186.3.
Meade plans to continue his streak next year in Reno, when the Open Championships returns to the newly renovated National Bowling Stadium.
"My love for bowling is what has kept me going and will continue to keep me going," Meade said. "I look forward to the tournament every year and am excited to be back next year."
Visit us on Facebook at the
official USBC Open Championships page
.