New Mexico pair takes lead in Standard Doubles at 2023 Open Championships
March 23, 2023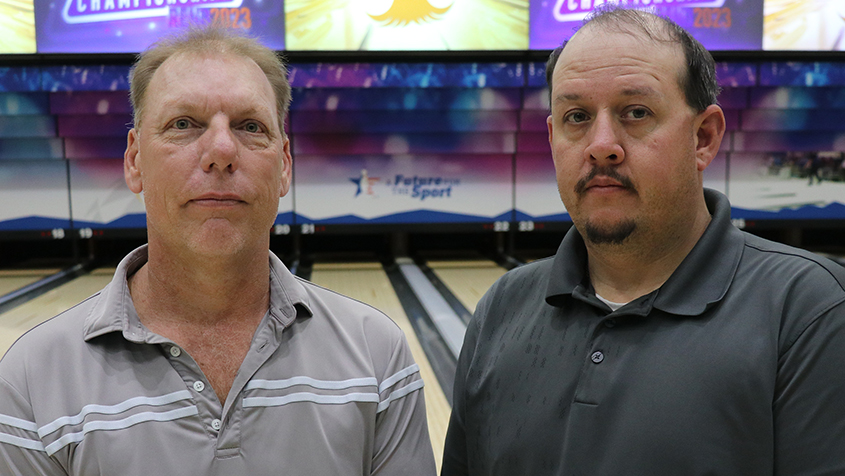 Pictured above (from left): Glenn Francis and Joey Lankford

RENO, Nev. –
Glenn Francis and Joey Lankford of Silver City, New Mexico, took to the lanes Wednesday at the 2023
United States Bowling Congress Open Championships
just looking to have some fun and score the best they could at the National Bowling Stadium.
They walked away from their time at the Taj Mahal of Tenpins with a little more, however, as they took over the lead in Standard Doubles with a combined total of 1,165.
Francis and Lankford were able to put together sets of 596 (192-182-222) and 569 (190-214-165), respectively, to get to the top of the standings. The lead previously was a tie at 1,147, held by Spencer Ludwig and Matthew Berry of Port Orchard, Washington, as well as Michael Cranston of Mentone, California, and Mark Hugelmaier of Yucaipa, California.
The duo comes from a small town in southwest New Mexico, and they enjoy spending time at Silver Bowling Center in Silver City. The next closest bowling center is nearly two hours away in Las Cruces.
"We are at the bowling center about three or four times a week," said Francis, who made his 17th USBC Open Championships appearance. "It's one of the only things to do where we are from, so we go to league and have a blast."
Lankford and Francis both marked in their final frame to officially take over the lead in the division. They enjoyed receiving the good news at the conclusion of their doubles block but didn't realize they were on the verge of making their way to the top of the leaderboard.
"Taking the lead is a surprise for sure," said Lankford, who added sets of 588 in singles and 498 in team to put together his best all-events score (1,655) in 10 years at the Open Championships. "We come from a town where there's no other bowling alleys within two hours of us in Silver City, so to win at nationals would be super cool."
Francis echoed the surprise of finding out they had taken over the lead, and now they get to take home a little more of the experience they find each year at the Open Championships.
"We had no idea we were bowling this well until we saw you folks gather around to watch our 10th frame," said Francis, who had 516 in team and 478 in singles for a 1,590 all-events total. "We come to nationals to have some fun and do the best we can on our mini vacation. There are 10 of us that come here each year, and this year, Joey and I just happened to be paired up together. If we get the call that we won nationals here in a few months, all I'm going to be able to say is wow!"
Standard Doubles includes bowlers with combined entering averages of 311-350.
The 2023 Open Championships kicked off March 4 and will conclude July 24. The 143-day tournament will feature more than 9,700 five-player teams and nearly 50,000 bowlers making their way to compete in The Biggest Little City in the World.
Visit us on Facebook at the
official USBC Open Championships page
.