New team tops Emerald standings with just days left at Women's Championships
June 30, 2022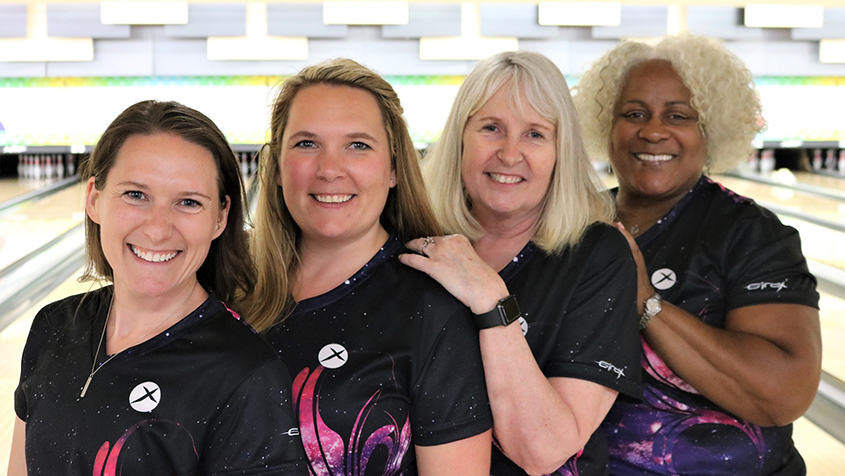 By Donovan Grubaugh
USBC Communications

ADDISON, Ill.
- As the 2022
United States Bowling Congress Women's Championships
starts to wind down, moves up the leaderboard still are being made.
In Emerald Team, a new leader has emerged after no significant movement for nearly a month in the division standings at Stardust Bowl.
D Echo Balliett-Legge Team 1 of Seattle took the lead in Emerald Team on Tuesday with only a few team squads left at the 2022 event, and they were surprised when they learned of the news.
The team rolled games of 718, 635 and 642 for a total of 1,995, overtaking the previous leader, Lucky Ladies 1 of Westmont, Illinois, by 20 pins (1,975).
"It's honestly quite shocking," said Corrine Wise, who made her second USBC Women's Championships appearance. "We come out here to just have some fun and to make a girls trip out of it, so to take a lead is exciting."
That relaxed mindset paid off for them, as Wise led the team with a 532 series and was joined by her mother Wendi Wise (493), Chandra Hoover (460) and Sabrina McKinney (510) on the team.
"My mother is the reason we all get together," Corrine said. "I spent a lot of time in the bowling alley with her growing up, so bowling means a lot to us. I think Sabrina carried us a little bit during that first game, since she bowled a 223, which was way over her average, and it spilled over to the rest of us."
The 2022 Women's Championships comes to a close July 3, and the team remains hopeful that they can come away with the win.
"Anything can happen in a short time, but we'll be crossing our fingers," Corrine said.
Emerald Team features four-person teams with a combined entering average of 545-599.