New York pair takes Classified lead at 2022 USBC Open Championships
May 16, 2022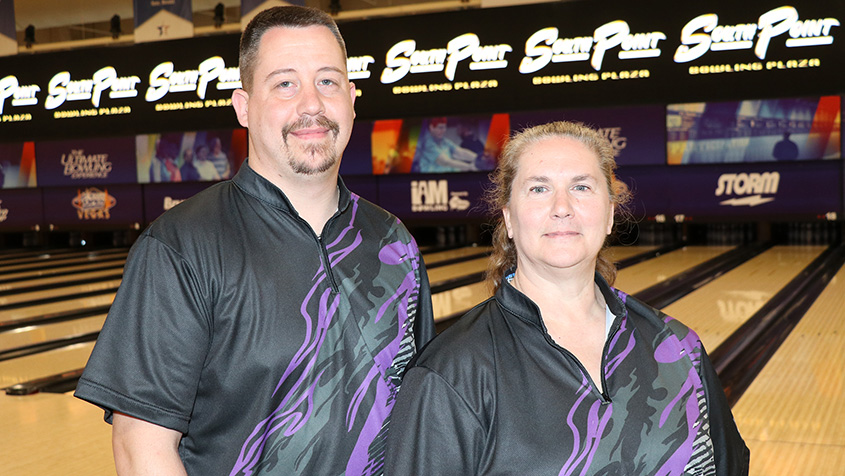 LAS VEGAS
- A little confidence can go a long way at the
United States Bowling Congress Open Championships
.
Ronald Jackson of Stone Ridge, New York, and Terri Donahue of Ulster Park, New York, both were feeling pretty good after their team event Sunday at the South Point Bowling Plaza, and they were able to continue that momentum to take the lead in Classified Doubles on Monday.
They worked together to post a 1,165 total to move into the top spot. Anthony Carvalho of Morgan Hill, California, and John Brazzillo of Los Banos, California, previously held the lead with 1,153.
Jackson, a 36-year-old right-hander, led the way at the 2022 event with games of 172, 237 and 234 for a 643 series, and Donahue, a 51-year-old right-hander, added 164, 187 and 171 for a 522 set.
The trip to the Bowling Plaza started well for both Jackson and Donahue. They each rolled their highest sets at the USBC Open Championships during team competition Sunday, which translated to a boost of confidence heading into doubles.
"We had a good look yesterday in the team event," said Jackson, who made his fifth tournament appearance. "We knew what we had to do to break it down, so we were hoping to put that same concept to doubles and singles today. For the most part, it seemed to work out. We had a nice line throughout, and the ball was coming off our hands pretty well."
Although Monday marked their first time bowling doubles together on bowling's biggest stage, the pair felt their chemistry from competing back at home would help give them a chance to make a run.
"I was feeling pretty good," said Donahue, who made her fourth Open Championships appearance. "Ron and I bowl well together, and we do a good job of helping each other out."
The pair was on pace to catch the leading number after the first two games, and they looked poised through the first half of Game 3. Jackson started with five consecutive strikes and six out of the first seven, while Donahue stayed clean.
Both ran into trouble in the eighth frame with opens, but they were able to secure the top spot in the final frame.
Jackson knew the number they were trying to reach, but he kept it from his partner so they could both focus on the next shot down the stretch.
"I knew the number, but I didn't tell her," Jackson said. "Since we were bowling well, I just kept telling her to keep doing what we've been doing."
Good things come to those who wait, however, and Donahue enjoyed hearing the good news.
"I was pretty darn excited," Donahue said. "I definitely got goosebumps. It would be absolutely incredible if we were able to win."
The 2022 Open Championships recently passed its halfway point, and the tournament will conclude its 129-day run at South Point on July 18.
Jackson and Donahue won't be checking the standings too often for the next two months, but they know what it means if they are able to stay at the top of the leaderboard.
"It would be awesome to win here," Jackson said. "It would be something to take off your bucket list. To possibly take an Eagle from nationals, not many people can say that. It's a long way to go, but we got a chance. You never know what can happen."
Competing individually in the Standard Division, Jackson added sets of 665 in team and 479 in singles for a 1,787 all-events total. Donahue rolled 540 in team and 511 in singles for a 1,573 total in the Classified Division.
Classified Doubles features bowlers with combined entering averages of 310 and below. Standard All-Events includes bowlers with entering averages of 156-175, while Classified All-Events features bowlers with entering averages of 155 and below.
Visit us on Facebook at the
official USBC Open Championships page
.