Noreiks, Zavjalova lead first round at 2023 U.S. Women's Open
June 15, 2023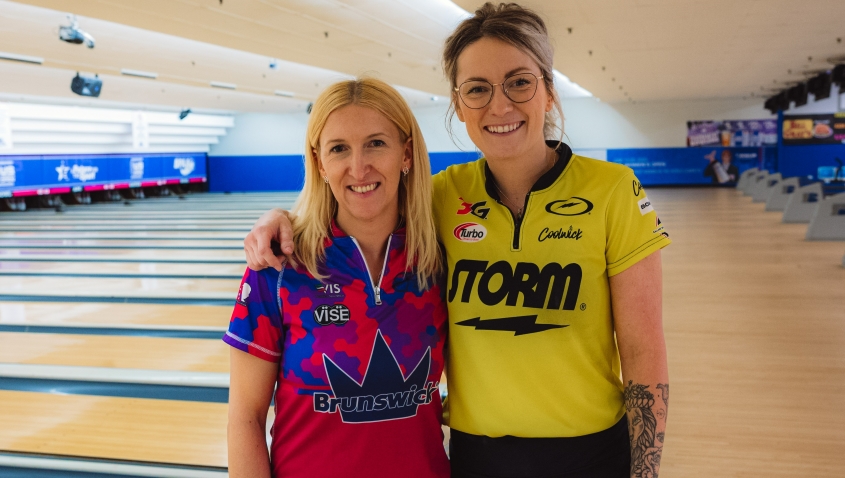 FULL RESULTS
GATES, N.Y. – Germany's Birgit Noreiks and Latvia's Diana Zavjalova shared the lead after the first round of qualifying at the 2023 U.S. Women's Open.

Both women fired eight-game scores of 1,768 during B squad Thursday afternoon on the event's first of four lane conditions, a 42-foot oil pattern.
Noreiks and Zavjalova were joined in the top five by
Bryanna
Coté
of Tucson, Arizona (1,765); Kerry Smith of Lititz, Pennsylvania (1,762); and Puerto Rico's Estefania Cobo (1,746)
.
Competition at ABC Gates Bowl will resume Friday at 8 a.m. Eastern with the second of three rounds of qualifying, this time on a 38-foot oil pattern.
A final eight games Saturday, which will be contested on a flat 46-foot oil pattern, will determine the 36 players who advance to the fourth round and face the final oil pattern. Those 36 competitors will bowl an additional eight games before the field is cut to the top 24 athletes. Those players will then bowl 24 games of round-robin match play over two days, with seeding based on their 32-game pinfall totals.
There will be 30 bonus pins awarded for each win in match play, and the 56-game pinfall totals, including bonus pins, will determine the five players for the championship stepladder.
All rounds of qualifying and match play are being broadcast live at BowlTV.com through Monday night, and the event will conclude live Tuesday on CBS Sports Network at 7 p.m. Eastern.
The winner will take home the iconic U.S. Women's Open trophy, coveted green jacket and $60,000 top prize.
Success is nothing new for the Round 1 co-leaders as both have bowled well thus far during the 2023 Professional Women's Bowling Association Tour season.
Zavjalova qualified for the stepladder finals at each of the last two tournaments prior to the U.S. Women's Open – the PWBA Great Lakes Classic and PWBA Bowlers Journal Cleveland Open – and she has two additional top-10 finishes to her credit this season as well.
Noreiks, the 2022 United States Bowling Congress Queens champion, has four top 10s of her own, including a second-place finish at the PWBA Grand Rapids Classic.
Although there is still a lot of bowling left to be done, both Noreiks and Zavjalova know the importance of getting off to a good start at a grueling event like the U.S. Women's Open.
"Today, once I was able to play the hold a little bit, I got more comfortable, and then I just tried throwing it faster later on so that I wouldn't see the early friction," Noreiks said. "It's always nice to start strong and have some pins to carry over because you never know how things are going to go on the next two patterns."
Noreiks hopes the strong opening-day effort will propel her to a good week, but she's bowled the U.S. Women's Open enough times to know that she can't let one good day cause her to take anything for granted.
"I've had good years and bad years at this tournament," Noreiks said. "It's a long format, so you have to stay patient. Of course, I'm happy with the way I started, but anything can happen at the U.S. Open; everybody knows that."
Zavjalova certainly does, and that's why she was intent on taking advantage of her good look on Thursday's 42-foot oil pattern.
"During yesterday's practice session, this pattern was by far the one that looked the best for me and that I felt most comfortable on," Zavjalova said. "I knew that I'd have an opportunity to bowl well today, so I just wanted to take it one frame at a time and be sure to throw good shots."
Zavjalova certainly threw her fair share, which allowed the four-time PWBA Tour champion and two-time major winner to break 200 six times in eight games, including a 275 in Game 3.
As impressive as that score was, it wasn't the highest of the day.
That honor went to Lindsay Boomershine of Brigham City, Utah, who fired a 300 during Game 6 of B Squad. Boomershine, who won the season's first major, the 2023 United States Bowling Congress Queens, finished the day with a score of 1,610, which put her in 30th place.
Nevertheless, Zavjalova wasn't worried about coming up a bit short in the race for the day's highest game; she has her sights set on much bigger things.
"I've bowled really well the last three years, and I've made a lot of shows; I just haven't won," said Zavjalova, whose last PWBA Tour title came at the 2018 Pepsi PWBA St. Petersburg-Clearwater Open. "I made the show at the U.S. Open two years ago, and that gives me the confidence to know that I can do well this week."
For more information about the U.S. Women's Open, click here.