Noreiks extends lead as first cuts are made at 2023 U.S. Women's Open
June 18, 2023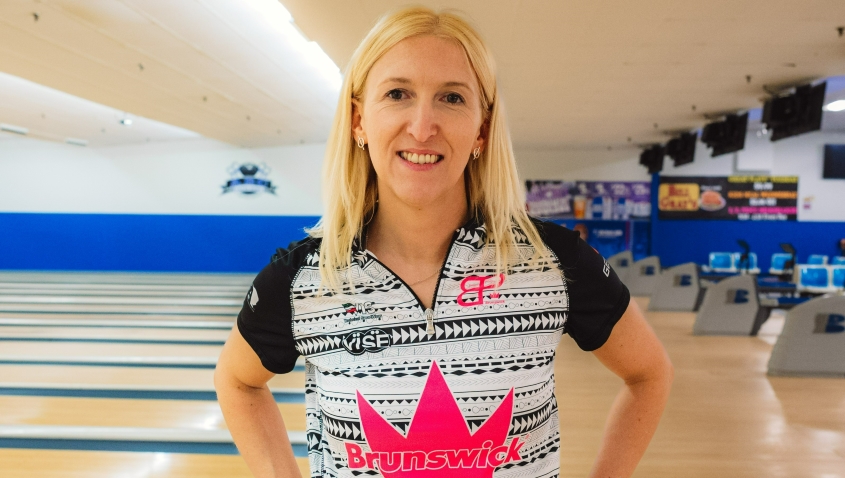 FULL RESULTS
GATES, N.Y.
– After three days and 24 games bowled across three different oil patterns, the 108-player field at the 2023 U.S. Women's Open has been cut down to 36 bowlers.
Germany's Birgit Noreiks, who held at least a share of the lead after each of the first two rounds, kept her name atop the standings by making Round 3's extremely challenging flat 46-foot oil pattern look relatively easy, breaking 200 six times (205, 236, 202, 217, 226 and 200) enroute to an eight-game total of 1,652 at ABC Gates Bowl on Saturday night.
That set allowed Noreiks to extend her already sizable lead by posting a three day, 24-game total of 5,277, which put her 175 pins ahead of second-place competitor Lindsay Boomershine of Brigham City, Utah (5,102), and 186 pins clear of Missy Parkin of San Clemente, California, who finished third with 5,091.
The final two spots in the top five went to Bryanna Coté of Tucson, Arizona (5,051) and Dasha Kovalova of Muskegon, Michigan (5,045).
The top 36 players after 24 games advanced to Sunday's fourth round, with the final spot going to Shannon Sellens of Long Beach, New York, with a total of 4,761, a 198.38 average.
Five of the six former U.S. Women's Open champions competing this week were among the 36 bowlers who advanced. That group included three-time winner Kelly Kulick of Union, New Jersey (eighth with 4,985), six-time champion Liz Johnson of Niagara Falls, New York (10th with 4,956), Josie Barnes of Hermitage, Tennessee (11th with 4,950), Danielle McEwan of Stony Point, New York (15th with 4,908) and defending champion Erin McCarthy of Elkhorn, Nebraska (34th with 4,767).
Competition at ABC Gates Bowl continues Sunday at 10 a.m. Eastern with the fourth and final qualifying round on a 41-foot oil pattern.
Competitors will bowl an additional eight games before the field is cut to the top 24 athletes. Those players will then bowl 24 games of round-robin match play over two days, with seeding based on their 32-game pinfall totals.
There will be 30 bonus pins awarded for each win in match play, and the 56-game pinfall totals, including bonus pins, will determine the five players for the championship stepladder.
All rounds of qualifying and match play are being broadcast live at BowlTV.com through Monday night, and the event will conclude live Tuesday on CBS Sports Network at 7 p.m. Eastern.
The winner will take home the iconic U.S. Women's Open trophy, coveted green jacket and $60,000 top prize.
Noreiks will start competition on Sunday 175 pins ahead of Boomershine and more than 400 head of 24th position, which is the lowest she could afford to fall and still make the cut to match play; nevertheless, Noreiks isn't planning on taking it easy during Round 4.
"I still need to bowl well because we aren't even to the halfway point yet," Noreiks said, referring to the fact that she and her fellow competitors have only completed 24 of the 56 games it takes to reach the U.S. Women's Open stepladder finals. "There's still a lot of games to go, so my main goal is still to make it to the top 24 and then see from there."
With such a sizable lead at her disposal and considering that she's out averaged the field by more than seven pins per game over the first three days, Noreiks doesn't just seem likely to qualify for match play; she's the odds-on-favorite to secure the top seed.
In order to do so, Noreiks will have to figure out how to master the demands of yet another new oil pattern, this one a 41-foot condition that will be used throughout all remaining rounds of competition at this year's tournament.
Noreiks didn't spend much time on Pattern 4 during Wednesday's official practice session; however, the intel she did collect left her cautiously optimistic about the rounds to come.
"The next pattern should be okay, but what do I know," Noreiks said. "I mean, I bowled well on the patterns that I didn't feel too comfortable about, so I can't really say that this one will favor me; it's really hard to tell."
One thing that wasn't hard to tell was just how steady Noreiks was on the lanes yet again on Saturday. On a day when many competitors could be seen taking calming breaths and wringing their hands in frustration while trying to solve the challenging oil pattern, Noreiks appeared to be enjoying herself.
Some may have assumed it was because of her position on the leaderboard. That was not the case, however. According to Noreiks, it had more to do with the competitors with whom she was sharing the lanes.
"I had a really good cross with Bryanna (Coté) and Clara (Colombia's Clara Guerrero), and we kind of pushed each other," Noreiks said. "I was just trying to enjoy myself, and bowling with them made it fun."
A great deal of fun was also had by a handful of bowlers who began the day outside the cut line only to use strong performances on Saturday to reach the top 36. That list included Stephanie Schwartz of Racine, Wisconsin (40th to 27th), Julia Bond of Aurora, Illinois (37th to 29th), Lauren Pate of Ballwin, Missouri (54th to 33rd), McCarthy (60th to 34th) and Sellens (45th to 36th).
For more information about the U.S. Women's Open,
click here
.