Noreiks stands alone atop standings at 2023 U.S. Women's Open
June 16, 2023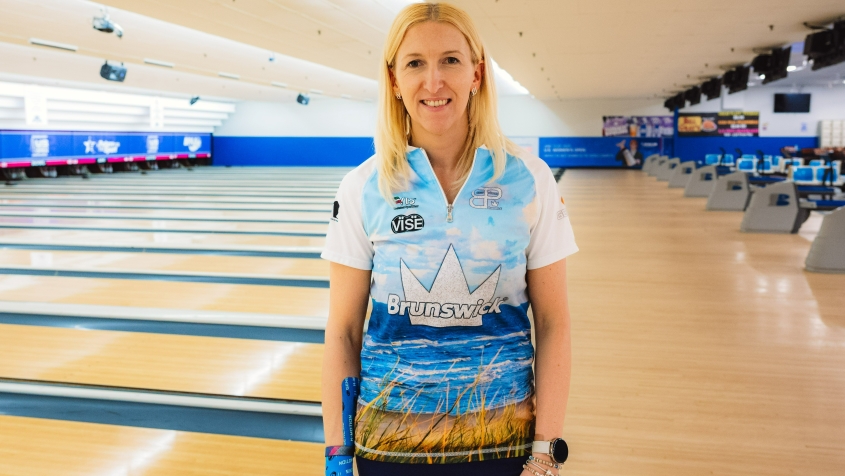 FULL RESULTS
GATES, N.Y.
– When Germany's Birgit Noreiks shot 1,768 and found herself tied for the lead after Thursday's opening round of qualifying at the 2023 U.S. Women's Open, she said that she was happy to have gotten off to such a good start because, at this tournament, anything can happen.
It turns out Noreiks was right; something dramatic did happen during Round 2. Thankfully for her, it was something dramatically positive.
The 36-year-old right-hander was dominant during Friday's second round of qualifying at ABC Gates Bowl, breaking 230 six times (244, 236, 231, 264, 269 and 251) enroute to an eight-game total of 1,857 (a 232.13 average).
Noreiks' set wasn't the highest shot on Friday. That honor went to Ashly Galante of Palm Harbor, Florida, who fired an 1,859 to move from 86th place after Round 1 all the way up to 25th place at the end of Round 2.
Nevertheless, Noreiks' effort was more than enough to keep her in first place all by herself with a two-day, 16-game total of 3,625 (a 226.56 average).
Dasha Kovalova of Muskegon, Michigan, was second at 3,510 while Round 1 co-leader Diana Zavjalova of Latvia was third with 3,505. The remaining spots in the top five were claimed by Shannon Pluhowsky of Dayton, Ohio, and Shannon O'Keefe of Shiloh, Illinois, who came in with matching scores of 3,420.
Competition at ABC Gates Bowl continues Saturday at 8 a.m. Eastern with the third round of qualifying on a flat 46-foot oil pattern. Saturday's round will determine the 36 players who advance to the fourth round and final oil pattern.
Those 36 competitors will bowl an additional eight games before the field is cut to the top 24 athletes. Those players will then bowl 24 games of round-robin match play over two days, with seeding based on their 32-game pinfall totals.
There will be 30 bonus pins awarded for each win in match play, and the 56-game pinfall totals, including bonus pins, will determine the five players for the championship stepladder.
All rounds of qualifying and match play are being broadcast live at BowlTV.com through Monday night, and the event will conclude live Tuesday on CBS Sports Network at 7 p.m. Eastern.
The winner will take home the iconic U.S. Women's Open trophy, coveted green jacket and $60,000 top prize.
According to Noreiks, at least some of Friday's success can be attributed to having had to attack the lanes in a similar fashion during some of the recent Professional Women's Bowling Association Tour stops she's competed at.
"The last couple of weeks, we kind of had to do this left-to-right thing where I just tried to roll it," Noreiks said. "Today, I saw the right shape that I liked to see where there was a little bit of push, and that helped me get comfortable and stay locked in."
She was particularly locked in during the final three games of Friday's block, closing with scores of 264, 269 and 251 (a 784 series) to finish the day 115 pins ahead of her closest pursuer (Kovalova).
After Friday's round, Noreiks once again reiterated the importance of starting strong at the U.S. Women's Open and having a cushion to work with when facing such challenging oil patterns.
"It's kind of nice to have some extra pins because tomorrow is going to be the grinding day for everyone," Noreiks said. "A flat 46-foot pattern is never easy, and our squad will be the third one to bowl on it. It never gets easier the more a pattern is put out, so I know it's going to be a grind."
Noreiks' assessment appears to be spot-on as Saturday's flat 46-foot oil pattern is expected to be the most challenging condition players will face at this year's U.S. Women's Open.
It's often said that there is no magic bowling ball that a player can turn to when faced with such difficult conditions; consequently, Noreiks is likely to go with one that has treated her quite well so far this week.
"The ball that I've used at the end of both rounds so far is one that I didn't really even expect to have in the bag this week," Noreiks said. "I just sort of had an open spot to fill, so I tossed it in, and it's worked really great for me."
For Round 3, Kovalova may also opt to go with a ball possessing some positive mojo, which in her case would be the one she used to shoot a 300 game and 827 series during the final three games of C Squad qualifying on Friday.
Kovalova's perfect game was the second of the 2023 U.S. Women's Open. Lindsay Boomershine of Brigham City, Utah, the 2023 United States Bowling Congress Queens champion, shot the first during Thursday's opening round.
For more information about the U.S. Women's Open,
click here
.